By Andrea García, Hofstra University, Hempstead, NY, and Carmen Martínez-Roldán, Universtiy of Texas, Austin, TX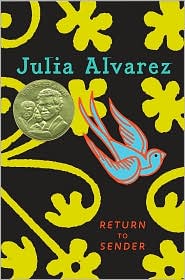 In our work as Latina teacher educators, we prepare teachers to be successful literacy educators in a multilingual world. In our teaching, we use high quality children's and adolescent literature in order to invite our students to read multiculturally (Hade, 1997). That is, through small group and whole class literature discussions, we engage pre-service and in-service teachers to make personal connections with the literature and to take a critical stance to explore questions that often reveal the many sociopolitical forces shaping the education of minority students in the United States. These include interpreting signs of power, race, class, and equity, among others, as they are represented in the literature.
In the past, we have selected books that address some of the familiar challenges encountered by recent immigrants to the United States, including the process of adapting to a new schooling practices and language learner. We have also used books that describe the day-to-day complexities of living in between two cultures from the perspective of cultural insiders. Examples include A Step from Heaven by An Na (2001), Tangled Threads by Pegi Deitz Shea (2003) or Behind the Mountains by Edwidge Danticat (2002)
This semester, Carmen and Andrea have planned for a Digital Literature Discussion Project with students enrolled in a graduate teacher preparation program in New York, and in an undergraduate program in Texas. During the month of March, our WOW Current posts will help to facilitate an online literature discussion of Return to Sender. This latest book by outstanding Latina writer Julia Alvarez, was recently announced as the recipient of the American Library Association's prestigious Pura Belpré Award, which every year recognizes excellence in children and adolescent literature that "best portrays, affirms, and celebrates the Latino cultural experience."

Our collaboration for this project started months before the first class in our courses, as we read newly released novels and discussed possible books to use with our students. The decision to select Return to Sender by Julia Alvarez was an easy one. It was one of the books that we were carefully considering for our work and the recognition with the Pura Belpré Award validated our selection criteria. We wanted a novel that would present an authentic, relevant, engaging, and contemporary story about the issues facing minority families in the United States as they navigate their new cultural landscapes. In Return to Sender, Alvarez tells the story of two families struggling to survive: a migrant Mexican family and a Vermont family trying to save their farm. (Listen to Julia Alvarez on Vermont Public Radio discuss her book and talk about the inspiration behind the story.)
On February 23 and 25, we each had our first literature discussion in class. Using the literature response strategy Graffiti Board (Short, Harste, Burke, 1995), the students were invited to share their initial responses, connections, wonderings and questions to the book. In their Graffiti Boards, the students identified an illustrated numerous poignant experiences shared by the main characters in the book, Tyler, an 11 year-old growing up in a farm in Vermont, and Mari, an 11 year-old daughter of an undocumented Mexican migrant worker. The students' responses captured in great detail their initial exploration about issues related to the phenomenon that Igoa (1995) calls "uprooting," living in a new place, in a whole new culture with a whole new language, after having left behind the world you came to know as yours.
For our first WOW Current post, we invite readers to respond to Alvarez's take on her own identity as it informs the experiences of her characters, Tyler and Mari in the Return to Sender. Alvarez is quoted as describing herself as a "Dominican, hyphen, American." She believes that, "As a fiction writer, I find that the most exciting things happen in the realm of that hyphen — the place where two worlds collide or blend together." For our first discussion, we would like to pose the following guiding questions:
•    What does this "hyphen" mean to Mari and for Tyler in the story? What does it mean to their families?
•    How are Tyler and Mari actively involved in defining their role, their identity, their sense of self and place in between two cultures?
•    What does this "hyphen" mean to you as a reader?
Enjoy the conversation!
References
Hade, D. (1997). Reading multiculturally. In V. Harris (Ed.) Using multiethnic literature in the K-8 classroom (pp. 233-256). Norwood, MA: Christopher-Gordon.
Igoa, C. (1995). The inner world of the immigrant child. Mahwah, NJ: Lawrence Erlbaum Associates.
Short, K.G. & Harste, J., with Burke, C. (1995). Creating Classrooms for Authors and Inquirers. (2nd ed.) Portsmouth, NH: Heinemann.
Please visit wowlit.org to browse or search our growing database of books, to read one of our two on-line journals, or to learn more about our mission.
array(9) {
  ["_edit_lock"]=>
  array(1) {
    [0]=>
    string(14) "1580499810:264"
  }
  ["_edit_last"]=>
  array(1) {
    [0]=>
    string(3) "264"
  }
  ["_yoast_wpseo_primary_category"]=>
  array(1) {
    [0]=>
    string(0) ""
  }
  ["_yoast_wpseo_focuskw_text_input"]=>
  array(1) {
    [0]=>
    string(13) "Julia Alvarez"
  }
  ["_yoast_wpseo_focuskw"]=>
  array(1) {
    [0]=>
    string(13) "Julia Alvarez"
  }
  ["_yoast_wpseo_linkdex"]=>
  array(1) {
    [0]=>
    string(2) "72"
  }
  ["_yoast_wpseo_content_score"]=>
  array(1) {
    [0]=>
    string(2) "30"
  }
  ["_yoast_wpseo_metadesc"]=>
  array(1) {
    [0]=>
    string(306) "Using "Return to Sender" by Julia Alvarez, Carmen and Andrea wanted a novel for a Digital Literature Discussion Project that would present an authentic, relevant, engaging, and contemporary story about the issues facing minority families in the United States as they navigate their new cultural landscapes."
  }
  ["_thumbnail_id"]=>
  array(1) {
    [0]=>
    string(5) "37464"
  }
}