By Holly Johnson, University of Cincinnati, Cincinnati, OH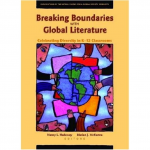 I am on a hunt. I am searching for the variety of ways international literature might be conceptualized by teacher educators, teachers, and teacher candidates. I am also interested in the ways in which they might address and differentiate between international and multicultural literature as well as how they perceive various other terms that might be used for literature that, well, transcends its native borders. I became interested in such a venture because it seemed as though as much as I discussed what I suggested was the difference between, say, "international" and "multicultural" literature, the terms and their nuances seldom transferred to my students. Was I not trying hard enough? Was I being too esoteric? Needless to say, I found the phenomenon intriguing, and so thought I would broach the topic via WOW Currents.

Imagine the complexity of attempting to distinguish for a student, regardless of grade or age, the terms commonly used by educators and academics for:
• international literature,
• multicultural literature,
• global literature,
• cross-cultural literature,
• culturally diverse literature, and
• ethnic literature.
Seems somewhat ponderous considering that when I went to "google" all I discovered was that "international literature" has no easy definition, however, I found much to my delight, that someone else has already gone to children's literature textbooks to parse out the various ways some types of the literature I mentioned have been defined. Take a look . . . it seems the topic has been covered!
Or has it?
The article is really helpful, but I think even after reading the review, there is still the question of international literature.
Merriam Webster has no definition for international literature. Hadaway and McKenna (2007) address the concept of international literature and its relationship to both multicultural and global literature that falls closest to my idea of international literature. Their text, Breaking Boundaries with Global Literature can be previewed.
And then there is the editor's note to an issue of Children's Literature (23) where Henderson (1995) summarizes the journal's discussion of defining the canon of African American literature, highlighting the following in respects to international literature, bringing into relief another way to define international literature.
Finally, this special issue concludes with Dianne Johnson's "The International Context of African-American Children's Literature." Johnson examines the international and diasporic manifestations of African-American literature for children through analysis of DuBois and Dill's The Brownies' Book magazine, noting the "acculturating, socializing, and educating [of] African-American children as United States and world citizens" (112) through the discussion of serious social and psychological issues in the magazine. This discussion reflected the publishers' concern with world affairs and the need to inform African-American children with detailed and complex reporting about issues and interconnections of decision making and action. Johnson continues her discussion of the international context by focusing on works from the 1970s and 1980s by such authors as Rosa Guy, Lucille Clifton, Walter Dean Myers, and Tom and Muriel Feelings, who have reached an international audience with their books. Johnson concludes,
African-American children's literature is an international literature not solely by force of definition, but because of the conscious and deliberate visions of a succession of writers and artists who from the emerging stages of this canon saw . . . the world as a place in which word and images together can help people to be honest about who they are in both a personal and social/political, and thus, international context (116).
How would you define international literature? How would you define in relation to multicultural literature? How is the literature defined in practice? Especially to K-12 students. Is the differentiation important? And, if so, why? What are the ways that could help teachers and teacher educators make these distinctions known to our students in an engaging manner so they took the nuances to heart and understood that the differences are important, that they mean something? Do we need to come to consensus or is the discussion what matters? And if so, how then do we bring our students, regardless of grade level or age, into the conversation?
Please visit wowlit.org to browse to browse or search our growing database of books, to read one of our two on-line journals, or to learn more about our mission.