by Ann Parker, The University of Arizona, Tucson, AZ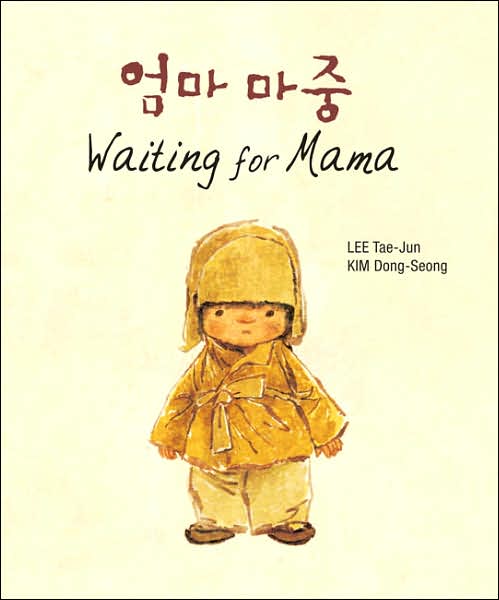 Last month, Janine Schall interviewed children's book writer and illustrator Xavier Garza, who publishes his books in English and in Spanish because he thinks children should be exposed to their first language or to a language other than their own. More and more publishing companies, particularly smaller, independent publishers, are publishing dual language books. This week, I'd like to examine bilingual books and the role they can play in the classroom. Next week, I'll focus on some of the outstanding bilingual books that are being published by independent publishers.
For my doctoral dissertation, I interviewed people from five publishing companies (Cinco Puntos Press, Luna Rising, Salina Bookshelf, Piñata Books, Children's Book Press, and the University of New Mexico Press) to learn why they were publishing multicultural children's books generally and bilingual books specifically. I found that most of them considered these books to be a niche market, because the big conglomerate publishing companies, whose interest is mainly in how many books they can sell, weren't interested in books that had such a small buying audience from the outset. Interestingly enough, several national companies, such as Scholastic, have decided that there is a big enough market for Spanish language books (see Scholastic en Español), but the smaller companies also publish books in Native American and Asian languages as well as other languages from around the world.

What are the benefits of bilingual books? One reason the small companies published bilingual books as opposed to a Spanish version and an English version of the same book was purely an economic one: with both California and Arizona passing propositions limiting or banning bilingual education, schools discovered the only way to have books in languages other than English in their libraries was if those books contained English as well as another language. Another benefit of bilingual books is that they can be shared in families where the parents may speak only one language while the child is learning English as a second language. Children who speak only English can learn about different languages and can pick up words in other languages by reading bilingual books. Finally, many wonderful books have been published as dual language books and should not be missed by children of any culture.
Still, some educators raise concerns about bilingual books. Isabel Schon, Director of the Barahona Center for the Study of Books in Spanish for Children and Adolescents at California State University at San Marcos, believes that bilingual books can be confusing to young children who are still not fluent in one language, and also believes that many bilingual books suffer from poor translation (Schon, 2004).
Philip Lee (2002), co-founder and publisher of Lee & Low Books, an independent press based in New York that publishes multicultural (including bilingual) children's books, has another concern about bilingual books: that the words crowd out the pictures, which can affect the design — and hence the appeal — of a book.
The independent book publishers I spoke with decided to publish bilingual books for several reasons. Small presses have the luxury of listening to the needs of teachers and librarians and then turn around and publish books that meet those needs. When these editors heard directly from their buying audience that they wanted bilingual books, they immediately went about publishing books to meet that need. Larger publishing companies are simply not able to respond to the market so quickly. Perhaps because small companies can respond to local needs, several of these smaller companies have it as part of their mission to publish books in two languages. While Salina Bookshelf specializes in books in Navajo and English and Piñata publishes books in Spanish and English, Children's Book Press has published books in a variety of dual languages, including Latin American and Asian languages.
These smaller companies believe that bilingual versions are better for children who are either learning a second language or who are strengthening their literacy skills in their first language. One editor told me, "I've talked to a lot of people who are interested in the bilingual books because they want their kids to learn Spanish, you know, and so they are exposing their kids to another language, another culture, so definitely that –- there's no doubt in my mind that that's the case." She also sees the need for children whose first language is Spanish to have books in English: "More and more there's an immigrant population of young people –- maybe some of whom are not literate even in their native Spanish, but there are kids who come [to schools in Texas] who at least have some literacy in Spanish and teachers want books in Spanish so they can continue or maintain their literacy in Spanish while adding English language literacy."
Additionally, these smaller companies have realized that there is a market for books for children from Hispanic, Native American, and Asian American cultures, and it follows logically that those books should be written in what is often the child's native language, or at least a language that is spoken at home or within the child's community. One editor from Cinco Puntos Press described why the founders of the press decided to publish their first children's book, La Llorona, in a bilingual version: "I don't think they really set out to publish bilingual books as much as they set out to do what they saw going on around them," referring to the fact that they live in El Paso, Texas, which shares the U.S.-Mexico border with its sister-city, Juarez, Mexico.
One prolific author who has published many titles with Piñata Books says that she specifically targeted the press to publish her first book because she grew up in a bilingual home, and Piñata publishes all of their books in a bilingual format –- English and Spanish. In this way, children from bilingual families have access to books that can be shared with either English speakers or Spanish speakers in their extended families.
Another concern some educators have with bilingual books is that they are sometimes poorly translated. To ensure that the translated text is true to the original, small companies use a variety of translation techniques: having authors translate their own books, having local experts such as native speakers or university faculty provide the translation, utilizing a translation company that specializes in multiple languages, or having the editor translate the book and then asking a native speaker to review the translation. Often, the authors of these books are bilingual and can review the translated work even if they haven't provided the translation themselves. Additionally, these books are originally published as bilingual books, so they are potentially easier to translate than a book that was first published only in English (try writing The Cat in the Hat in Spanish!).
Next week, I'll take a look at some of these outstanding, award-winning bilingual books that have been published by smaller, independent book publishers. Until then, do you use bilingual books in your classrooms or libraries? Why or why not? If so, how do children respond to them? Do students who speak only English enjoy reading bilingual books?
Schon, I. (2004). Bilingual books: Celebration vs. confusion. Booklist, 101(1), 136.
Lee, P. (2002). Publishing Spanish-language books in the United States. Knowledge Quest, 29(3), 18-20.
Please visit wowlit.org to browse or search our growing database of books, to read one of our two on-line journals, or to learn more about our mission.
array(9) {
  ["_edit_lock"]=>
  array(1) {
    [0]=>
    string(12) "1629408090:2"
  }
  ["_edit_last"]=>
  array(1) {
    [0]=>
    string(3) "264"
  }
  ["_yoast_wpseo_primary_category"]=>
  array(1) {
    [0]=>
    string(0) ""
  }
  ["_yoast_wpseo_focuskw_text_input"]=>
  array(1) {
    [0]=>
    string(26) "publishing bilingual books"
  }
  ["_yoast_wpseo_focuskw"]=>
  array(1) {
    [0]=>
    string(26) "publishing bilingual books"
  }
  ["_yoast_wpseo_linkdex"]=>
  array(1) {
    [0]=>
    string(2) "83"
  }
  ["_yoast_wpseo_content_score"]=>
  array(1) {
    [0]=>
    string(2) "30"
  }
  ["_yoast_wpseo_metadesc"]=>
  array(1) {
    [0]=>
    string(290) "Ann Parker discusses the importance of publishing books into another language, such as Spanish. Smaller publishing companies are publishing English books into a second language to benefit reads that are learning a second language or for parents that want their children to become bilingual."
  }
  ["_thumbnail_id"]=>
  array(1) {
    [0]=>
    string(5) "37464"
  }
}