by Janine Schall, University of Texas-Pan American, Edinburg, TX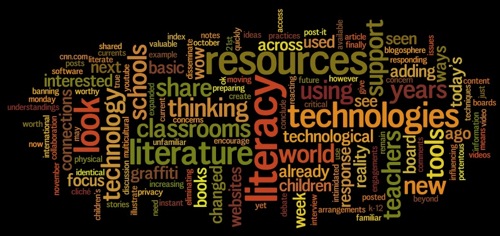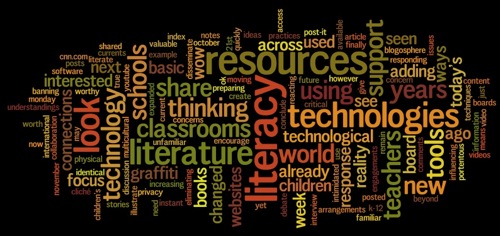 WOW Currents readers are probably familiar with response strategies such as the graffiti board, written reflections, sketch to stretch, and save the last word for me. These engagements help children think about literature, deepen initial responses and prepare for literature discussions.
In this week's post I will share several technological tools that can be used for similar purposes. One note: just like traditional response strategies, these technological tools can often be used for more than one purpose, so don't let the way I organized these tools within this series of blog posts limit your use of them.

Word Clouds
Several years ago I began experimenting with Wordle. This free website lets you to create word clouds out of any text you enter. Words that are repeated most often in the text appear in larger font in the Wordle. You can choose different layouts and color schemes, and edit the cloud by removing certain words. I created the word cloud above using the text from last week's blog post.
Use this in literacy classrooms by typing in text (or cut and paste from a digital source) from the book you are reading. The wordle that you create usually highlights major themes of the book. Or ask children to enter a response in answer to some question about the book. The wordle created from their responses will spark discussion about the question. Questions can range from "List the five traits you most admire about the main character" to "Write about a personal connection you made to the story."
Another word cloud tool is Tagul . This is very similar to Wordle, but also allows you to create the word cloud in whatever shape you choose.
Timelines
The free website Timetoast lets you create timelines. You can include both images and text in your labels. Use this tool to show major events in a book or to explore books with complex plots or flashbacks. For example, the book Miracle's Boys by Jacqueline Woodson takes place over three days, but in the three days spent with the main characters, the reader learns about years of important events through flashbacks, dreams, and memories. This could all be sorted out through Timetoast.
Another timeline tool is Xtimeline. This free site lets you add images, text, and video to your timelines.
Poll Everywhere
I realize that this last tool will be problematic for many schools, but I'm including it because I think it's a great resource for upper grades. I also think it illustrates some of the difficult thinking schools need to do about 21st Century literacies. As mobile devices become more sophisticated and integral to children's lives, how can schools take advantage of their educational uses without encouraging off-task or inappropriate behavior?
Poll Everywhere is a free site (make sure you click on the K-12 or Higher Ed link) that gives you instant student response through cell phones or other mobile devices. The teacher sets up a poll, which can be multiple choice or open ended, students text their response, and results instantly appear on the screen. Results can be shown in graph format or in percentages. This is particularly effective for large classes or topics where students would prefer to remain anonymous.
Teachers could begin literature discussions by posing a question through Poll Everywhere. For example, when reading The Roses in My Carpet by Rukhsana Khan, the teacher might ask "When times are difficult, what helps you keep going?" Students could see how their answer compared to others in the class and begin a discussion. If a contentious topic arises in the middle of a discussion, the teacher could quickly post a poll so that everyone in the class, even the quiet or shy students, could provide their perspective.
How are you using these particular tools in the literacy classroom to support thinking? What other 21st Century tools do you use to help children think about literature? Let us know with a comment below.
Journey through Worlds of Words during our open reading hours: Monday-Friday, 9 a.m. to 5 p.m. and Saturday, 9 a.m. to 1 p.m. To view our complete offerings of WOW Currents, please visit archival stream.
array(10) {
  ["_edit_lock"]=>
  array(1) {
    [0]=>
    string(14) "1569521147:279"
  }
  ["_edit_last"]=>
  array(1) {
    [0]=>
    string(3) "279"
  }
  ["_yoast_wpseo_focuskw"]=>
  array(1) {
    [0]=>
    string(48) "21st century tools for thinking about literature"
  }
  ["_yoast_wpseo_linkdex"]=>
  array(1) {
    [0]=>
    string(2) "79"
  }
  ["_yoast_wpseo_content_score"]=>
  array(1) {
    [0]=>
    string(2) "30"
  }
  ["_thumbnail_id"]=>
  array(1) {
    [0]=>
    string(5) "37464"
  }
  ["_yoast_wpseo_opengraph-image"]=>
  array(1) {
    [0]=>
    string(53) "https://wowlit.org/wp-content/media/WordleNovBlog.jpg"
  }
  ["_yoast_wpseo_opengraph-image-id"]=>
  array(1) {
    [0]=>
    string(4) "1016"
  }
  ["_yoast_wpseo_metadesc"]=>
  array(1) {
    [0]=>
    string(139) "In this installment, Janine Schall provides examples of 21st century tools to help prompt and further literary discussion in the classroom."
  }
  ["_yoast_wpseo_primary_category"]=>
  array(1) {
    [0]=>
    string(0) ""
  }
}