Juan Bobo Goes to Work: A Puerto Rican Tale or Juan Bobo busca trabajo
By Judi Moreillon, Texas Woman's University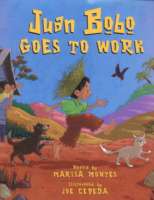 The stories of Juan Bobo have a long history in the oral tradition of Puerto Rico. Similar to the English folklore character Lazy or Foolish Jack, Juan Bobo, or "Simple John," bumbles through life from misunderstanding to misunderstanding. Sometimes he's a trickster, sometimes a town fool, but all the time, Juan Bobo is good for a laugh. This character has starred in many books, is featured in school curricula, newspaper serials, puppet plays, and even an animated cartoon. Juan Bobo is both a folk and a popular culture character.
In this book, Juan Bobo Goes to Work/ Juan Bobo busca trabajo, Marisa Montes retells the story of a young Juan Bobo who makes mistake after mistake yet somehow some way, life works out in his favor in the end. When his mother sends him to neighbor Don Pepe's farm to seek work, she tells her son to hold the money he is paid in his hand rather than put it in his pocket. Juan Bobo performs his task for the day—backwards, of course—putting the bean shells in the wheelbarrow and the beans on the ground. Then when Don Pepe pays him for his work, Juan Bobo misremembers Mamá's instructions and puts the coins in his pocket—his pockets with holes. The clueless Juan Bobo has no money by the time he arrives home.
At the end of each scene, Juan Bobo's mother foreshadows the misunderstanding that will happen in the next scene, and story listeners will quickly begin to predict the mishaps that will occur. At the end of Juan Bobo Goes to Work/ Juan Bobo busca trabajo, the boy ties his payment, a ham, to a string and drags it home to Mamá. On the way, he passes a rich girl who can be cured of her illness through laughter. When she sees Juan Bobo dragging the ham and the neighborhood dogs and cats following behind him eating their fill, she laughs and laughs and is healed. Of course, by the time he arrives home, there is no ham, but fortunately, the rich girl's father sends one to Juan Bobo and his mother every Sunday to thank the boy for saving his daughter's life.
The predictability of the tale makes it a perfect choice for sharing with young children who are learning how narrative works. Author Marisa Montes sprinkles Spanish words and phrases throughout the English edition; a pronunciation guide is provided at the end of the book. The book is also available in Spanish only. In a brief Author's Note, Marisa Montes states that most Juan Bobo stories are set in early twentieth century rural Puerto Rico and that the stories have their origins in a mixture of cultures: Spanish, African, and Taino, the island's indigenous culture. According to The Oxford Encyclopedia of Children's Literature, Juan Bobo is also a character in South American folklore.
In 2002, Juan Bobo Goes to Work earned a Pura Belpré Honor Book Award for illustration. Joe Cepeda's oil paintings depict Juan Bobo's silly and clueless expressions and the bright, bold palette contributes to the Caribbean cultural context. Coincidentally, Pura Belpré, the Latina librarian for whom the award was named, was the first to publish a Juan Bobo tale in the United States, Juan Bobo and the Queen's Necklace (1962).
What is your response to this story? What value or message do you hope story listeners will take away from a retelling of this tale? What storytelling techniques could you use to dramatize the action in the story? Can this story support a goal of sharing global perspectives with young listeners? What is the impact of the Puerto Rican character Juan Bobo having entered into popular culture in the United States and beyond?
Thank you to WOW Currents blog readers and graduate students in LS5633: The Art of Storytelling for participating in this month-long discussion.
Works Cited
Montes, Marisa. Juan Bobo Goes to Work: A Puerto Rican Folktale/Juan bobo busca trabajo. New York: HarperCollins, 2000. Print.
Zipes, Jack. Ed. The Oxford Encyclopedia of Children's Literature. Oxford: Oxford University Press, 2006. Print.
Journey through Worlds of Words during our open reading hours: Monday-Friday, 9 a.m. to 5 p.m. and Saturday, 9 a.m. to 1 p.m. To view our complete offerings of WOW Currents, please visit archival stream.