by Janine Schall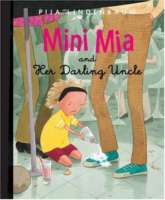 The collection of children's picture books with LGBT characters began growing steadily when Heather Has Two Mommies (Newman, 1989) was published 25 years ago. With a few books added most years, there are currently over 100 books in this collection, which fall into five general categories: books with lesbian characters, books with gay characters, books with transgender characters, books with implied LGBT characters, and nonfiction books about families which include a gay or lesbian parent. In this categorization system, I have separated the books with lesbian, gay, and transgender characters because until recently it has been unusual for lesbian, gay, or transgender characters to be featured together in the same book. In this post, I provide a quick, general overview of this collection of books.
Children's books are one way that children learn about the world and how people live. A reader who browsed through the collection of LGBT picture books would come away with the impression that LGBT people in the United States are all white, middle class parents. A content analysis of the books shows the following percentages of the race and ethnicity of LGBT characters in 83 different picture storybooks:
Lesbian

Gay

White

62

79.50%

41

84%

African  American

2

2.60%

0

0.0%

Latino

6

7.70%

1

2.0%

Asian American

2

2.60%

0

0.0%

Native American

0

0.00%

0

0.0%

Other

4

5.10%

7

14.3%

Total %

78

54.50%

49

34.3%

 

Transgender

Implied LGBT

White

1

50%

6

43%

African  American

1

50.0%

0

0.0%

Latino

0

0.0%

0

0.0%

Asian American

0

0.0%

0

0.0%

Native American

0

0.0%

0

0.0%

Other

0

0.0%

8

57.1%

Total %

2

1.4%

14

9.8%
Within the 83 picture storybooks there are 143 LGBT characters. Of these, more than half are lesbian characters and approximately one third are gay characters, with much smaller numbers of transgender or implied LGBT characters. Characters are overwhelmingly white, followed by characters in the "other" category (76.9% and 13.3%, respectively). The "other" category primarily includes personified animals and humans with green or blue skin. Lesbian characters are not only represented in greater numbers, but are also slightly more racially diverse, with at least some portrayals of African American, Latino, and Asian American characters.
In this set of books all the LGBT characters are middle class and all are members of a family. Lesbian characters are always represented as mothers within a long term partnership or marriage. The only exception to this within this collection is one book with implied lesbian characters who have an intensely close friendship, but are not mothers. There are no other childfree lesbian characters.
Gay characters have a slightly wider range of family structures, since they are either fathers or uncles. If they are fathers, they are always portrayed within a long term partnership or marriage. Uncles are also usually in a long term partnership, but occasionally are single. Uncles are usually the "fun uncle," seen most clearly in Mini Mia and Her Darling Uncle by Pija Lindenbaum (2007) where Uncle Tommy brings Mia a dead snake in a jar, dyes her hair a different color every day, and takes Mia out for fun activities in contrast to her other boring (and presumably heterosexual) uncles.
In contrast to lesbian and gay characters who are always adults, the few transgender characters are children.
The portrayals of race, ethnicity, social class, and family structure in these picture storybooks with LGBT characters clearly is not reflective of U.S. society or of the LGBT community, both of which are far more diverse than this collection. Yet, this collection is reflective of the broader field of children's literature, which has struggled with issues of diversity and representation for decades. Many publishers seem to hold open a few slots per year for books featuring racial or ethnic minorities, then, once these slots are filled, see no need for additional books. While the collection of books with LGBT characters has been growing steadily—though slowly—it is possible that the same thing will happen and the growth in numbers will slow down as "the book with lesbian moms" slot or "the book about same sex marriage" slot is filled. At the same time, however, self-published works may fill some of the holes in the collection left by major publishers.
This week I have examined representations of LGBT characters in picture storybooks. Next week, I will look specifically at books where the possibility of a character being LGBT is implied, either with characters who transgress gender roles in specific ways, characters who have stereotypical LGBT behaviors or characters who have intense same sex friendships.
Children's Books Cited
Lindenbaum, P. (2007). Mini Mia and Her Darling Uncle. New York: R&S Books.
Newman, L. (1989). Heather Has Two Mommies. Los Angeles, CA: Alyson Wonderland.
Journey through Worlds of Words during our open reading hours: Monday-Friday, 9 a.m. to 5 p.m. and Saturday, 9 a.m. to 1 p.m. To view our complete offerings of WOW Currents, please visit archival stream.
array(11) {
  ["_edit_lock"]=>
  array(1) {
    [0]=>
    string(14) "1580495130:264"
  }
  ["_edit_last"]=>
  array(1) {
    [0]=>
    string(3) "264"
  }
  ["_social_aggregated_ids"]=>
  array(1) {
    [0]=>
    string(47) "a:2:{s:7:"twitter";a:0:{}s:8:"facebook";a:0:{}}"
  }
  ["_social_aggregation_log"]=>
  array(1) {
    [0]=>
    string(677) "a:10:{i:1407776284;O:8:"stdClass":2:{s:6:"manual";b:0;s:5:"items";a:0:{}}i:1407778983;O:8:"stdClass":2:{s:6:"manual";b:0;s:5:"items";a:0:{}}i:1407781687;O:8:"stdClass":2:{s:6:"manual";b:0;s:5:"items";a:0:{}}i:1407786188;O:8:"stdClass":2:{s:6:"manual";b:0;s:5:"items";a:0:{}}i:1407793408;O:8:"stdClass":2:{s:6:"manual";b:0;s:5:"items";a:0:{}}i:1407808706;O:8:"stdClass":2:{s:6:"manual";b:0;s:5:"items";a:0:{}}i:1407838389;O:8:"stdClass":2:{s:6:"manual";b:0;s:5:"items";a:0:{}}i:1407882478;O:8:"stdClass":2:{s:6:"manual";b:0;s:5:"items";a:0:{}}i:1407969791;O:8:"stdClass":2:{s:6:"manual";b:0;s:5:"items";a:0:{}}i:1408143485;O:8:"stdClass":2:{s:6:"manual";b:0;s:5:"items";a:0:{}}}"
  }
  ["_yoast_wpseo_focuskw_text_input"]=>
  array(1) {
    [0]=>
    string(39) "LGBT Representation on Children's Books"
  }
  ["_yoast_wpseo_focuskw"]=>
  array(1) {
    [0]=>
    string(39) "LGBT Representation in Children's Books"
  }
  ["_yoast_wpseo_metadesc"]=>
  array(1) {
    [0]=>
    string(155) "In this post, Janine Schall discusses recent addition to the collection of children's books with lesbian, gay, transgender, and/or implied LGBT characters."
  }
  ["_yoast_wpseo_linkdex"]=>
  array(1) {
    [0]=>
    string(2) "66"
  }
  ["_yoast_wpseo_content_score"]=>
  array(1) {
    [0]=>
    string(2) "30"
  }
  ["_yoast_wpseo_primary_category"]=>
  array(1) {
    [0]=>
    string(0) ""
  }
  ["_thumbnail_id"]=>
  array(1) {
    [0]=>
    string(5) "37464"
  }
}