By Andrea García, Ph.D. Literacy Consultant, Pädi, Queretaro, Mexico.
This April, WOW Currents features publishing houses in Mexico whose work is actively transforming the landscape of children's and young adult literature in Spanish. WOW Director Dr. Kathy Short, University of Arizona professor Dr. Carol Brochin, and I visited these publishing houses when we attended the 37 Feria Internacional del Libro Infantil y Juvenil (FILIJ) in Mexico City, Mexico, in November 2017. The FILIJ, the International Book Fair for Children and Young Adults, is the largest annual gathering of publishers specifically focused on children's and young adult literature in Spanish. This 10-day cultural celebration surrounding books and literature hosted more than 442,000 people.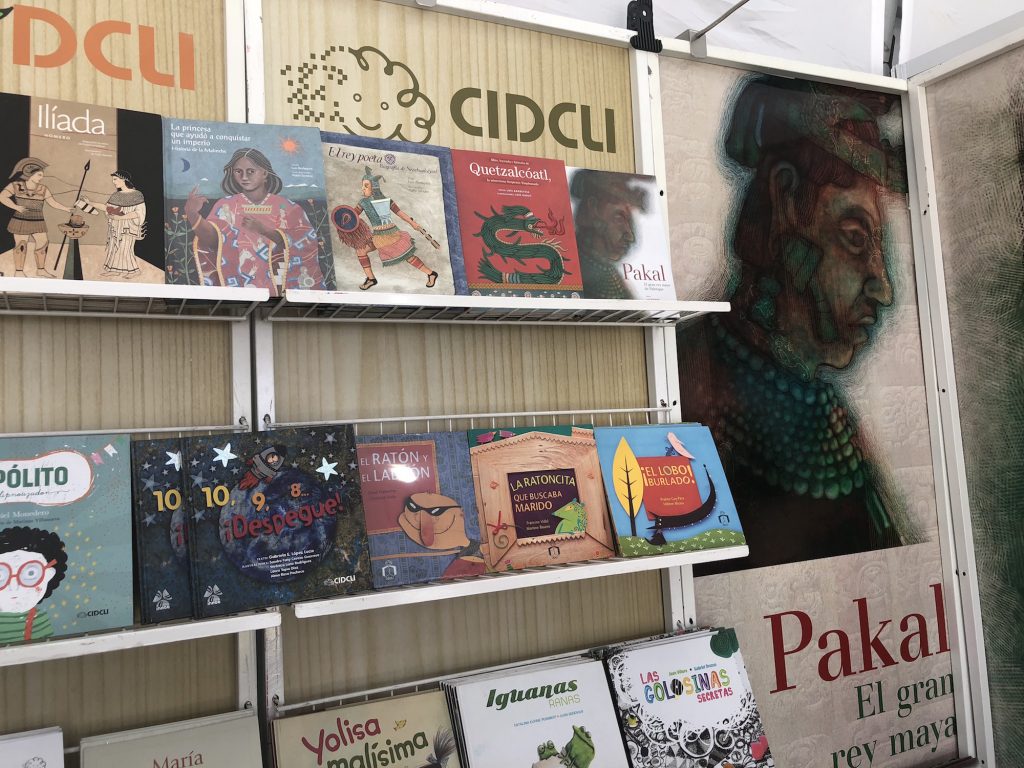 My first invitation for this month, is to familiarize you with the work of CIDCLI, a pioneer in the publishing of high quality literature in Spanish in Mexico specifically for children and young adults. CIDCLI stands for Centro de Información y Desarrollo de la Comunicación y de la Literatura Infantil (Center for Information and Development of Communication and Children's Literature) and it was founded in 1980 by Patricia van Rijhn. At the time, van Rijhn realized that there was a void in the market for quality children's literature written in Spanish by Mexican authors, which was dominated by translated texts or commercial books for children.
van Rijhn invited well-known Mexican authors to write stories for publication. Her previous experiences working for the Mexican government in the Secretaría de Educación Pública and helping to launch the first FILIJ, positioned her in the perfect place to start CIDCLI. Thirty years later, CIDCLI has a catalogue with over 200 books and is one of the most renowned publishing houses in Latin America, winning important national and international awards for their books. Among these recognitions, van Rijhn was honored in 2011 with the National Juan Pablos Award for Editorial Merit, granted by CANIEM, the organizing body for the world of publishing in Mexico. In 2010, their book Armo con letras las palabras, written and illustrated by Alejandro Magallanes, received an honorable mention in the New Horizon category for the prestigious BolognaRagazzi Award in the Bologna Children's Book Fair. Their authors and illustrators represent the best of contemporary children's and young adult literature in Spanish from around the world.
CIDCLI also ventured into the exiting world of digital books and book apps with an innovative digital concept that brings to life stories that coexist in both the printed and digital domains. You can check out their collection Pininos and explore their vision for what high-quality digital publications can look like.
van Rijhn advocates for placing unique books that have meaningful stories, attractive designs and beautifully-crafted illustrations in the hands of children and adolescents. CIDCLI's different collections, which feature fiction, non-fiction and poetry appropriate for early readers to young adults, are rich with Mexican tradition like their award-winning Mito, leyenda e historia de Quetzalcóatl: La misteriosa Serpiente Emplumada written by Luis Barbeytia and illustrated by Luis Garay. But they transcend traditional stories to present contemporary perspectives on historical characters, like their book Alexander von Humboldt, un explorador científico en América written by Tom Janota and illustrated by Marion Janin. Both of these stories are published in print and digital formats.
van Rijhn belives that "…a los niños hay que darles la alternativa de una literatura de calidad, para que sientan que los cuentos, nóvelas o poesía son un arte por el que pueden navegar el resto de sus vidas," ["…children need to have the alternative of high quality literature, so that they feel that books, stories, or poetry are an art form they can navigate for the rest of their lives,"] Patricia van Rijhn (2005). That belief made CIDCLI an influential force in the world of publishing Spanish children's and young adult literature in Mexico and around the world.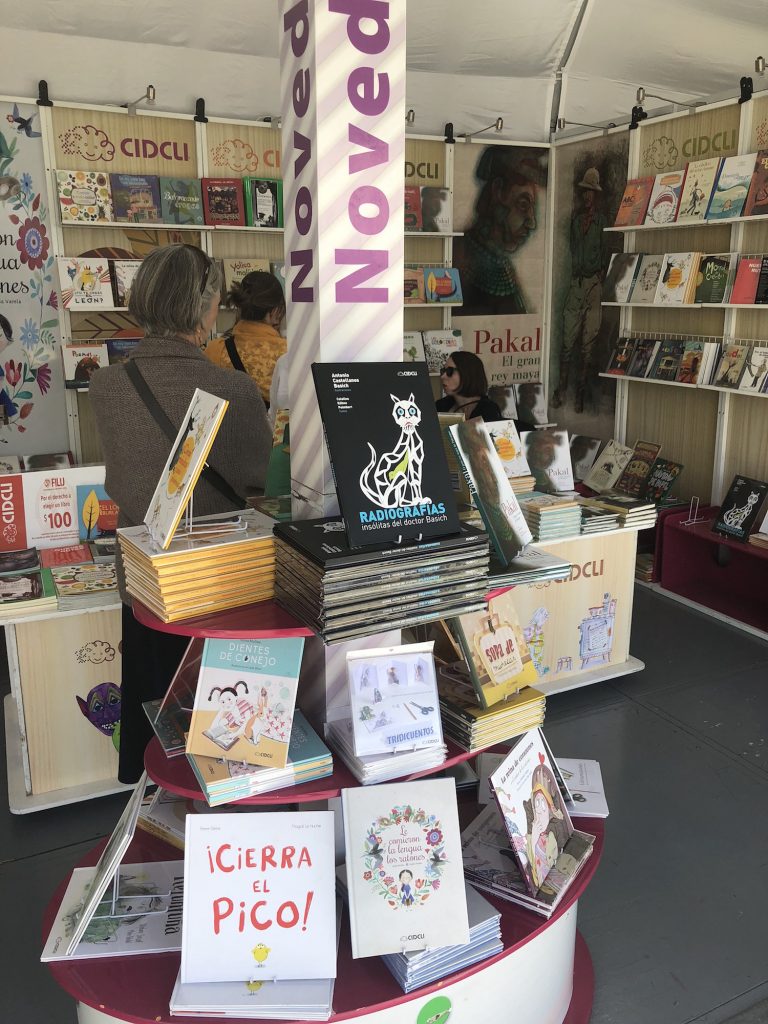 Please, let me know which books you have read from this publisher or which authors who have published with CIDCLI you are familiar with. It is my hope that their catalogue will inspire you to extend the presence of Spanish books in your own collections.
[Admin Note: Books from CIDCLI are available for browsing in the Worlds of Words collection. The books are shelved in the Mary J. Wong collection, so patrons will need to request access.]
Journey through Worlds of Words during our open reading hours: Monday-Friday 9 a.m. to 5 p.m. and Saturday 9 a.m. to 1 p.m.
array(9) {
  ["_edit_lock"]=>
  array(1) {
    [0]=>
    string(14) "1580490799:264"
  }
  ["_edit_last"]=>
  array(1) {
    [0]=>
    string(3) "264"
  }
  ["_yoast_wpseo_content_score"]=>
  array(1) {
    [0]=>
    string(2) "30"
  }
  ["_yoast_wpseo_primary_category"]=>
  array(1) {
    [0]=>
    string(4) "3388"
  }
  ["_yoast_wpseo_focuskw_text_input"]=>
  array(1) {
    [0]=>
    string(6) "CIDCLI"
  }
  ["_yoast_wpseo_focuskw"]=>
  array(1) {
    [0]=>
    string(6) "CIDCLI"
  }
  ["_yoast_wpseo_metadesc"]=>
  array(1) {
    [0]=>
    string(319) "WOW Currents features publishing houses in Mexico whose work is actively transforming the landscape of children's and young adult literature in Spanish. Our first invitation is to familiarize you with the work of CIDCLI, a pioneer in the publishing of high-quality literature specifically for children and young adults."
  }
  ["_yoast_wpseo_linkdex"]=>
  array(1) {
    [0]=>
    string(2) "77"
  }
  ["_thumbnail_id"]=>
  array(1) {
    [0]=>
    string(5) "37464"
  }
}