By Andrea García, Ph.D. Literacy Consultant, Pädi, Queretaro, Mexico
This week, I will focus on one of the oldest and most important editorial houses in Mexico, and across Latin America, the Fondo de Cultura Económica, FCE or "el Fondo," as it is usually referred to. FCE is a nonprofit organization that is partially funded by the Mexican government.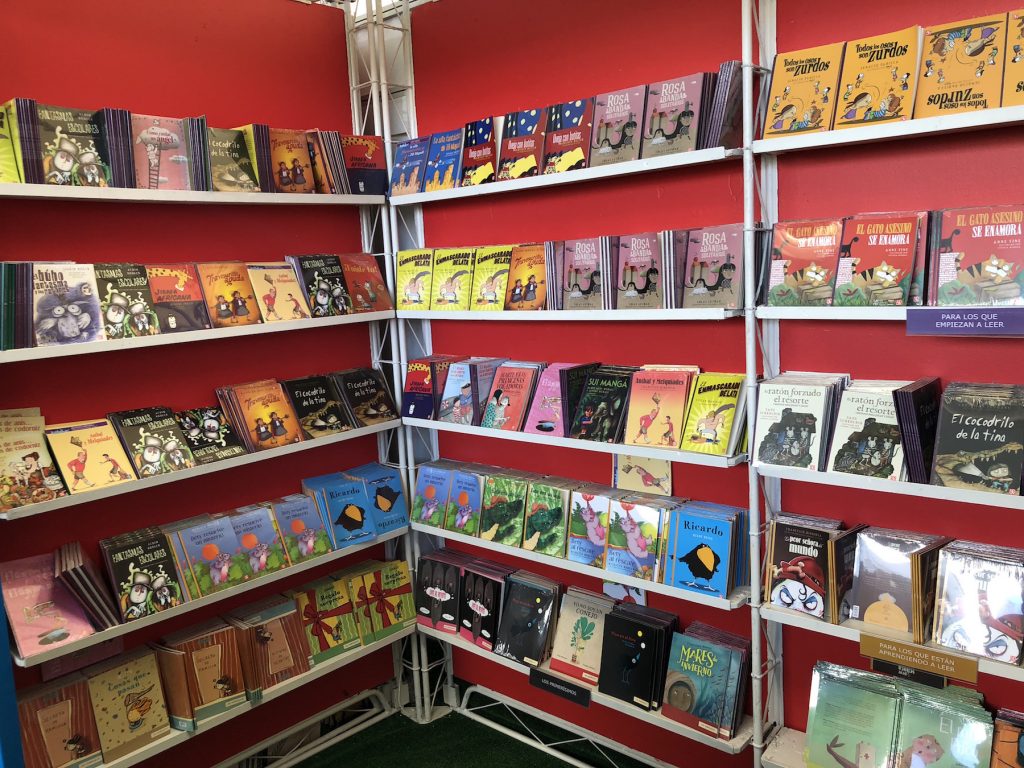 Founded in 1934 by Daniel Cosío Villegas, a renowned Mexican economist, scholar and diplomat, el Fondo initially focused on publishing texts about economics in Spanish from both Mexican and international economists. Their catalog quickly expanded to include philosophy, history, literature, science, politics and a vast collection of children's and young adult literature. To date, el Fondo has published more than 10,000 titles, with about 5,000 active titles in the market. They also ventured into the world of e-publishing, with an electronic catalog of more than 1,300 titles.
FCE's website features a historical timeline, presenting snapshots of their numerous accomplishments during the past 80 years. Highlights include launching the series Lengua y Estudios de Literatura [Language and Literature Studies] in 1950 and publishing the complete works of Sor Juana Inés de la Cruz in 1951. After that, el Fondo began publishing the work of some of the most prestigious authors in the Mexican literary world, like Alfonso Reyes, Carlos Fuentes, Juan Rulfo and Octavio Paz. Between 1945 and 1975 they opened subsidiaries in Argentina, Chile, Peru, Spain, Venezuela and Colombia. In the 1990s, FCE opened a subsidiary in the U.S. based in San Diego, California, adding one in Brazil and one Guatemala. After 20 years, their latest subsidiary opened in Ecuador in 2015.
In 1991, their first children's and young adult title was published as part of the new series, A la Orilla del Viento. The book was El pozo de los ratones y otros cuentos al calor del fogón [The mice well and other stories near the wood stove] written by Pascuala Corona and illustrated by Blanca Dorantes. The series A la Orilla del Viento remains one of the most prominent collections of children's and young adults Spanish literature, with over 200 titles. To commemorate the 25th anniversary of the publication of Corona's book and the launch of the children's and young adult series, FCE reissued the book in a special bilingual edition written in Spanish and Náhuatl, El pozo de los recuerdos/Kimichime i oztotlkali, with translated text by Mardonio Carballo and illustrations by David Daniel Álvarez.
Among many of their annual competitions and awards, FCE sponsors a competition titled Concurso de Álbum Illustrado A la Orilla Del Viento [A la Orilla del Viento Picture Book Competition]. The goal is to select a text written in Spanish, honoring storytelling through words and through pictures. The winner in 2016 was the Argentinian artist and writer Pablo De Bella for his story El soñador [The Dreamer].
Working in collaboration with the Fundación para las Letras Mexicanas [Foundation for Mexican Literature], el Fondo also promotes children's poetry with their annual Premio Hispanoamericano de Poesía para Niños [Award for Hispanic-American Children's Poetry]. The winner in 2017 was the Mexican writer Luis Eduardo García, with his work, Una extraña seta en el jardín [A strange mushroom in the garden], which will be published by FCE.
With such a rich history, it is no surprise that FCE has received national and international recognition for their excellence in editorial work in Spanish. Their honors are far too many for me to list in this entry, but I will bring attention to some of their most recent achievements. In 2017, FCE was nominated for the Bologna Prize for the Best Children's Publishers of the Year (BOP Prize) for Central and South America.
The White Ravens Catalog, compiled each year by specialists from the International Youth Library, in Munich, Germany, includes a list of the most noteworthy books published around the world. Throughout the years, books published by FCE have been included in the catalog, such as Colores con brisa [Breeze Colors] in 2007, written and illustrated by Carlos Pellicer; Hago de voz un cuerpo [I make a body with your voice] in 2008, text by María Baranda and illustrations by Gabriel Pacheco; and, in 2015, Cuentos populares mexicanos [Mexican folk stories], written by Fabio Morábito with illustrations by a number of artists, including David Daniel Álvarez, Abraham Balcázar, Israel Barrón, Manuel Monroy, Juan Palomino, Ricardo Peláez, Isidro R. Esquivel, Santiago Solís and Fabricio Vanden Broeck.
Finally, in 2018, out of the 20 honored titles in the Premio Fundación Cuatrogatos [Cuatrogatos Foundation Award], four were published by FCE. Fundación Cuatrogatos [Cuatrogatos Foundation] is a not-for-profit cultural and educational organization based in Miami, Florida. Among other activities, they work to promote reading and high-quality literature in Spanish among children and youth. Five years ago, the Premio Fundación Cuatrogatos [Cuatrogatos Foundation Award] was established to promote and disseminate outstanding children's and young adult fictional literature "created by Ibero-American writers and illustrators." Each year, they select 20 books to receive this award, and this year, the award winners were selected among a total of 1,300 books from 188 publishing companies in 19 countries. Among the titles selected from FCE for this award are Noche antigua [Ancient night], written and illustrated by David Daniel Álvarez, and El dragón blanco y otros personajes olvidados [The white dragon and other forgotten characters], written by Adolfo Córdova and illustrated by Riki Blanco.
Given its long trajectory and a well-established reputation across the world, the Fondo de Culturra Económica is more than just a publishing house. It is a unique cultural phenomenon that forever changed the way Mexico, and the rest of the Spanish-speaking world, experience children's and young adult literature, which represents a fraction of the work they do.
Did you know about the work that the Fondo de Cultura Económica has done in the past to promote high quality children's and young adult literature published in Spanish? Have you read any of the books that have won their award, A la Orilla del Viento? Share your thoughts and comments with us!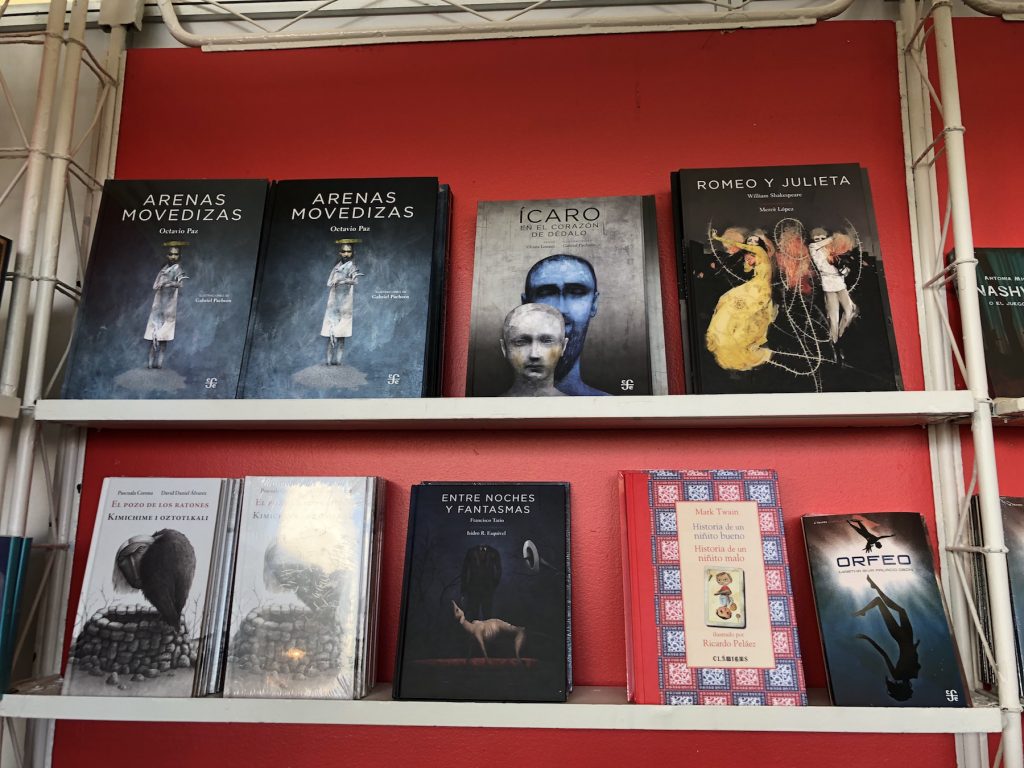 [Admin Note: Books from Fondo de Cultura Económica are available for browsing in the Worlds of Words collection. The books are shelved in the Mary J. Wong collection, so patrons will need to request access.]
Journey through Worlds of Words during our open reading hours: Monday-Friday 9 a.m. to 5 p.m. and Saturday 9 a.m. to 1 p.m.
array(9) {
  ["_edit_lock"]=>
  array(1) {
    [0]=>
    string(14) "1580490728:264"
  }
  ["_edit_last"]=>
  array(1) {
    [0]=>
    string(3) "264"
  }
  ["_yoast_wpseo_focuskw_text_input"]=>
  array(1) {
    [0]=>
    string(27) "Fondo de Cultura Económica"
  }
  ["_yoast_wpseo_focuskw"]=>
  array(1) {
    [0]=>
    string(27) "Fondo de Cultura Económica"
  }
  ["_yoast_wpseo_metadesc"]=>
  array(1) {
    [0]=>
    string(188) "Andrea profiles one of the oldest and most important editorial houses in Mexico, and across Latin America, the Fondo de Cultura Económica, FCE or "el Fondo," as it is usually referred to."
  }
  ["_yoast_wpseo_linkdex"]=>
  array(1) {
    [0]=>
    string(2) "71"
  }
  ["_yoast_wpseo_content_score"]=>
  array(1) {
    [0]=>
    string(2) "30"
  }
  ["_yoast_wpseo_primary_category"]=>
  array(1) {
    [0]=>
    string(4) "3388"
  }
  ["_thumbnail_id"]=>
  array(1) {
    [0]=>
    string(5) "37464"
  }
}