By Andrea García, Ph.D. Literacy Consultant, Pädi, Queretaro, Mexico
For the last couple of years, I have been working as a teacher, educator and a literacy consultant in both Mexico and the United States. Through my work and conversations with teachers, educators, and parents in both countries, I know that there is still a great need to diversify the choices we offer our younger readers, particularly stories with authentic and contemporary representations of traditionally marginalized identities across ethnicity, race, gender, ability, and so on.
The latest data published by the Cooperative Children's Book Center (CCBC) continue to point to the lack of diversity in what is being published in United States, and even more, the lack of access for diverse authors to tell their own stories. In the case of the Latinx experience, the numbers for 2018 look like this: out of 3,312 books received that year by the CCBC from U.S. publishers, only 240 books featured Latinx characters. Of these, only 186, or about 6%, were written by authors or illustrators who identify themselves as Latinx. While this marks an important increase from what was being published in 2015, there is still an under representation of stories about and by Latinx authors, given that the latest demographic statistics place Latinx/Hispanics as 18% of the population of the United States.
Meanwhile, across the rest of the world, children's and young adult literature from Spanish–speaking countries continues to be recognized for its literary quality and artistic merit. For example, Mexican authors and illustrators, as well as Mexican independent publishing houses, have been selected as recipients for prestigious international awards in children's and young adult's literature [See April 2018]. In an effort to continue to promote the work of writers and illustrators whose books are published originally in Spanish, this month I will highlight organizations that are helping to promote work by Ibero–American authors and illustrators worldwide.
While many of these books have yet to be translated into English, I believe that teachers, librarians, and parents can continue to strengthen their school and home libraries for readers who are growing up in households where Spanish is part of their linguistic repertoire, by including books originally published in Spanish. These stories offer contemporary representations of what it means to live as part of the Latinx community around the world in today's global landscape. They help enrich the availability of present–day narratives from insider to this culture, moving beyond the Mexican–American experience in the United States, or from translations of English children's literature into Spanish.
Today, I will focus on the work of Fundación Cuatrogatos, a nonprofit cultural and educational organization based in Miami, Florida. Founded it 2000 by Cuban writers Sergio Andricaín and Antonio Orlando Rodriguez, they describe that their main goal is "the promotion of culture and education, with an emphasis on children and young adults." Their mission includes a series of educational and cultural initiatives focused on publishing, disseminating, and promoting access to high quality literature in Spanish to "develop an aesthetic appreciation and strengthen the creative and analytical skills in children and young adults." Through education, they also look to foster intercultural understandings by placing reading and literature at the heart of the aesthetic experience. By doing so, they hope to facilitate "the appreciation of the different manifestations of art, and thus contribute in a positive way to citizens' values; to the coexistence, knowledge, and the respect for the differences in other cultures."
Fundación Cuatrogatos has a full program of activities throughout the year, where they bring together books, authors, illustrators, as well as recognized scholars in the field of children's and young adult literature in Spanish. You can preview the complete list of initiatives on their home page.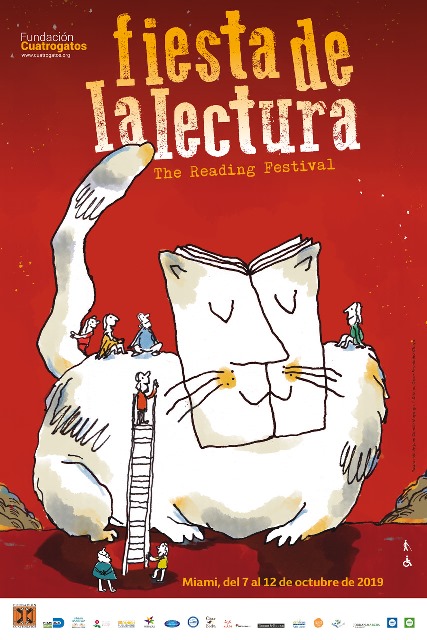 Among their most notable activities, every October, they host the Fiesta de Lectura/Reading Festival, a comprehensive literary celebration and intercultural exchange that takes place in schools and cultural organizations across Miami. For 2019, one of the invited guests was Mexican illustrator Israel Barrón, winner of a gold plaque in the 2017 Biennial of Illustrations Bratislava for his work in Bestiario de seres fantásticos. Barrón's participation for the 2019 Fiesta de Lectura centered around his illustrations for the book Dragones en el Cielo (2015), authored by Sergio Andricaín, co–founder of Fundación Cuatrogatos. The book is published by Ediciones El Naranjo.
For those of us who do not reside in the area, we can still benefit from the Foundation's work and resources. They have a blog called MiauBlog where readers can find an overview of their latest projects, as well as interviews with distinguished authors, and reviews of children's and young adult's literature.
One of their most significant contributions is the establishment of the Premio Fundación Cuatrogatos/Cuatrogatos Foundation Award. Established in 2014, every year they select 20 books that represent excellence in children's and young adult literature from Ibero–American writers and illustrators. They include books published in Spanish in the United States, as well as in Spanish-speaking countries in North, Central, and South America, in addition to Spain, Portugal and Brazil. According to their website, the books are selected by a "by a team of professionals of multidisciplinary formation — philosophy, education, journalism, sociology, librarianship, theater, plastic arts — that share the interest for the creation and study of children's and young people's literature."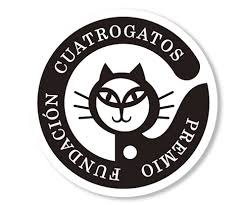 Every year, the list of winners becomes a point of reference for those interested in learning about what is happening in the Spanish publishing world dedicated to children's and young adult literature. The lists for current and past award-winners are available online for download and they can be accessed in both English and Spanish. Each winning book is categorized according to the following five criteria:
1. For the little ones who can't read
2. For those who start reading
3. For those who took off as readers
4. For those who dare with challenging books
5. For those who became great readers
The 2019 award-winners were selected among a total of 1,500 books, published by 175 editorial houses in 19 countries. This year, three books by Mexican authors were selected among the 20 winners. First, we have Le comieron la lengua los ratones (2017) written by Silvia Molina, one of the most recognized voices in Mexican literature for both children and adults, and published by CIDCLI. The book presents a story written in verse, where we meet Mari, a young girl who, after losing her mother, stops talking, and who must learn to face her fears and rediscover her voice as she travels for the summer with her uncle to new and unexpected places.
Alberto Chimal's novel La distante (2018), published by Ediciones El Naranjo, was another recipient of this year's award. Chimal is recognized as one of the most important contemporary Mexican writers. His novel, La distante, is a captivating love story between Manek, a guardian in a dessert, and Akundi, a beautiful woman condemned to solitude. The narrative is told in the tradition of an oral history, with a touch magical realism, stylistic resources that Chimal uses to guide us through an epic story.
Finally, the book #YoSoyBosco (2017) from writer Andrés Acosta, published by Fondo Editorial del Estado de México, FOEM, completes the list of Mexican winners for 2019. Andrés Acosta is an award–winning author, who created a story with a dystopian backdrop where we get to accompany our teenage protagonists, Bosco and Moscamuerta, through an important quest to search for the truth behind what is happening in their world.
I invite you let us know if you were familiar with Fundación Cuatrogatos. Have you used their resources before? Have you attended any of their past events? Did you know about the Cuatrogatos Foundation Award for children's and young adult literature? What did you find most helpful? Looking forward to your comments.
Journey through Worlds of Words during our open reading hours: Monday-Friday, 9 a.m. to 5 p.m. and Saturday, 9 a.m. to 1 p.m. To view our complete offerings of WOW Currents, please visit archival stream.
array(12) {
  ["_edit_lock"]=>
  array(1) {
    [0]=>
    string(14) "1574113859:272"
  }
  ["_edit_last"]=>
  array(1) {
    [0]=>
    string(3) "272"
  }
  ["_yoast_wpseo_content_score"]=>
  array(1) {
    [0]=>
    string(2) "30"
  }
  ["_yoast_wpseo_primary_category"]=>
  array(1) {
    [0]=>
    string(4) "3388"
  }
  ["_thumbnail_id"]=>
  array(1) {
    [0]=>
    string(5) "37464"
  }
  ["_yoast_wpseo_opengraph-image"]=>
  array(1) {
    [0]=>
    string(54) "https://wowlit.org/wp-content/media/Picture-1-Logo.png"
  }
  ["_yoast_wpseo_opengraph-image-id"]=>
  array(1) {
    [0]=>
    string(5) "38047"
  }
  ["_yoast_wpseo_twitter-image"]=>
  array(1) {
    [0]=>
    string(54) "https://wowlit.org/wp-content/media/Picture-1-Logo.png"
  }
  ["_yoast_wpseo_twitter-image-id"]=>
  array(1) {
    [0]=>
    string(5) "38047"
  }
  ["_yoast_wpseo_focuskw"]=>
  array(1) {
    [0]=>
    string(11) "Spanish lit"
  }
  ["_yoast_wpseo_metadesc"]=>
  array(1) {
    [0]=>
    string(152) "This month, Andrea García discusses how Spanish lit is not promimemt in the U.S. and platforms where someone can learn about what is available to them."
  }
  ["_yoast_wpseo_linkdex"]=>
  array(1) {
    [0]=>
    string(2) "73"
  }
}