Celeste Trimble, St. Martin's University, Lacey, WA
Last Sunday, I attended my first virtual dance party put on by D-Nice on Instagram Live, dubbed Club Quarantine. I've seen conflicting reports that there were 50,000 to 150,000 virtual attendees from all over the globe all listening to music and dancing alone together. It was a true stress relief, as music can often be. It also reminded me that music is often a social act. Most of us grow up with some music, and many of us grow up surrounded by music. Music is one way that our identities get formed–through identifying with others who share the same musical interests or culture. Our families raise us with their own musical interests, but we explore on our own, forming our own musical identities. In this post, I will explore picturebook biographies about global musicians that relate to my own musical upbringing and identities.
I grew up with my grandfather, who had been a violinist in the Chicago Symphony. We only listened to classical music at home. It wasn't all Mozart and Beethoven, though. I heard Charles Ives, Ralph Vaughn Williams and other twentieth century composers. One day, I learned that my grandpa had also played in Chicago dance bands, playing hot fiddle for high society, including, as the mythology goes, for Al Capone himself. Although he liked these big band sounds, he didn't choose to listen to them. I found them myself by listening to small college and public radio. I heard reggae, jazz, world music, rap and hip hop, ska, electronica, metal, classic rock. There was so much to listen to beyond the classical, however lovely, that dominated listening in the household of my youth.
In this time of social distancing, music is vitally important. We are singing from the balconies. We are singing everywhere, not worried about our audiences. Musicians are our friends, keeping us company, comforting and distracting us. The same thing can be said for authors, illustrators and the books that they have gifted to the world. This week, I focus on picturebook biographies of musicians from around the world. I admit, it was much easier to find global books about musicians than it was to find global books about literary artists, perhaps because music transcends language and translation.
I grew up playing the piano. So, I was interested and excited when I found The Music of Life: Bartolomeo Cristofori and the Invention of the Piano written by Elizabeth Rusch and illustrated by Marjorie Priceman. When Cristofori (born in 1655) was invited by Prince Ferdinando to join his court in Florence, Italy, he did not want to leave his peaceful life in Padua, but he is lured with the promise of the country's best instruments. This lovely story takes us first on a journey through Cristofori's invention process. The harpsichord is too loud, the clavichord is too soft. Cristofori changes the shape and materials of the hammers, the strings, the soundboard. When he finishes this masterpiece, a piano covered in red leather, lined in green taffeta and trimmed with gold ribbon, the illustration is delightful. It looks like Cristofori has fallen in love, floating, almost crying with adoration for this new quite excellent invention. Even the cat is smiling, rubbing their cheek on the piano leg. Of course this story moves along through a brief history of the piano, through Brahms, Joplin, Schumann, Debussy. The back matter gives further information on Cristofori's surviving pianos, technical differences between this pianoforte and modern pianos, a playlist (great for quarantining times!) as well as a description of how the author researched and found the information she used to write the book.
Using the trajectory of my own musical discoveries as a template for how to order my discussion of these biographical picturebooks, the next book on this list is Little Melba and Her Big Trombone written by Katheryn Russell-Brown and illustrated by Frank Morrison. This book tells the story of Melba Doretta Liston, an African American woman born in Kansas City in 1926, who took up the trombone as a child and became the first woman to become a world class trombone player and composer. Deciding when she is seven that she wants to play the trombone, she is devoted to her instrument and her art and eventually plays with jazz greats like The Sweethearts of Rhythm, Dizzy Gillespie and Billie Holliday. This book does not shy away from the difficulties of being Black and traveling around the Jim Crow United States, being denied a hotel room or a hot meal, but the focus is Liston's incredible musical talent, skill and passion. Frank Morrison also created a jazz playlist to go along with the picturebook.
Growing up, my uncle lived with us. He solely listened to reggae music–while in his room, while washing his car, while driving around. He introduced me to so many different group and styles of reggae, but Bob Marley reigns as probably the most important figure in my reggae education. I and I: Bob Marley written by Tony Media and illustrated by Jesse Joshua Watson, tells the story of Marley's life and music through verse. More than that, however, each poem gives us a sense of the rhythm of Marley's own verses through his eyes and heart. The reader learns of how Marley grew into the musician he was: through exploring streets in Kingston, Jamaica, and the people living there; through exploring classic music from the United States, its rhythms and harmonies; and through a connection with Jah, the Face of God, and the development of his consciousness. Marley connected music with advocating for peace, love and regular people, and this connection comes through his songs. Music is often about more than just sound, and this picturebook illustrates that beautifully.
When I got my first stereo system, my uncles gave me an eight track version of The Beatles Rubber Soul, I bought myself the Linda Ronstadt album where she is on roller skates on the cover as well as Prince's Purple Rain, and my aunt gave me a compilation album that I think was called Africa '68. I loved all the songs on Africa '68, but only one of the musicians had other recordings available in the United States, Miriam Makeba. The song on this record, Pata Pata, was one of her most famous, but there were so many more, and such a rich story behind the songs. Mama Africa! How Miriam Makeba Spread Hope with her Song by Katherine Erskine and illustrated by Charly Palmer, tells this story. Makeba was born in Prospect Township, South Africa, in 1932. Even before a formal apartheid system begins in 1948, Makeba experiences racial hatred and discrimination from the white South African government and people. She realizes that her singing brings her strength, and that it can bring others strength if she can sing out against apartheid without being jailed. Throughout her career, she sings to promote freedom for black South Africans. Her songs are political and powerful, and a few of the stories behind the songs are mentioned in this book, such as Khawuleza.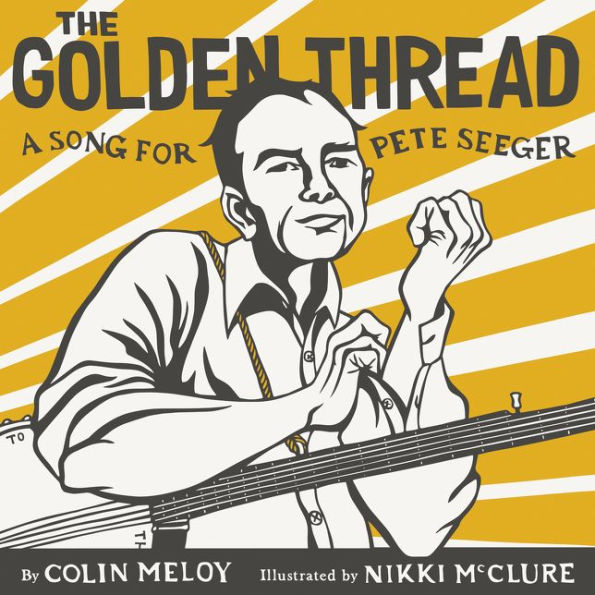 I was beginning to learn that music can be an important part of fighting for human rights and social change. In middle school, I began exploring folk music. Part of the reason I enjoyed folk music is that I could pick up my guitar, and with a few rudimentary chords, I could play some wonderful songs. That's how I discovered Pete Seeger. The Golden Thread: A Song for Pete Seeger by Colin Meloy and illustrated by Nikki McClure, tells the story of Seeger's activism through music. McClure's illustrations are created with cut paper, and are entirely black, white and a dark yellow. Seeger and other characters on the page visually sing lyrics while Meloy, a member of the band The Decemberists, has written Seeger's story in rhyming verse. I'm lucky enough to live in Olympia, WA, the same town as McClure. When this book first came out, she participated in a few Pete Seeger singalongs at schools around town. Participants could feel the power of song to work for peaceful change in our world, as dozens of people sang these familiar songs together.
Throughout middle school and high school, I loved the sound of acoustic instruments and unaltered voices. I attended Mills College, however, which was well known for its electronic music program. I fell in love with the 'dots and loops' of analog electronic sound, using the Moog and splicing tape, and chose to minor in electronic music. During my earliest sonic explorations, I looked for sounds and clips to sample, bringing together quirky tones, rhythms, and aural textures for my electronic pieces. There was wonderful electronic music happening in the 1950s and 1960s, and so I began there. It was then that I came across 1950s lounge music for the first time. Usually acoustic, but sometimes electronic, this style of music was the soundtrack of cocktail hour. Esquivel! Space-Age Sound Artist by Susan Wood and illustrated by Duncan Tonatiuh, tells the story of Juan Garcia Esquivel, from his early years in Tampico, Mexico, to his many performances in New York, Las Vegas and across the world. Esquivel led an orchestra and was a pioneer of stereophonic lounge music, the soundtrack for the space age, meticulously performed and recorded. More than something to dance to, different from music as activism, Esquivel created a sonic experience for listeners, bouncing sound from ear to ear, recording instruments separately so the sound engineer had greater control over the recording. By using an ancient artform to tell the story of a "space-age" bachelor, Tonatiuh's recognizable style, inspired by the Mixtec codex of fourteenth century Mexico, mirrored Esquivel's way of using traditional instruments and sounds to create a very modern sonorama.
These quarantined days, the notion of singing together in the same room make us all swoon for the music of social togetherness. When the Beat was Born: DJ Kool Herc and the Creation of Hip Hop by Laban Carrick Hill, illustrated by Theodore Taylor III, is a marvelous reminder of music as the soundscape of social pleasure. Kool Herc was born in Kingston Jamaica, but moved to the Bronx in New York when he was 13 years old. He went to house parties in the Bronx with his mother that reminded him of Jamaica. After his father gave him a sound system, he loved the big sound and threw his first house party in 1973. DJ Kool Herc was developing a new style of playing music for parties and dancers, calling out names, extending the break beats and rapping. Hip Hop was inspiring other musicians, MCs and rappers, an entirely new multigenerational heartbeat. When the Beat was Born illustrates the energy and collective enthusiasm behind the birth of hip hop.
Anne Fernald said that "sound is touch at a distance," and at this time it seems very important to remember this. Learning about music and the lives of musicians can wrap us in a sonic embrace, connecting us to others all around the world through the physicality of sound waves and the mental and emotional uplift that music can provide.
Journey through Worlds of Words during our open reading hours: Monday-Friday, 9 a.m. to 5 p.m. and Saturday, 9 a.m. to 1 p.m. To view our complete offerings of WOW Currents, please visit its archival stream.
array(13) {
  ["_edit_lock"]=>
  array(1) {
    [0]=>
    string(14) "1586149755:264"
  }
  ["_edit_last"]=>
  array(1) {
    [0]=>
    string(1) "2"
  }
  ["_thumbnail_id"]=>
  array(1) {
    [0]=>
    string(5) "37464"
  }
  ["_yoast_wpseo_opengraph-image"]=>
  array(1) {
    [0]=>
    string(53) "https://wowlit.org/wp-content/media/i-and-i-cover.jpg"
  }
  ["_yoast_wpseo_opengraph-image-id"]=>
  array(1) {
    [0]=>
    string(5) "38929"
  }
  ["_yoast_wpseo_twitter-image"]=>
  array(1) {
    [0]=>
    string(79) "https://wowlit.org/wp-content/media/little-melba-and-her-big-trombone-cover.jpg"
  }
  ["_yoast_wpseo_twitter-image-id"]=>
  array(1) {
    [0]=>
    string(5) "38928"
  }
  ["_yoast_wpseo_content_score"]=>
  array(1) {
    [0]=>
    string(2) "30"
  }
  ["_yoast_wpseo_primary_category"]=>
  array(1) {
    [0]=>
    string(4) "3388"
  }
  ["_yoast_wpseo_focuskw"]=>
  array(1) {
    [0]=>
    string(46) "picturebook biographies about global musicians"
  }
  ["_yoast_wpseo_metadesc"]=>
  array(1) {
    [0]=>
    string(152) "Celeste Trimble presents picturebook biographies about global musicians, focusing on the way music affected their lives, and how it shaped modern music."
  }
  ["_yoast_wpseo_linkdex"]=>
  array(1) {
    [0]=>
    string(2) "73"
  }
  ["_wp_old_date"]=>
  array(1) {
    [0]=>
    string(10) "2020-03-23"
  }
}

Themes: Celeste Trimble, Charly Palmer, Colin Meloy, Duncan Tonatiuh, Elizabeth Rusch, Esquivel! Space-Age Sound Artist, I and I: Bob Marley, Jesse Joshua Watson, Katherine Erskine, Little Melba and Her Big Trombone, Mama Africa! How Miriam Makeba Spread Hope with her Song, Marjorie Priceman, Nikki McClure, Susan Wood, The Golden Thread: A Song for Pete Seeger, The Music of Life: Bartolomeo Cristofori and the Invention of the Piano, Tony Media
Descriptors: Books & Resources, WOW Currents