Kathy G. Short, The University of Arizona, Tucson, AZ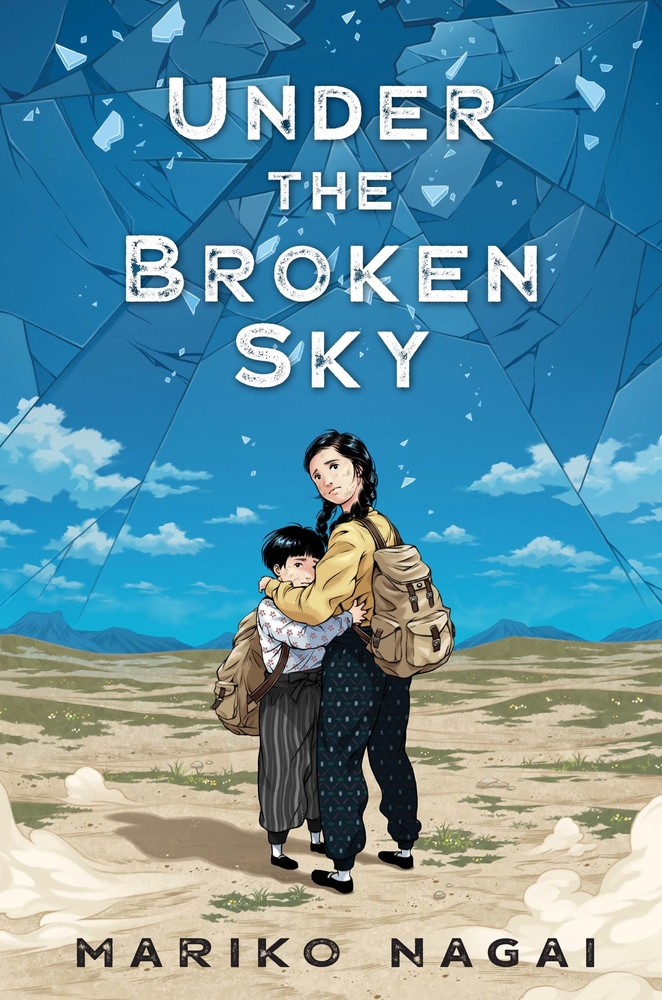 Books about World War II continue to trend in global literature for children and adolescents. The 2020 global reading lists contain many books for middle grade and young adult readers that reflect on-going interest in this time period. The majority are historical fiction and focus on World War II events in Europe, but a new trend is historical fiction that focuses on events in Asia.
Four YA novels are set in China or Japan. The occupation of China by Japan and the advance of Allied troops across China at the end of the war led to multiple layers of oppression and desperation. Under the Broken Sky by Mariko Nagal (2019) is a novel in verse about two Japanese children left alone in Japanese-occupied Manchuria when their father is forced into the army. The two sisters flee when Japan surrenders at the end of the war and the Soviet army arrives to chase out Japanese children and women. Natsu is forced to sell her sister to a Russian family as her only hope of survival and faces angry Chinese villagers as she tries to recover her sister and escape. The Taste of Rain by Monique Polak (2019) is also set in Japanese-occupied territory in China but is the story of American missionary children in a boarding school who are imprisoned in a Japanese internment camp. One possibility is to read this book alongside novels about U.S. Japanese-American internment camps, such as Weedflower by Cynthia Kadohata (2009). Someday We Will Fly by Rachel DeWoskin (2019) involves a Jewish family of circus performers who are separated in their escape from Warsaw to Shanghai, one of the few places that accepted Jews without visas. Instead of safety, they experience tremendous hardships, caught in the conflict between Japan and China. The fourth book is The Blossom and the Firefly by Sherri Smith (2020), set in Japan in 1945 and told in two voices, that of Taro, a Japanese teen kamikaze pilot, and Hana, a teen war worker, who find comfort right before Taro's mission.
Several new books about the Warsaw Ghetto and Auschwitz join a large group of existing Holocaust novels set in Poland. Jennifer Nielsen's Resistance (2019) is the story of a Jewish girl who smuggles food to Jewish ghettos and joins the resistance in the Warsaw Ghetto. It Rained Warm Bread by Gloria Moskowitz-Sweet (2019) is a novel in verse about her father's experiences as a Polish Jew struggling to survive in a ghetto and labor camp. Questions I Am Asked about the Holocaust by Hedi Fried (2019), translated from Swedish, features her answers to questions about her experiences as a teenage Jew in Auschwitz and her feelings about what happened to her and her family. Finally, A Light in the Darkness by Albert Marrin (2019) is a biography embedded within an examination of the historical events surrounding the Holocaust. Janusz Korczak was a Jewish pediatrician and Holocaust victim who dedicated his life to protecting the children in his orphanage in the Warsaw Ghetto. Korczak believed that children are worthy of respect as whole beings, not just future adults, and deserving of autonomy and self-determination, which later became the basis for the U.N. Declaration of the Rights of the Child.
Several recent books tell stories of acts of resistance in France. Village of Scoundrels by Margi Preus (2020) is based on a true story of residents in a remote French village who worked together, taking great risks to shelter Jewish refugees and smuggle them to safety in Switzerland. White Bird: A Wonder Story by J.R. Palacio (2019) is a Wonder-related graphic novel about the grandmother of Auggie's classmate Julian, who was hidden by a family in a Nazi-occupied village as a young girl. In The Day the World Stopped Turning by Michael Murpugo (2019), Lorenzo, an autistic boy who lives on the salt flats, finds his life torn apart when Germans invade his French village. The routines and Roma friend that Lorenzo depends on are threatened along with his beloved flamingoes.
The final set of books highlights less well-known events from WWII. Our Castle by the Sea by Lucy Strange (2019) is set in England about a girl whose life in a lighthouse is torn apart by war and the imprisonment of her German mother. Torpedoed by Deborah Heiligman (2019) is a nonfiction award-winning book about the sinking of a ship of British children being evacuated to Canada. A Thousand Sisters: The Heroic Airwomen of the Soviet Union in World War II by Elizabeth Wein (2019) is a nonfiction book about the only women to fly in combat in WWII and the intense pressures and obstacles they faced in the sky and on the ground. Finally, They Went Left by Monica Hesse (2020) is unusual in that it takes place after WWII, telling the story of Zofia, a Polish Holocaust survivor who travels across Europe in search of her brother as she attempts to rebuild her life.
Although war is frequently a topic in global literature, World War II clearly continues to dominate historical fiction for middle and young adult readers. In the 2020 Global Reading Lists, there are several books on WWI and one book on the Korean war along with realistic fiction about current world situations in Syria and Somalia, but it is WWII that captures the attention of authors and readers. WWII was a global war, in comparison to the regional nature of most wars, involving the vast majority of the world's countries and all of what was considered the great powers. In addition, this war had a clearly defined villain in Nazi Germany for a battle of good versus evil. The war involved more than 100 million people from more than 30 countries, who dedicated their economic, industrial and scientific capabilities to the war effort, blurring the distinction between civilian and military resources. It was the deadliest conflict in human history, marked by 70 to 85 million fatalities, including those who died due to genocide and forced starvation. In addition, the war involved the strategic bombing of major population centers and the only uses of nuclear weapons in war. WWII thus impacted the lives of almost everyone in the world and led to refugees forced to relocate around the world, providing a fertile ground for unending stories and perspectives as well as points of connection across global contexts.
Check the Global Reading Lists for Grades 4-12 for other historical fiction and nonfiction books published over the past several years that feature World War II.
Journey through Worlds of Words during our open reading hours: Monday-Friday, 9 a.m. to 5 p.m. and Saturday, 9 a.m. to 1 p.m. To view our complete offerings of WOW Currents, please visit its archival stream.
array(5) {
  ["_edit_lock"]=>
  array(1) {
    [0]=>
    string(14) "1635444007:264"
  }
  ["_edit_last"]=>
  array(1) {
    [0]=>
    string(1) "2"
  }
  ["_yoast_wpseo_content_score"]=>
  array(1) {
    [0]=>
    string(2) "30"
  }
  ["_yoast_wpseo_primary_category"]=>
  array(1) {
    [0]=>
    string(4) "3388"
  }
  ["_thumbnail_id"]=>
  array(1) {
    [0]=>
    string(5) "37464"
  }
}