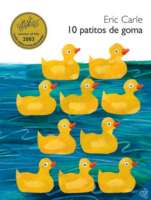 ¡Vamos a recorrer el mundo
con los 10 patitos de goma!
"¡Patos al agua!" grita el capitán del barco mercante al ver que una ola gigante ha lanzado al mar una caja de diez patitos de goma de su cargamento. Los diez patitos se dispersan en todas las direcciones. Hay uno que se va hacia el oeste, donde se encuentra con un simpático delfín que salta por encima de él. A otro le canta una ballena. Pero cuando se pone el sol, el décimo patito de goma se queda solo, solo y abandonado en medio del inmenso mar. El pequeño lector sin duda se identificará con los apuros por los que pasa el patito y se quedará absolutamente encantado con el entrañable y sorprendente desenlace.
En este conmovedor y simpático cuento, ilustrado con una genial técnica basada en el collage, Eric Carle también invita al lector a un viaje lleno de sorpresas y descubrimientos. Siguiendo a los patitos que se dispersan por las distintas zonas del globo terrestre, el niño reconocerá el uso de las expresiones verbales que indican dirección, así como la numeración ordinal y cardinal. Los animales con los que se encuentra cada uno de los patitos se muestran en su propio habitat y con su comportamiento habitual, lo cual supone un primer acercamiento a los conceptos de biología y de geografía.
¡Todos a bordo para un divertido viaje hacia el conocimiento!
"Ducks overboard!" shouts the captain, as a giant wave washes a box of 10 little rubber ducks off his cargo ship and into the sea. The ducks are swept away in various directions. One drifts west, where a friendly dolphin jumps over it. A whale sings to another. But as the sun sets, the 10th little rubber duck is left all alone, bobbing helplessly on the big wide sea. Small readers and listeners will empathize with the little duck's plight—and will rejoice at the heartwarming surprise ending.