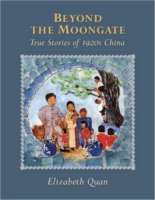 MOONGATES DOTTED THE LANDSCAPE OF OLD CHINA. Ancient Chinese architects had sculpted stone piled on sculpted stone to form round doorways, with the spiritual symbolism of the full moon. To step through one of these doorways was to step into a world of peace and happiness…
And so it was in the 1920s that the Lee King family – father, mother, and six children, aged ten months to seven years – traveled from their home in Canada, across the Pacific Ocean, to inland China. There, they had the opportunity to step beyond the moongate into a land not yet touched by modern warfare or political unrest.
The story of the moongate, tells of the two "golden" years the family spent with Grandmother in a remote village in the south, which hadn't changed for centuries.
Step inside and live the long lazy days of a China forever gone. The moongate beckons…