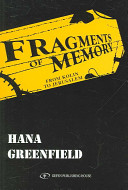 The extermination of Jews, political prisoners, homosexuals and other undesirables by the Nazis during the 1940's is very well documented in hundreds of historical books, but without the eye witness testimony of the few who survived this period they become almost hollow.
In Fragments of Memory, Hana Greenfield relives the horrors of the European Jewish population, during what came to be known as the Holocaust, in spellbinding and horrifying detail.
She remembers family, friends and neighbors who were subjected to inhumane treatment, humiliation, hunger and brutality on a daily basis. She recalls horror, fear and sadness, but also brief and all too infrequent moments of hope and happiness, which are often followed by yet more despair.
Each story is well written in small, bite-sized chunks, and each can be read as a stand-alone piece or as part of the whole book, making it easy for the reader to dip in and out of the chapters as they please.
The sheer horror of Hana's time in different camps, including the notorious Auschwitz, and the constant fear in which she was forced to live, is conveyed through these tales in a way that only one who had lived through it could deliver.