Fourteen traditional folktales from the different peoples of Russia featuring both clever and silly fools.
The lord of Laughter, the Monarch of Mirth–if only the bumbling 17-year-old Sebastian Darke could be a successful jester like his father. The problem is Sebastian's not funny. But after his father's death, with no choice but to beg in the streets, the half-human, half-elf teen sets off with Max, his father's slightly cynical Buffalope, to offer his services as a jester to King Septimus of Keladon. On the way they meet Captain Cornelius Drummel, small in stature, but the fiercest of fighters. The three rescue the fair princess Kerin, who's being held captive by brigands, and happily escort her home. If only Sebastian knew the kidnapping was engineered by the evil King Septimus!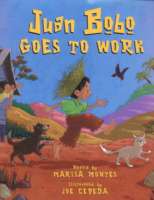 What can you do with a boy who tries to do things right but only leaves disaster in his wake? Laugh–that's what! Readers everywhere will love to laugh at the hilarious antics of the ever-blundering Juan Bobo, Puerto Rico's most celebrated fold character. In this rollicking Juan Bobo tale, our hero sets out to find work at the farm and the grocery. Although the tasks are simple and the directions couldn't be clearer, he always find a way to bungle things up as only a character whose name means "Simple John" could!