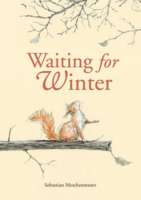 Deer has told Squirrel how wonderful snow is, so he sits outside and waits for winter. He waits, and he waits.
All his not-so-patient waiting has woken Hedgehog, who decides he'd like to see it snow too. They wait, and they wait. And it's still boring, even when there are two of you.
All the not-so-patient waiting and the not-so-quiet singing has woken Bear. He'll have to help Squirrel and Hedgehog find the snow if he wants to get any sleep this winter. Deer said it was white and wet and cold and soft.