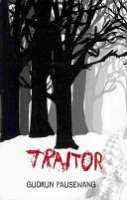 Traitor
Written by Gundrun Pausewang
Translated by Rachel Ward
Carolrhoda Books, 2010, 224 pp.
ISBN: 978-0822561958
It had started with that poem. She had begun to think about things. And she had carried on thinking. The Ultimate Victory, for example, which the Fuhrer was always talking about—was it worth so many lives? (p. 20)
In 1944, sixteen-year-old Anna spends her weeks going to school in the larger city near her small German village. The war is far away and she has all the comforts she needs. Coming home from school one weekend, however, she notices unfamiliar tracks in the forest snow. As she gets closer to her home, she finds that the tracks lead to her family's barn. Finding a thin, scared man in the loft, she suspects him of being an escaped inmate from the local mental institution. Believing he will be mistreated if found, she decides to secretly help him and brings him warmer clothing and food. She discovers from her family, however, that several Russian POWs have escaped and all but one have been found and shot. While conflicted, Anna decides that she will continue to hide the POW until he can safely escape across the Czech border.
Traitor is the story of war and its atrocities becoming reality. Anna was already questioning the Nazi rhetoric and unquestioning allegiance to the Fuhrer, but did so internally, never speaking or acting on her disloyalty. Her older brother is a soldier fighting on the ever-closer front, and her younger brother has taken his oaths as a Hitler Youth to the extreme. As Anna continues to hide the Russian POW, she becomes more and more critical of the events around her while she becomes more suspect to her younger brother. A taut story line will give readers an edge-of-their-seat experience as well as another perspective on the diversity of German people during WWII.
Traitor is a great read to be combined in a unit on war or a unit that addresses conflict within one's self, with a book such as Wundskind: Child without a Country (Leisel Appel, 2009). In respect to its perspective of German people who did not embrace Hitler's policies, it could be paired with The Book Thief (Marcus Zusak, 2006). It could be included in a text set on being confronted with the humanity of the "enemy" using texts such as Summer of My German Soldier (Bette Greene, 1973, 1987,1999); Weedflower (Cynthia Kadohata, 2009); My Friend, the Enemy (J. B. Cheaney, 2005); and The Divine Wind (Garry Disher, 2003).
Traitor contains themes about the price of loyalty, the ideology of allegiance, and the insecurity of self-conflict. It allows readers to struggle with questions of family dynamics in a time of war, the importance of understanding the issues of war, and ultimately, the price—and often, the futility—of war. The ending is sad, but not unexpected.
Author Gudrun Pausewang writes for children and young adults. Born in Czechoslovakia, her father was killed on the Russian front in 1943, which is similar to some of the events in Traitor. After WWII her family immigrated to West Germany where she became a teacher. She taught in Germany and in several countries in South America. Many of her books focus on what she has found all too familiar in her life and travels—the world's ills such as war, environmental concerns, and poverty. She has three books translated into English, two of which are on WWII: Traitor (2010) and The Final Journey (1998). Rachel Ward, who translated Traitor, has a Master's degree in literary translation. A freelance translator, she has worked on several German-to-English texts concentrating primarily on books for children and young people. Some of her other projects include Red Rage (Brigette Blobel, 2007) and How Mommy met Daddy (Katharina Grossman Hensel, 2008).
Holly Johnson, University of Cincinnati
WOW Review, Volume III, Issue 4 by World of Words is licensed under a Creative Commons Attribution-NonCommercial-ShareAlike 4.0 International License. Based on work at https://wowlit.org/on-line-publications/review/iii-4/