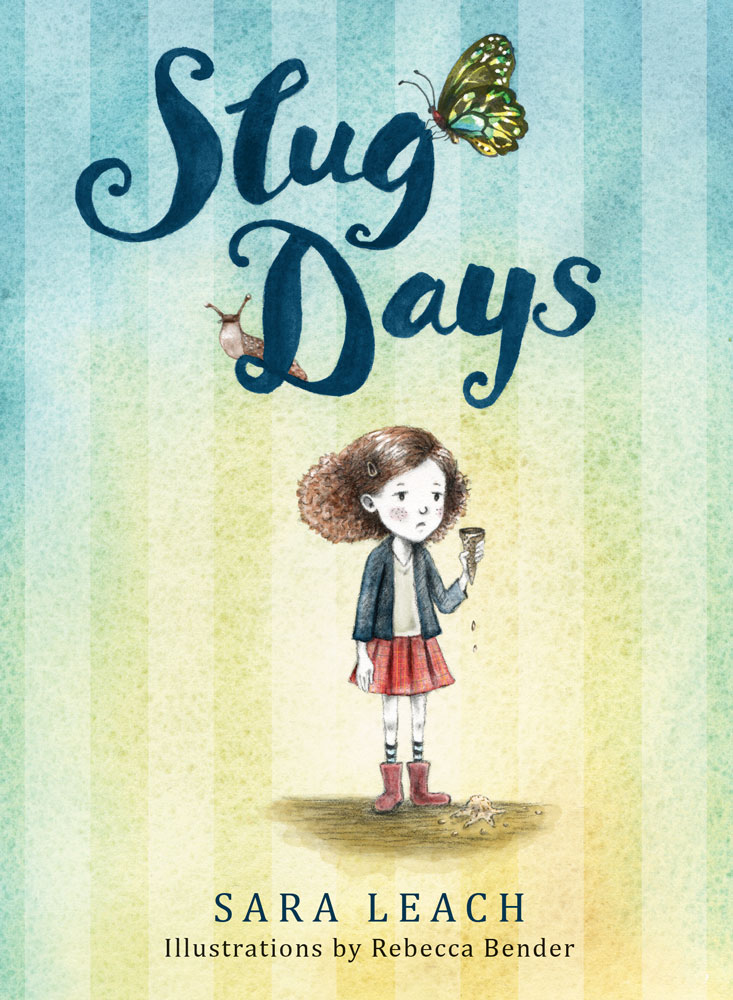 Slug Days
Written by Sarah Leach
Illustrations by Rebecca Bender
Pajama Press, 2017, 120 pp.
ISBN: 978-1772780222
As noted by Sarah Leach, Autism Spectrum Disorder (ASD) is an umbrella term that has included Asperger Syndrome since 2013. Lauren, the central character in Slug Days, has Asperger Syndrome and as readers, we are welcomed into the life of a child who sees things a little bit differently than everyone else. Unlike her peers, Lauren has problems with social cues, sensory overload, and making friends. Throughout the book, readers are constantly reminded of the different characteristics of Asperger Syndrome and how children with these personality traits are taught to cope with seeing the world through different lenses. Readers are also given a look into how Lauren views the adults in her life and how those adults react to what she feels, finding them perfectly acceptable actions to everyday events.
The story begins with a clear definition of what constitutes a "slug day" according to Lauren. Usually, a slug day is when a day is not routine or where Lauren has problems in school or at home. A day can start out as a slug day and quickly become a butterfly day if things change and vice versa. As with most children with Asperger Syndrome, Lauren thrives on consistency, routine, and structure. Lauren's love for bugs comes through in her construction of "Insectopia," a craft project she works on with her mother that involves realistic constructions of bug habitats. Through Lauren's construction process, readers are able to note particular characteristics of an individual with Asperger Syndrome, such as fixation on an activity or subject, lack of eye contact with others, and incredible knowledge for a particular topic.
The reader also sees how Lauren views interpersonal relationships. Lauren's teacher, Ms. Patel works well with Lauren and caters to her needs as she is able, but Lauren still notices when Ms. Patel starts to lose her patience. Lauren finds it difficult to make and keep friends within the classroom due to how students view her. She does her best to impress her peers and to read their emotions, but she often finds herself excluded by those she thinks are her friends. Lauren has a strong bond with her parents, but she can tell it is more frustrating for her mother to deal with her Asperger Syndrome than it is for her father. Her father has the patience and kindness Lauren needs, while her mother does her best to provide structure and joy for Lauren's life. At the conclusion of the book, another student, Irma, is welcomed into Ms. Patel's class. While Irma does not have Asperger Syndrome, she is also misunderstood by her peers because she is from another country. At first, she and Lauren are not the best of friends, but through a series of events, Lauren and Irma grow closer together as the story concludes. The author provides imagery in the final part of the book as the two friends take off flying down the hall like butterflies so that they may sit together on the bus.
One of the key connections in this book is that of understanding Asperger Syndrome. An excellent pairing to discuss Autism with young adults is the picture book The Girl Who Thought in Pictures (2017) by Julia Finley Mosca and illustrated by Daniel Rieley. Additionally, for those who seek a bilingual book to explain and understand Autism with young readers there is Tacos Anyone?/¿Alguien Quiere Tacos? (2005) by Marvie Ellis and illustrated by Jenny Loehr. Slug Days also addresses the struggles of making new friends when you are viewed as different. A good pairing would be Starting with Alice (2012) by Phyllis Reynolds Naylor. Slug Days would be a noteworthy addition to any classroom library, especially those that are looking to have literature focusing on being inclusive to students who have Autism Spectrum Disorder and more specifically, Asperger Syndrome.
Sara Leach is an elementary teacher-librarian from Whistler, British Colombia, who has won awards for her multiple books including Count on Me (Ceder Book Award for 2012/13), and Slug Days (2017 Foreword INDIES: Juvenile Fiction Award Finalist and 2018 USSBY Outstanding International Books List). Leach has a keen understanding for students with Asperger Syndrome, as she has worked with them in her classroom for multiple years, providing realistic insight to more complex portrayals and angles of those who encounter Asperger Syndrome.
Rebecca Bender is a noted illustrator who has won awards for her work in Giraffe and Bird (OLA Blue Spruce Award) and Don't Laugh at Giraffe (OLA Blue Spruce Honour Book). Her work in Slug Days is noteworthy because it highlights the main points of each chapter for a young reader. As this book is aimed at grades 3-6, the chapters are only around 2-4 pages. Bender's illustrations allow for a young reader to note the main concept of the chapter and to make connections between the text and illustrations. Bender's photos appropriately allow for readers to visualize what is happening in the story through Lauren's unique lens.
Amanda Szwed, University of North Texas, Denton, Texas
WOW Review, Volume XI, Issue 1 by Worlds of Words is licensed under a Creative Commons Attribution-NonCommercial-ShareAlike 4.0 International License.
Based on a work at http://wowlit.org/volume-xi-issue-1/