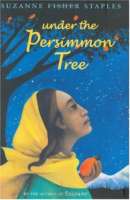 Under the Persimmon Tree
Written by Susan Staples
Farrar, Straus and Giroux, 2005, 288 pp.
ISBN: 978-0374380250
Similar to Shabanu, Daughter of the Wind (1989), Under the Persimmon Tree relies on themes frequently discussed in the representation of Middle-Eastern subjects in realistic fiction books–– in this case, Afghani and Pakistani women––such as veiling, cultural traditions, physical and emotional pain, disguise and seclusion. Marketed as an eye-opening novel about war-torn Afghanistan, and following the tradition of veiled Middle-Eastern women displayed on the cover page, the events of the story are presented from the perspective of two characters: Najmah and Nusrat, aka Elain. Najmah is a young Afghani girl who travels from Afghanistan to Pakistan after Taliban soldiers kill her mother and her younger brother. Nusrat is an American who moved to Peshaver following her Afghani husband who desired to work in an Afghan clinic. She opens a small school for refugee children in post 9-11 Pakistan where her path intersects with Nustrat's. Embedded in their storylines, Staples uses the trope of being disguised as a boy as an authenticating detail about the lives of Afghani women and girls. In order to stay safe during her travels, Najmah cuts her hair short and dresses up as a boy. Upon her arrival to Peshavar, Najmah's path intersects with Nusrat's, whose American name Elain was changed after her marriage and the two people share their struggles, losses and hopes.
Through Nusrat's character, Staples introduces several interrelated discourses that become dominant in the narrative. The book reinforces the western savior discourse portraying Nusrat as an American woman who renounces her Western name and family in New York, and commits her life to changing the lives of Afghani children, particularly girls. Her given name, Nusrat, is a direct reflection of this characteristic; Nusrat meaning Help. Consequently, her role in the book, as the woman who has agency and is able to help others, sets her apart from the other female characters; for example, Najmah, who becomes a victim in need of help and saving. Through these oppositions, Staples creates binaries between the female characters and their perceptions of life and cultural values. Even though she left her original name behind and chose a new family, through her thoughts and actions she still represents an American presence, repeatedly privileging Western values as opposed to the values respected by Afghani women.
One example is the treatment of the issue of veiling that produces the burqa as an obstacle and the image of the Muslim woman as a victim. Similar to other books written by Western authors about Afghani women, the burqa has a negative value, described by Staples in this third-person narrative: "In the cool autumn weather, Nusrat forgets how suffocating the folds of the burqa's synthetic fabric can be in hot weather, and how peering through the crocheted latticework eyepiece can feel like looking through the bars of prison" (p. 21). Nusrat later describes a scene in which her sister-in-law is almost arrested by a Taliban soldier for not wearing her burqa properly. Through these descriptions, the author objectifies the experience of wearing a burqa and creates a distance between the experiences of women who read the book and the women the book is written about and further reinforces the Us/Other binary opposition between Western and non-Western subjects.
The Us/Other binary is evident in Nusrat's relationship with the other women and her own students. Even though Nusrat changed her name when she moved to Pakistan and submitted herself to the country's dress code, she is described as more open-minded than, for example, her mother-in-law. While Nusrat waits for her husband to return from Mazar-i-Sharif where he works at a hospital, she opens her house for children who have lost their parents and teaches them, among other things, about astronomy and science. The author describes Nusrat as "being after the mind" (p. 76) of the children whom she considered lost without education. Nusrat sees herself as the person who has to turn "their time of greatest need into a time of opportunity" (p. 77). Her students, among which there is an older widow, are portrayed as transformed by Nusrat's help and guidance and as gaining hope from her, "I didn't know what would become of Amina and me until I came to the Persimmon Tree School. Now I know what will become of me. I will become a teacher like you" (p. 175). When Nusrat finds out that her husband has most likely died during a bombing, she decides to move back to America. She hopes to take one of her students with her, Najmah, the other main character of the book, to offer her a better life. From Nusrat we learn that women in Afghanistan age quickly from bearing children, and often die before they turn forty-five years old. Nusrat offers Najmah an alternative, moving to America where she can become a lawyer, a doctor, or anything she wants. Although Najmah refuses to leave Afghanistan, the author closes the book with Nusrat's hope to return some day and build a school in honor of her husband and to help girls and young women like Najmah.
In parallel, however, Staples also uses her American character to critique Westerners' inability to comprehend the complexity of life and culture in women's lives in Afghanistan. Nusrat's character reinforces the Western/non-Western woman binary opposition, but through her actions the author also critiques Western misconceptions about the role of tradition in Muslim women's lives. When Nusrat encourages her husband's family to celebrate a meteor shower at her house, Sultan and Jamshed, the male family members, instantly agree while Asma and Fatima, her sister and mother-in-law, refuse to participate because, in the old tradition, the falling of a meteorite is a bad omen. In order to critique Nusrat's Western perspective and inability to understand the complexity of traditions in Muslim women's lives, the author points out that she is surprised by the two women's reaction, because they are "well-educated women" (p. 49). This remark implies that Nusrat only finds value in the principles and beliefs of Western education. When Fatima explains that being educated does not have anything to do with the respect of traditions and that, in spite of their being silly, she still respects the myths she was raised with, Nusrat argues until Asma finally changes the subject. This segment of the story could be interpreted as a critique of Westerners' inability to comprehend the complexity of culture and tradition in women's lives across cultures. Nusrat in this sense fulfills a double role: as a person who cares for the fate of the Afghani women, she embraces the role of a savior and reinforces the Western/non-Western woman binary oppositions. In parallel, however, her inability to identify with their life experiences and her return to America also suggests that her work in the Muslim world could not bring about significant changes.
Suzanne Fisher Staples worked in journalism positions in Hong Kong, India, Pakistan, Afghanistan, Bangladesh, Nepal, and Sri Lanka with United Press International, and in Washington, DC. She also worked in Asia on a literacy project in rural areas where she was "captivated by the stories of the people of the Cholistan Desert on the border between Pakistan and India" (http://suzannefisherstaples.com/about-suzanne/). Her books are framed around her love for and knowledge of the countries where she has lived and worked. Staples has won numerous awards for her books.
Other books that discuss similar themes of cultural intersectionalities and aim for more complex character portrayals of Middle-Eastern subjects are: Wanting Mor by Rukhsana Khan (2009), Where the Streets Had a Name by Randa Abdel Fattah (2008), Three Cups of Tea, One Man's Journey to Change the World—One Child at a Time by Greg Mortenson and David Oliver Relin (2009), and the non-fiction Extraordinary Women from the Muslim World, by Natalie Maydell, Sep Riahi and Heba Amin (2007).
Kinga Varga-Dobai, Georgia Gwinnett College, Lawrenceville, GA
WOW Review, Volume IV, Issue 4 by World of Words is licensed under a Creative Commons Attribution-NonCommercial-ShareAlike 4.0 International License. Based on work at https://wowlit.org/on-line-publications/review/iv-4/