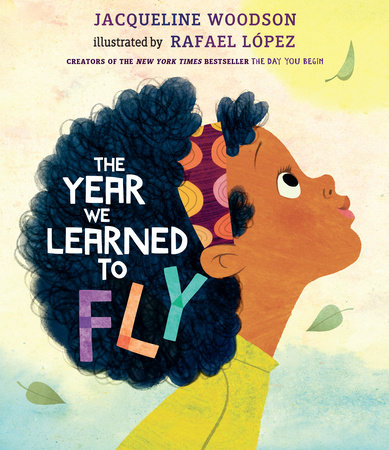 The Year We Learned to Fly
Written by Jacqueline Woodson
Illustrated by Rafael López
Nancy Paulson Books, 2022, 32 pp
ISBN: 9780399545535
The book opens with a chrysalis hanging on a single branch against clouds in a blue sky. A single phrase, "That was the year we learned to fly," introduces readers to the way imagination allows us to fly outside of challenging circumstances. With rhythmic text and bright acrylics, Woodson and López take readers through a year of a young brother and sister heeding their grandmother's advice to "lift your arms, close your eyes, take a deep breath" and imagine in an urban apartment building. Woven into her advice is a reminder that their Black ancestors came across the ocean to the United States cuffed with iron but learned to imagine and fly away from tough circumstances. So the children imagine themselves out of a spring rain storm into bright flowers; out of arguments over summer chores into enjoyment of being together; out of an autumn too-dark too-quiet room into the sparkling magical world of a book; and out of a winter in a new friendless neighborhood into friendships with children who also learn to lift their arms, close their eyes, breathe deeply, and fly. Across the year the siblings learn that they can take positive action and that their imaginations can change perceptions and feelings to provide ways to solve challenging problems.
Though this title could be classified as one that supports social-emotional health–which it certainly does–it goes beyond platitudes and inspires readers to use their minds and imaginations to change their attitudes, actions, and eventually perceptions. As the brother and sister follow their grandmother's advice, their actions impact their own sense of freedom from challenging circumstances, but also inspire neighbors and potential friends to do the same. The words and images reference Black ancestors using their imaginations to escape enslavement. The author's note in the back gives additional background on the story. As a child Jacqueline Woodson was inspired by Virginia Hamilton's retelling of Black folklore. Through stories and the power of words, Woodson learned to close her eyes, take a deep breath, and fly into her imagination, one that eventually created award-winning stories that encourage readers to also fly.
What Woodson does through words, Rafael López does through acrylic and watercolor illustrations that use contrasts to convey the power of the grandmother's advice. He paints scenes of drab cracked apartment walls on one page and contrasts the facing page with an outside full of springtime sun and colorful flowers. He paints the loneliness of being ignored with the surprise and exuberant joy of imaginative play with new friends. He hides silhouettes of ancestors in the garden plants where the grandmother is tossing her granddaughter into freedom of flight.
The title can be paired with Virginia Hamilton's titles that portray dealing with tough situations through "flying" with imagination, literacy, becoming wise about how something works, or actually escaping. In many of her titles, historical, contemporary and imaginary characters use ingenuity and trickery to escape hard situations. In The People Could Fly: American Black Folktales (1985) Hamilton and illustrators Leo and Diane Dillon, retell twenty-four stories of animals, enslaved peoples, and magical creatures learning to fly. An additional book pair that is also based on the Black folklore of learning to fly is the Caldecott Honor book Tar Beach (Faith Ringgold, 1991) in which Cassie learns to fly from her Harlem apartment rooftop. An additional book pair is the earlier title Woodson and López collaborated on, The Day You Begin (2018), which discusses taking the first steps to connect with others. That book is included in The Year We Learned to Fly in the autumn when the children escape their dark room as they read the book under the covers with a flashlight.
Jacqueline Woodson grew up in Greenville, S.C. and Brooklyn, N.Y. She is an award-winning author of picturebooks, middle grade and young adult novels, and has recently published two novels for adults. Long appreciated in the U.S., she served as the 2015-17 Young People's Poet Laureate and the Library of Congress' 2018-19 National Ambassador for Young People's Literature. She is the recipient of the Margaret A. Edwards Lifetime Achievement Award for her body of work. Her books have been translated into many languages, so her work is appreciated around the world, and she has won the international Hans Christian Andersen and Astrid Lindgren Awards for her body of work. More information can be found on her website, jacquelinewoodson.com.
Rafael López grew up in Mexico, and lives and works both in San Diego, California and San Miguel de Allende, Mexico. His work in community murals was the subject of the picturebook Maybe Something Beautiful: How Art Transformed a Neighborhood (Campoy, Howell & López, 2016) and is based on the Urban Art Trails in San Diego, the organization he founded that brings people together to paint murals in their neighborhoods and improve the community. His illustrations in picturebooks reflect his concern for communities and many of the awards he has won focus on multicultural communities including the Schneider Family award (Just Ask!, Sotomayer & López, 2019), The Jane Addams award (The Day You Began, Woodson & López, 2018), the Pura Belpré award (Dancing Hands, Engle & Lopez, 2019), and the Tomas Rivera Mexican American Children's Book Award (Maybe Something Beautiful: How Art Transformed a Neighborhood, Campoy, Howell & López, 2016). More information can be found on his website (https://rafaellopez.com/
Susan Corapi, Trinity International University
Authors retain copyright over the vignettes published in this journal and grant the journal right of first publication with the work simultaneously licensed under the following Creative Commons License:
WOW Review, Volume XIV, Issue 3 by Worlds of Words is licensed under a Creative Commons Attribution-NonCommercial-ShareAlike 4.0 International License. Based on work at https://wowlit.org/on-line-publications/review/xiv-3/9
WOW review: reading across cultures
ISSN 2577-0527