By Anna Gerwig, Worlds of Words Intern
Javaka Steptoe is a children's book author and illustrator creating a dialog between art and life with thought-provoking collages. Son of award-winning artist John Steptoe, Javaka finds inspiration in his parents' artistry, experimentally blending ideas like his father's retelling of Cinderella, Mufaro's Beautiful Daughters: An African Tale. In his 2016 picturebook, Radiant Child, he uses New York City as a canvas to challenge the perceptions of art. There's not just one interpretation or understanding of a story, so Steptoe works to create picturebooks that connect with children from all backgrounds. He's received various awards, a BFA from the Cooper Union for the Advancement of Science and Art and interacts with readers and educators at schools, libraries, museums, conferences and festivals.
Steptoe is an important artist with an important mission: to grant children access to books and the dreams they inspire. Stories allow children to recognize endless possibilities in their lives as they read about others' adventures. This means Black boys and girls need to see more characters like themselves in books. In the interest of expanding this conversation, I interviewed Javaka about his process and thoughts on children's literature.
Within my one month at Worlds of Words, I've participated in multiple opportunities and conversations. From sitting at the office round table to our Hoopla event, there is a constant flow of ideas and stories. Upon learning that Steptoe planned to attend both the Tucson Festival of Books and our Mini Conference, I began an author study. I gathered his impressive body of work from the collection. As I sat down to read (best internship ever), his art further inspired me as he fuses common materials to connect the unexpected. The beauty in his work is unconventional, just like in the stories he shares.
As I sat down to talk with this incredible storyteller in a live interview (best internship ever), my nerves threatened to overtake me. When I initially reached out, I expected an email interview, but he actually wanted to talk to me! Luckily, his thought-provoking contributions are written down, not lost in my own awe.
For decades, Steptoe has contributed to children's literature as an author and illustrator, combining words and illustrations with everyday life and objects. He explores art's relation to everyday life in Radiant Child, which tells the story of Jean-Michel Basquiat. Both artists create pieces that are unconventional. They stray from the lines, are rough and gritty with texture and splatter, but are beautiful in their raw reflections of the world. Steptoe says:
there's not really a separation between art and living. The material for your art are the things that you see everyday and that you expose yourself to. That art can manifest itself as writing, can manifest itself as drawing pictures. But it can also be using things in the environment to create the art.
His words traveled all the way from New York and brought me into a world of art, showing colors in the mundane. He talked about his craft and its organic, everyday nature in such a personal way that even my nerves were brushed over like paint.
He continues this theme of connection in his interactive presentations on Radiant Child. One of my personal favorites, this picturebook uses the grimy city for a canvas full of meaning. Steptoe says, "it's an art presentation where we actually make art inspired by Basquiat and I share what I've learned about Basquiat with the audience. Another presentation is based in music and the music that he was listening to that played a really part in his life and also his artwork. Then there's also acting out the books."
Basquiat's process was informed by life, the city and music. In the same way, Steptoe's illustrations are made from objects like NYC dumpsters, pocket lint and paint. When interacting with his young readers, he demonstrates the multilayered effect of stories by using illustrations as well as music and performance. Even our phone interview was more of an interactive conversation than the emails I had originally planned. By opening this discussion, he allowed us to just talk and share ideas, which reminded me of why I want to be in this industry in the first place. I apparently forgot and was content to be the intern hiding behind her screen. Steptoe didn't give thought to this limiting, detached style of communication.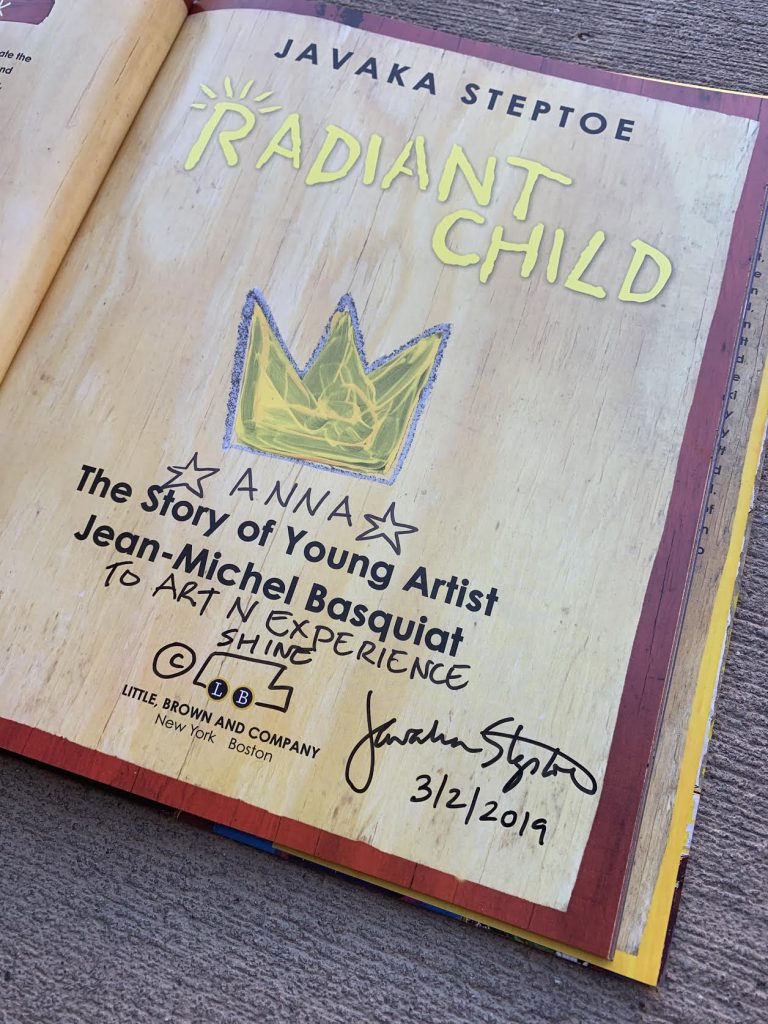 Similarly, Steptoe challenges and expands understandings of art. He confronts the efficient world's impulse to demand one correct experience, criticizing the simplification of life's stories. Steptoe says, "The story comes to life through an actual, physical event happening and not just a person sitting down and reading. They're seeing their classmates and friends saying things, creating actions. It's more interesting that way, because it becomes a dynamic activity that they can participate in as opposed to them just being passive beholders." He explains that his art and presentation allow people to experience the story by coming to their own conclusions outside of the lesson plan. Life should be rich and multifaceted, not narrowed into one understanding. His stories and interactions allow children (and interviewers) to see the variety in life and its beautiful complexities, making a lasting impact outside of books' covers. I have access to the stories filling Worlds of Words, but I forgot to connect it with my own life. Steptoe reminds me, not only of the power of books, but also their simplicity–they are words that describe life and inspire life throughout each day… if you let them.
When talking to educators about his process, he hopes to inspire creativity and excitement, which is so apparent in his voice and work. Steptoe says, "learning happens when as much of the body is participating in it as possible. Part of the teaching is explaining, but then the other part of teaching is actually doing." He encourages an organic response to art and allows children to explore their own interpretations so his readers delve into their passions with courage. He says successful school visits mean students become inspired to be themselves and follow their interests, whatever those are. Steptoe is proof that one's passions can make an impact while remaining authentic and true to self. As an English major who constantly hears, "what do you plan to do with that?" I appreciate this reminder. We can plan to make an impact through the stories we're passionate about telling and sharing. Better yet, we can succeed! Through Steptoe's invitation to an open conversation with art, students connect to it with their past experiences and aspire to make their interests a reality for their future. At this point in the interview, not only were my nerves gone, but I was also encouraged by his honest experience and hopes.
To instill creativity and passion, Steptoe wants his audience of all backgrounds to engage with the story and connect to it as an individual. Steptoe says, "I'm just exploring an experience that is universal… in a way that's unique to this particular situation." This begs a question we must consider: how does one capture such an experience? Can a story be universal? As a writer and future publisher (fingers crossed), this is a big question, but he answered it like his art–with a story of the everyday. Steptoe says, "Broadly–yes. But even though everybody might eat breakfast–what we might eat for breakfast, how we eat breakfast, is going to be different depending on where we're located, what our social economic status might be. There are so many different things that are involved in the way that I eat breakfast. So on one hand, yes, whether you're trying to or not, all stories are universal and not at the same time." Ultimately, Steptoe invites readers into a story world that allows readers to recognize some element of the story within their own lives while appreciating specific nuances as well. We connect over morning rituals and food while admiring the variety found at an international breakfast buffet. We relate as people yet remain unique individuals. Steptoe invites all to step up to the table.
Since I want to work in children's publishing, I was particularly interested in his thoughts on authentic representation within, and produced by, the industry. As we discussed recognition of experiences, Steptoe remains critical yet hopeful. He sees that people have been more experimental. Steptoe says, "You see people experimenting with illustration styles, using printmaking, computer collage, using all sorts of different materials. And also just exploring more story types. Like, for example, in multicultural children's books, it's not all about slavery or talking about certain issues. I think it's expanding to show the humanity of characters of color." While there has been progress as we educate others on the need for diverse stories, there's a lot more to do. Steptoe says, "That also means having more people of color in the process of the publishing of books. And in terms of education, I know that there are a lot of books that are put into a curriculum for school districts. I think there has to be an expansion of what books are being used. When you have books to read and you're told these are the heroes of our society, these are the people that hold the most value, but you don't have children or characters of color, you're saying something very specific to these children. You're letting them know who they can be or who they can't be. It's really unfair to have a school where people are learning what's important in this society and just say one group of people are important. It's really unfair to have children not see themselves reflected in the books that they read and really unfair to not see other people reflected and see how they're contributing to the society in just the same way that you are."
Whether it means buying and reading these diverse books, writing them or publishing them, we all have a part to play in creating a collection of literature that allows children of all backgrounds to step into the story, relate to it and be inspired by its artistry. I can't hide behind my screen anymore, and I don't want to. Instead, I'll help share stories of the beautiful and the raw, right beside Javaka Steptoe (best future career ever).
Mr. Steptoe inspires readers of all ages, too, in artistry and expression. Start at the first book below and read all the way through.
Annotated Bibliography:
In Daddy's Arms I am Tall: African Americans Celebrating Fathers
Authors: Folami Abiade, Dinah Johnson, Carole Boston Weatherford, Dakari Hru, Michael Burgess, E. Ethelbert Miller, Lenard D. Moore, David Anderson, Angela Johnson, Sonia Sanchez, Davida Adedjourna, Javaka Steptoe
Illustrator: Javaka Steptoe
Publisher: Lee & Low Books
Publication Date: 1997
ISBN: 9781584300168
Summary: Javaka Steptoe's first book, In Daddy's Arms I am Tall, compiles poems celebrating African American fatherhood while Steptoe adds his own collage through illustrations of mixed mediums, merging ideas in both words and art. Within this one book, he provides a variety of self-expression and exhibits the impact of multiple voices.
A Pocketful of Poems
Author: Nikki Grimes
Illustrator: Javaka Steptoe
Publisher: Clarion Books
Publication Date: January 22, 2001
ISBN: 9780395938683
The Jones Family Express
Author and Illustrator: Javaka Steptoe
Publisher: Lee & Low Books
Publication Date: April 2003
ISBN: 9781584300472
Hot Day on Abbott Avenue
Author: Karen English
Illustrator: Javaka Steptoe
Publisher: Clarion Books
Publication Date: May 24, 2004
ISBN: 9780395985274
Sweet, Sweet Baby!
Illustrator: Javaka Steptoe
Publisher: Cartwheel
Publication Date: January 1, 2005
ISBN: 9780439650861
All of the Above
Author: Shelley Pearsall
Illustrator: Javaka Steptoe
Publisher: Little, Brown Books for Young Readers
Publication Date: January 1, 2008
ISBN: 9780316115247
Rain Play
Author: Cynthia Cotten
Illustrator: Javaka Steptoe
Publisher: Henry Holt Books for Young Readers
Publication Date: April 1, 2008
ISBN: 9780805067958
Amiri and Odette: A Love Story: a Poem
Author: Walter Dean Myers
Illustrator:Javaka Steptoe
Publisher: Scholastic Press
Publication Date: January 1, 2009
ISBN: 9780590680417
Jimi: Sounds Like a Rainbow: A Story of the Young Jimi Hendrix
Author: Gary Golio
Illustrator: Javaka Steptoe
Publisher: Clarion Books
Publication Date: October 4, 2010
ISBN: 9780618852796
Summary: In this renowned telling of Jimi Hendrix's life, Gary Golio and Javaka Steptoe depict the layers of an artist's story. Golio tells of Hendrix growing up with a talent to be developed through hard work and in spite of difficult circumstances. Steptoe tells the story through his art, adding the multi-dimensional style he's known for that creates movement between life and music. Steptoe paints on plywood, vinyl records, and "Jimmy was finally painting with sound!"
What's Special About Me, Mama?
Author: Kristina Evans
Illustrator: Javaka Steptoe
Publisher: Jump At the Sun
Publication Date: February 22, 2011
ISBN: 9780786852741
Radiant Child: The Story of Young Artist Jean-Michel Basquiat
Author and Illustrator: Javaka Steptoe
Publisher: Little, Brown Books for Young Readers
Publication Date: October 25, 2016
ISBN: 9780316213882
Summary: Following the young talent of Basquiat, Javaka's illustrations draw from his interpretations of Basquiat's paintings, which, I've learned, is personal and may be different from my own. Steptoe's art is done on everyday, textured pieces. The images and text are bold, expressing Basquiat's technique, with words like "artist" appearing to be handwritten on the page. Steptoe shows Jean-Michel's influences – from the city, to the kids in the neighborhood, to his mom and the struggles. The world is messy, art is messy and sometimes not even pretty, but there is still meaning.
Thirteen Ways of Looking at a Black Boy
Author: Tony Medina
Illustrator: Javaka Steptoe
Publisher: Penny Candy Books
Publication Date: February 13, 2018
ISBN: 9780998799940
Summary: In his most recent picturebook, Thirteen Ways of Looking at a Black Boy, Javaka and author Tony Medina deconstruct the homogenous understanding of black culture by providing thirteen different stories that follow thirteen different African American boys of different ages. Diverse in content and character that appeal to a range of experiences, these are the diverse stories bookshelves need.
array(12) {
  ["_edit_lock"]=>
  array(1) {
    [0]=>
    string(12) "1612916547:2"
  }
  ["_edit_last"]=>
  array(1) {
    [0]=>
    string(1) "2"
  }
  ["_yoast_wpseo_focuskw"]=>
  array(1) {
    [0]=>
    string(14) "Javaka Steptoe"
  }
  ["_yoast_wpseo_metadesc"]=>
  array(1) {
    [0]=>
    string(143) "An exclusive interview with Javaka Steptoe discusses the award-winning picturebook Radiant Child, representation, and art within everyday life."
  }
  ["_yoast_wpseo_linkdex"]=>
  array(1) {
    [0]=>
    string(2) "92"
  }
  ["_yoast_wpseo_content_score"]=>
  array(1) {
    [0]=>
    string(2) "30"
  }
  ["_yoast_wpseo_primary_category"]=>
  array(1) {
    [0]=>
    string(4) "3432"
  }
  ["_thumbnail_id"]=>
  array(1) {
    [0]=>
    string(5) "29490"
  }
  ["_yoast_wpseo_opengraph-image"]=>
  array(1) {
    [0]=>
    string(89) "https://wowlit.org/wp-content/media/javaka-steptoe-author-photo-credit-gregg-richards.jpg"
  }
  ["_yoast_wpseo_opengraph-image-id"]=>
  array(1) {
    [0]=>
    string(5) "36159"
  }
  ["_yoast_wpseo_twitter-image"]=>
  array(1) {
    [0]=>
    string(89) "https://wowlit.org/wp-content/media/javaka-steptoe-author-photo-credit-gregg-richards.jpg"
  }
  ["_yoast_wpseo_twitter-image-id"]=>
  array(1) {
    [0]=>
    string(5) "36159"
  }
}