Download as PDF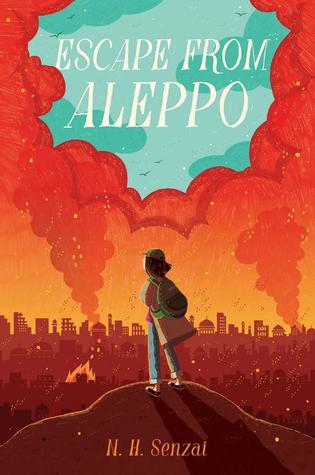 Escape from Aleppo
Written by N.H. Senzai
Simon and Schuster, 2018, 330 pp
ISBN: 978-1-5344-1189-0
"With shaky legs, she leaned against the Jeep, amazed that she'd survived another bomb attack" (p.28).
Just as Nadia turns fourteen, she experiences the 2010 Arab Spring, in which uprisings and civil wars erupted throughout the Middle East. In Syria, the entire country is in upheaval as the corrupt government attempts to contain rebel groups desiring a new way of living and relief from government oversight. Nadia's family must flee their home as bombs drop around their city of Aleppo. As they flee, they must avoid both the Syrian Army and roving rebel groups who kill anyone they determine could be the enemy.
The night the family leaves their home, a bomb falls, and Nadia, the last one to leave the house, disappears in the blast. Her family must continue to safety but sends back a cousin to look for Nadia. While they are gone, Nadia awakens to discover that she is alone. Knowing where their family was to meet, she forges on. Befriended by a man who promises to get her to her destination, Nadia is grateful for his help but wonders about his need for a donkey and cart, which constantly slow her progress toward her family. Finally arriving at the family's meeting place, Nadia finds only a note telling her to continue northward to the Turkish border. Because he promised to get her safely to her family, Ammo Mazen, her fortuitous but mysterious companion, leads her across the city and eventually to the border. Along the way they encounter danger and helpful others who have agendas that often seem to delay Nadia's escape. As she journeys across Aleppo, Nadia begins to wonder about Ammo Mazen. Is he the simple man he says he is? And how does he know so many people from across political, social, and military boundaries? And just what is in his donkey cart that seems so important to him? Nadia's feelings about Ammo Mazen seem to change at each encounter with others along the way providing a tension that keeps readers guessing as he helps Nadia escape Aleppo.
A riveting narrative that provides valuable insights into the situation in Syria, Escape from Aleppo is perfect for middle and secondary readers who enjoy realistic fiction, and especially those who want to better understand the effects of national conflict on individuals, families, and specific communities. The use of an adolescent protagonist invites young people to join the conversation about global politics; Highlighting the plight of family is a reminder that war involves not only soldiers in faraway places, but everyday citizens when their neighborhoods are destroyed in the struggle for power. Engaging and powerful, Nadia's journey through Aleppo creates an edge-of-your-seat adventure that will leave you better educated and deeply satisfied.
Two pieces of fiction that would complement this text include Dance of the Banished (2015) and Daughter of War (2008) by Marsha Forchuk Skrypuch, both address the region around Aleppo during the Armenian genocide of the early 20th century. Books like Refugee by Alan Gratz (2017), The Red Pencil by Andrea Davis Pinkney (2014), and A Land of Permanent Goodbyes by Atia Abawi (2018) bring into stark relief the plight of the displaced as their countries become too dangerous for them to live in safely.
N. H. Senzai notes that she grew up speaking two languages, eating tandoori chicken and hot dogs side by side. She currently lives in San Francisco, but grew up between Jubail, Saudi Arabia and San Francisco with her family, whose origin is from South Asia. She attended boarding school in London, England and has traveled extensively throughout the world. Other works include Ticket to India (2015) and The Kabul Chronicles : Shooting Kabul (2011) and Saving Kabul Corner (2015), which are based on her husband's experiences escaping Soviet-governed Afghanistan. Deeply concerned about children who are displaced as refugees, more information about her and her work can be found at: www.nhsenzai.com
Holly Johnson, University of Cincinnati
WOW Review, Volume X, Issue 3 by Worlds of Words is licensed under a Creative Commons Attribution-NonCommercial-ShareAlike 4.0 International License.
Based on a work at http://wowlit.org/volume-x-issue-3/.