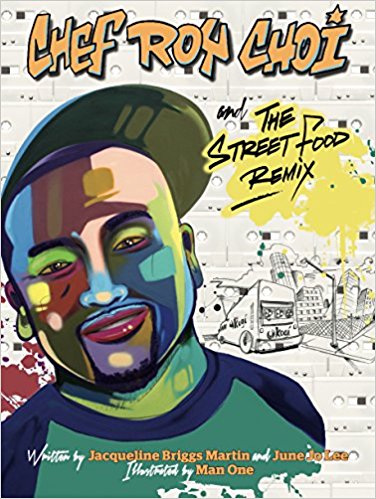 In this spicy picturebook biography, Chef Roy Choi and the Street Food Remix, authors Jacqueline Biggs Martin and June Jo Lee and illustrator Man One celebrate immigrants and offer a love letter to the remix of cultures through food in Los Angeles. The first lines offer a promise of the zesty text to come. "Chef Roy Choi can chop an onion in an instant, carve a mouse out of a mushroom. He's cooked in fancy restaurants, for rock stars and royalty. But he'd rather cook on a truck."
This is a story of how Roy Choi came to America when he was 2 with his Korean parents who opened a Korean restaurant in L.A. One of Roy's "best good times" with his family was making food together. Roy went to cooking school and became a success in fancy places." Then, a turning point came when a friend said, "let's open a taco truck, put Korean barbecue in a taco." They opened their Kogi BBQ Truck. At first people said, "move on…Korean guys can't do tacos." But the chefs persisted and soon people were waiting in long lines to buy their food. "Kogi tacos made Roy famous. Kogi trucks showed people that fresh food, full of flavor, chopped, mixed and seasoned by hand didn't need fancy restaurants."
I can confirm that Kogi tacos are delish, because every time I visit L.A., I make a beeline for one of the trucks. Later, Roy opened, "cheerful cafes in worn-out neighbors. He taught kids to make and sell their own tasty treats." Next, Roy opened Locol cafes in remix neighborhoods, the first one in Watts. He is dedicated to bringing delicious wholesome food with fresh ingredients to low income neighborhoods everywhere.
The illustrator Man One is a graffiti street artist in L.A. who creates murals and more. Go to his web site http://www.manone.com/bio/ to see the variety of the dazzling art he has created. In the Illustrator's Note at the end of the book, Man One writes, "… I tried to give the viewer a little taste of the unique landscape that exists in L.A. I also tried to bring in the different types of people you might meet on any given day. A punk rocker, a skater kid, a street vendor — you name it, L.A. has it!" The art extends the text and provides vivid, colorful illustrations that flow across the pages. Man One uses stickers on some pages to provide sidebars and notes that explain words in the text.
Martin has a special talent for creating biographies that grab the reader's attention and succinctly relates the high points of her subject's life. I have learned from and enjoyed her biographies, like Snowflake Bentley. Don't miss both author's notes at the end of the book along with the Bibliography, Resources and Biographies of the authors and illustrator. This well crafted book is an award winner, receiving Honor Book designations for both the Orbis Pictus and Sibert Awards. -Recommended by Marilyn Carpenter, Professor Emeritus, Eastern Washington University.
ISBN: 9781430131007
Publisher: Readers to Eaters
PubDate: May 2017
Each month a committee of Worlds of Words advisors recommends a book published within the last year. Our hope is to spark conversations on our website and on social media about the book that expand global understandings and perceptions. Please join us by leaving a comment. You can also share your thoughts with us by using the hashtag #WOWRecommends on social media.
array(11) {
  ["_edit_lock"]=>
  array(1) {
    [0]=>
    string(14) "1579288867:264"
  }
  ["_edit_last"]=>
  array(1) {
    [0]=>
    string(3) "264"
  }
  ["_thumbnail_id"]=>
  array(1) {
    [0]=>
    string(5) "28879"
  }
  ["_yoast_wpseo_focuskw_text_input"]=>
  array(1) {
    [0]=>
    string(13) "Chef Roy Choi"
  }
  ["_yoast_wpseo_focuskw"]=>
  array(1) {
    [0]=>
    string(13) "Chef Roy Choi"
  }
  ["_yoast_wpseo_metadesc"]=>
  array(1) {
    [0]=>
    string(125) "In this week's WOW Recommends, Marilyn Carpenter offers her opinion and praise for "Chef Roy Choi and the Street Food Remix.""
  }
  ["_yoast_wpseo_linkdex"]=>
  array(1) {
    [0]=>
    string(2) "88"
  }
  ["_yoast_wpseo_content_score"]=>
  array(1) {
    [0]=>
    string(2) "60"
  }
  ["_wp_old_date"]=>
  array(1) {
    [0]=>
    string(10) "2018-06-04"
  }
  ["_yoast_wpseo_primary_category"]=>
  array(1) {
    [0]=>
    string(4) "3405"
  }
  ["_wp_old_slug"]=>
  array(1) {
    [0]=>
    string(5) "31674"
  }
}