Kathy G. Short, The University of Arizona, Tucson, AZ
Refugee experiences continue to dominate global children's and YA literature in books published between June 2019 and 2020. As in previous years, many contain heart-wrenching stories of refugees experiencing displacement due to violence and war and their journeys of hardship and loss. A smaller number focus on life in refugee camps and detention centers, a sense of belonging in a new place, and home as two places in one's heart.
When I first began tracking refugee books, many were novels about refugees recently arrived in the U.S. and their struggle to adjust to a new culture and language while retaining their home culture and language. These books highlight relationships with classmates who help them adjust to a new cultural context. On the 2020 global lists, the major theme shifted to displacement and journeys in novels and picturebooks, allowing readers to explore reasons why refugees are forced to flee and the tremendous hardships they encounter on their journeys. Children and teens in these books act with courage and agency in facing hardships and they narrate their own stories, instead of the book being narrated by a white peer welcoming a new child. Story Boat, by Kyo Maclear and Rashin Kheiriyeh (2020), depicts a Muslim family on a dangerous journey across land and sea with children finding hope in small items to keep their dreams alive. We Are Not from Here by Jenny Torres Sanchez (2020) tells the story of three teens fleeing violence in Guatemala on a dangerous journey that ends differently for each with devastating consequences.
Another trend is changes in the countries from which refugees are fleeing and in authorship. For the past few years, the dominant emphasis was refugees from Syria by authors outside of that culture. Recent books come from a wider range of countries, including Ethiopia, Somalia, Guatemala and El Salvador. Some of these books are autobiographical accounts, such as When Stars are Scattered, a middle grade graphic novel about Somalian refugees, co-authored by Victoria Jamieson and Omar Mohamed (2020) about Omar's life in a Kenyan refugee camp as he tries to protect his nonverbal brother, and The Paper Boat, a visual narrative by Thao Lam (2020) about her family's journey in a flimsy boat to escape danger in Vietnam. These first-person perspectives are also found in The Other Side, edited by Juan Pablo Villalobos (2019), a collection of stories from Central American teen refugees who dream of crossing the border, and Ink Knows No Borders, edited by Patrice Vecchione (2019), a collection of poetry by poets who are immigrants and refugees.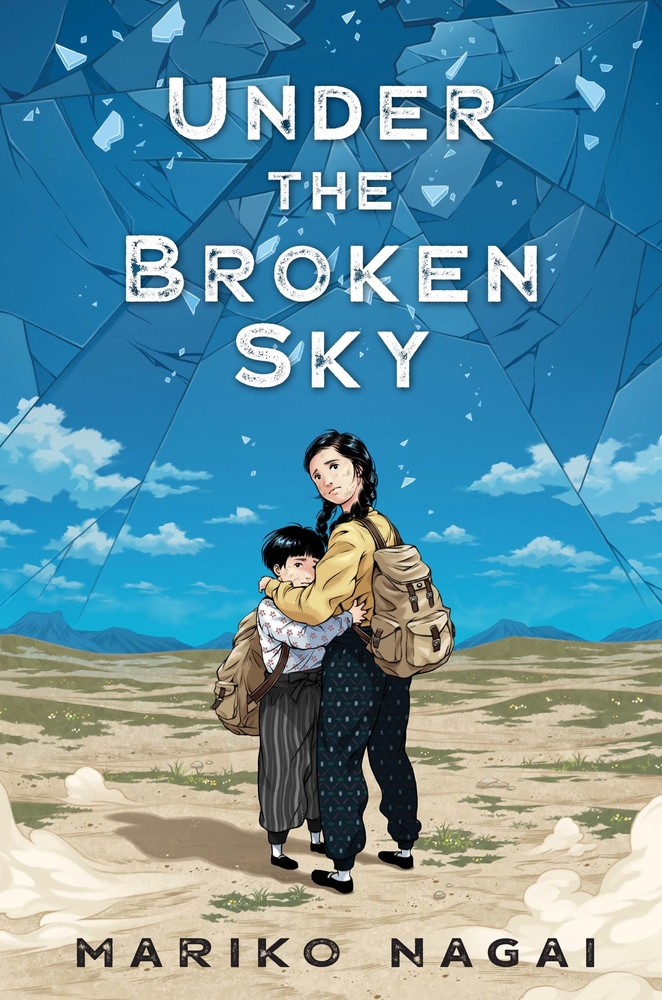 Another interesting trend is historical fiction books that place refugee experiences within the larger continuum of history across the world. These books vary from a girl and her young brother walking from North to South Korea in the midst of war in 1950 (Brother's Keeper, Julie Lee, 2020), a Japanese family trying to escape the Soviet army in Manchuria during WWII (Under the Broken Sky, Mariko Nagai, 2019), a Jewish family forced from Spain in 1492 (A Ceiling Made of Eggshells, Gail Carson Levine, 2020), and American boarding school children imprisoned in a camp in China by Japanese soldiers in WWII (The Taste of Rain, Monique Polak, 2019).
A wider range of genres and formats for refugee books provides readers with differing opportunities to engage with these narratives. Migrants, a striking visual narrative by Issa Watanabe (2020), follows the journey of animals fleeing a treeless forest, accompanied by death and hope, conveyed through fantasy and metaphor embedded in the visual images. Another picturebook, Room on Our Rock by Kate and Jol Temple (2019), provides two perspectives on the responses of those who live in safety through a story about seals that can be read in reverse. Manañaland by Pam Muñoz Ryan (2020) is a fantasy set in a fictional Latin American country, about gatekeepers who guide travelers to safety, while We're Not From Here (Geoff Rodkey, 2019) is a science fiction about people who arrive at a new planet, only to be rejected by the insect-like inhabitants as too dangerous. Jorge Argueta published a narrative bilingual poem (Jimena Perez puede volar/Jimena Perez Can Fly, 2019) and a novel in verse (Caravan to the North, 2020) about Salvadoran refugees met by a closed border and the separation of children from families. Finally, Torpedoed by Deborah Heiligman (2019) is a compelling nonfiction account of the sinking of a ship containing British children being evacuated to Canada in WWII.
One interesting project is Migrations: Open Hearts and Open Borders (Candlewick, 2019), in which picturebook illustrators from 30 countries were invited to create original images and personal messages on postcards about human migration. Fifty of these cards are included in this special volume, each with an image of a bird on the front of the card along with a message of hope and encouragement to those facing difficult journeys to safety and belonging. The picturebook, What is a Refugee? by Emily Gravel (2019), for young children is also available in a downloadable poster format on the illustrator's website.
One commonality across these books is their invitation for readers to join the characters on their forced journeys of loss and hope. The majority are written for a dual audience of readers who are themselves immigrants and read to reflect on their lives and identities and for readers who live in safety and privilege and read for understanding and emotional connection.
More information on these books can be found in the K-12 Global Reading Lists and an extensive annotated list of refugee books organized by themes on the Worlds of Words site.
Journey through Worlds of Words during our open reading hours: Monday-Friday, 9 a.m. to 5 p.m. and Saturday, 9 a.m. to 1 p.m. To view our complete offerings of WOW Currents, please visit its archival stream.
array(12) {
  ["_edit_lock"]=>
  array(1) {
    [0]=>
    string(12) "1596750430:2"
  }
  ["_edit_last"]=>
  array(1) {
    [0]=>
    string(1) "2"
  }
  ["_thumbnail_id"]=>
  array(1) {
    [0]=>
    string(5) "37464"
  }
  ["_yoast_wpseo_content_score"]=>
  array(1) {
    [0]=>
    string(2) "30"
  }
  ["_yoast_wpseo_primary_category"]=>
  array(1) {
    [0]=>
    string(4) "3388"
  }
  ["_yoast_wpseo_opengraph-image"]=>
  array(1) {
    [0]=>
    string(93) "https://wowlit.org/wp-content/media/Story-Boat-Kyo-Maclear-Rashin-Kheiriyeh-9780735263598.jpg"
  }
  ["_yoast_wpseo_opengraph-image-id"]=>
  array(1) {
    [0]=>
    string(5) "39532"
  }
  ["_yoast_wpseo_twitter-image"]=>
  array(1) {
    [0]=>
    string(66) "https://wowlit.org/wp-content/media/under-the-broken-sky-cover.jpg"
  }
  ["_yoast_wpseo_twitter-image-id"]=>
  array(1) {
    [0]=>
    string(5) "38952"
  }
  ["_yoast_wpseo_focuskw"]=>
  array(1) {
    [0]=>
    string(18) "refugee experience"
  }
  ["_yoast_wpseo_metadesc"]=>
  array(1) {
    [0]=>
    string(152) "In Kathy's second post on WOW's 2020 Global Reading List, she looks at how refugee experiences continue to dominate global children's and YA literature."
  }
  ["_yoast_wpseo_linkdex"]=>
  array(1) {
    [0]=>
    string(2) "68"
  }
}