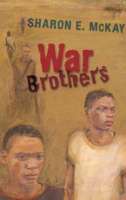 Jacob, the son of a wealthy landowner, attends a Catholic school and expects to go to university. A good boy, he believes that his father and God will keep him safe from harm.
Oteka lost his parents to AIDS and lives in one of the many displacement camps that circle the city of Gulu. Alone in the world, upon the advice of a medicine man, he sets out for an unknown future.
Jacob and Oteka's lives become entwined as they find themselves in the clutches of the Lord's Resistance Army, forced to obey the strange and brutal rules of Joseph Kony's henchmen. Marching endlessly through rough terrain with little food or water, the boys form a plan to make their escape. Will hope, friendship, courage, and resilience be enough to save them?
See the review at WOW Review, Volume 5, Issue 2
ISBN: 9780670067848
Author: McKay, Sharon E.
Published: 2008 , Puffin
Themes: child soldiers, Courage, Friendship, Hope, resilience, War
Descriptors: Africa, Intermediate (ages 9-14), Realistic Fiction, Uganda
No. of pages: 241