Yasmin's Hammer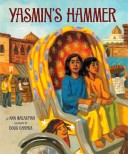 Written by Ann Malaspina
Illustrated by Doug Chayka
Lee & Low, 2010
ISBN: 978-1600603594
Yasmin, along with her little sister Mita, hammer away chipping bricks in Dhaka, the capital of Bangladesh. These chips of bricks are used to build the rickshaw roads and buildings of Dhaka. The two young girls must help their family by chipping bricks each day. With the money the girls make, the family is able to fill the rice bag and repair the roof. Hopefully, one day soon their father will even have enough money to buy his own rickshaw and the girls will be able to go to school.
Yasmin's family did not always live like this. She can remember the time not long ago when they lived outside of the noisy city in a peaceful little village. In their village home Abba farmed rice fields and Amma wove baskets to sell as she watched over Mita. Yasmin helped Abba in the rice fields, and often she would ride the family's mohish (cow) into the river as she laughed and played. But today, after riding through the streets of Dhaka with their father the girls settle in for another day of chipping bricks. The sisters raise their hammers though their shoulders ache and swing away at brick after brick. The red dust flies and chokes them. Yasmin watches over her little sister as she swings her aching shoulder and dreams of the day she can do anything she wants to do once she has learned to read.
Ann Malaspina wrote this heart wrenching, yet inspiring book after sorting through news reports and information from organizations working against child labor to help young Bangladeshi children. Inspired by visits to South Asia when writing a book about Mahatma Gandi, her extensive research includes UNICEF relief efforts to remove children from these brick yards and place them in schools. While writing this book she consulted with several Bangladeshis who read her manuscript to check for authenticity and enhanced the story with detailed suggestions. These Bangladeshis live either presently or formerly in Bangladesh and hold various professional occupations such as a professor at a Dhaka university and leaders of programs for women and the poor in Bangladesh.
The illustrations in this book were researched through travel books and travel photos. Doug Chayka, in an interview, stated that in his extensive photo research, "I was inspired by the diverse textures and colors seen in Dhaka, and I also wanted to capture the bustle and density of city life there" (http://www.leeandlow.com/p/yasmin.mhtml). The oil-on-canvas paintings reflect the imagery of the setting in this story.
Malaspina has written several other fiction and non-fiction books of international interest. Her research has provided information for books, such as Tsunamis (2010), Lebanon (2009), The Ethnic and Group Identity movements: Earning Recognition (2008), Critical Perspectives on Globalization (2006), Chopin's World (2008), and The Chinese Revolution and Mao Zedong in World History (2004). This variety of informative writings provides the groundwork for the perspectives she shares in Yasmin's Hammer.
Other books with a similar theme of resilient children include: Natalie Savage Carlson's Family Under the Bridge (1989) about a destitute Parisian man who lives under a bridge and homeless children who become a family; Pam Munoz Ryan's Esperanza Rising (2002) about a young, wealthy Mexican girl who makes her way to the United States and a new life after many family tragedies; and Christopher Paul Curtis's Bud, Not Buddy (2004) the story of a young motherless boy who goes on his own in search of his father.
Ragina Shearer, University of North Texas and Calhoun Middle School, Denton, TX
WOW Review, Volume II, Issue 4 by World of Words is licensed under a Creative Commons Attribution-NonCommercial-ShareAlike 4.0 International License. Based on work at https://wowlit.org/on-line-publications/review/ii-4/