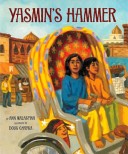 A young Bangladeshi girl who helps support her family by working in a brickyard finds a way to make her dream of going to school and learning to read a reality.

Click here to read the Worlds of Words review.
This book has been included in WOW's Kids Taking Action Booklist. For our current list, visit our Boolist page under Resources in the green navigation bar.
ISBN: 9781600603594
Author: Malaspina, Ann
Illustrator: Chayka, Doug
Published: 2010 , Lee & Low Books
Themes: Child labor, Dream, education, Family life, Literacy, persistence
Descriptors: Bangladesh, Intermediate (ages 9-14), Picture Book, Realistic Fiction
No. of pages: 40