By Susan Corapi, Trinity International University, Deerfield, IL
This week's focus is on books that incorporate math into a story. Books written to teach a mathematical concept are not always connected well to real life. The stories profiled in this post are about people who use math in their work, their social lives and their classes. The stories are complex with layered characters and are rich with themes to explore and discuss in STEM areas and also in other content areas (particularly the social sciences). The second half of the post is focused on poetry that incorporates math and science.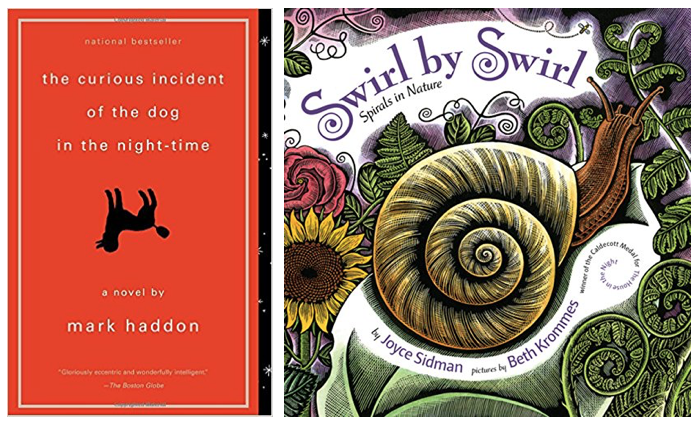 MATH STORIES
The Curious Incident of the Dog at Night Time by Mark Haddon. There are wonderful books told from the perspective of characters who are on the autism spectrum (Rain Reign by Ann Martin, Marcello in the Real World by Francisco X. Stork), Haddon's book is relevant for this post because 15-year-old Christopher John Francis Boone works out complex math problems to help himself calm down in situations that are disturbing. He is also out to solve the mysteries of his neighbor's murdered dog and his disappearing mother. Chapter headings are prime numbers, another tool that Chris uses to try to help him make sense of his social world. I use this book with secondary math pre-service teachers and they love it!
Bomb by Steve Sheinkin. The Newbery Honor and Siebert-winning title tells the story of the collaborative work from scientists, mathematicians, physicists, engineers and military personnel in the construction of the first atomic bombs. Sheinkin is a writer of non-fiction who catches the story behind an event instead of presenting this significant history as a list of facts. The book weaves the global web of German, American, British and Swedish scientists who were racing against an exploding political conflagration to harness the destructive power of nuclear fission. The narrative is also a bit of a thriller as Sheinkin incorporates tales of spies from the American OSS and Russian KGB and describes the British and Norwegian sabotage of German research efforts to keep Hitler from using atomic power.
T-Minus: The Race to the Moon by Jim Ottaviani, Zander Cannon and Kevin Cannon. The political and scientific drama of the race to the moon comes alive in this graphic novel. A related award-winning book is Team Moon: How 400,000 People Landed Apollo 11 On the Moon by Catherine Thimmesh.
Hidden Figures by Margot Lee Shetterly. This is the story of African American women who researched space flight for the U.S. Their job description was "computer" because they had superior calculating skills. Machine computers were in their infancy so calculations needed to be checked by hand and the stakes were high. Planes were piloted by humans and accuracy was critical in avoiding loss of life.
The book profiles four women who went on to be leaders in their fields: Dorothy Vaughan in mathematics and computer programing, Katherine Johnson in analytic geometry, Mary Jackson in engineering, and Christine Darden in data analysis. The original book (368 pp.) has been abridged into a Young Readers Edition (231 pp.). The title is the basis for the award-winning movie of the same name.
All of the Above by Shelley Pearsall. Based on a true story, the book describes a math competition for inner-city Cleveland middle schoolers. Their goal was to build the largest paper tetrahedron and enter the Guinness Book of World Records. Told through the voices of four of the math club members, the story describes the process of working collaboratively on such an enormous project. A riveting part of the narrative is the social challenges in coming together as a team.
Rethinking Math: Teaching Social Justice by the Numbers by Eric Gutstein and Bob Peterson. This book is more of a tool for teachers than a story, but it incorporates stories of STEM teachers who use math to explore and think critically about issues in their communities or around the globe. Examples include inquiries about purchasing power, wages, sweatshops, data collection to demonstrate multicultural math, and ratios in urban geography.
POETRY
Poetry is a great way to introduce a scientific concept. The text is short, sometimes humorous and has rhyme to aid memory. An excellent resource is The Poetry of Science, an anthology of 218 poems, written by 78 different poets and compiled by Sylvia Vardell and Janet Wong. The collection begins with poems about lab safety and the scientific method and then moves into a wide range of scientific subjects such as biology, ecology, geology and astronomy. The following two wonderful poetry books integrate mathematical concepts or problems into the body of the poems.
Swirl by Swirl: Spirals in Nature by Joyce Sidman and Beth Krommes. This award-winning single poem introduces spirals in nature and is illustrated in woodcuts. Explanations in the back discuss the attributes of a spiral and why it is such a useful shape that frequently appears in nature. The notes point out that the number of spiral rows in sunflowers, pineapples and pinecones follow the pattern of a Fibonacci sequence, something that is also evident in the shape of snail shells.
Edgar Allan Poe's Pie: Math Puzzlers in Classic Poems by J. Patrick Lewis and Michael Slack. Lewis uses classic poems as a template and rewrites them with a decided math twist. For example, Using the template of the poem, The Raven, the raven becomes apple pie that needs to be equally divided. The math problems and solutions become humorous because of the connection to well-known poems and because Lewis is skilled at writing poems kids enjoy!
Journey through Worlds of Words during our open reading hours: Monday through Friday 9 a.m. to 5 p.m. and Saturday 9 a.m. to 1 p.m. Check out our two online journals, WOW Review and WOW Stories, and keep up with WOW's news and events.