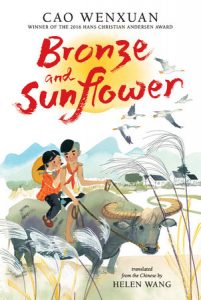 This December WOW Recommends Bronze and Sunflower written by Cao Wenxuan and illustrated by Meilo So as our book of the month. The book won the Hans Christian Anderson award in 2016 and is translated from Chinese into English by Helen Wang. Wenxuan is a best-selling author for children in China and a philosophy professor at Peking University. Bronze and Sunflower is set during the Cultural Revolution in China.
Sunflower and her father, a sculptor of bronze sunflowers, are sent to rural Cadre School. There her father works from dawn 'til dusk in the fields. Then he attends re-education class in the evenings. He has little time for 7-year-old Sunflower. Sunflower is lonely and on her own for most of the day. She eventually makes friends with Bronze, a mute boy living in a village across the river. When her father drowns, Bronze's family takes Sunflower in even though they are poor. The family makes a tremendous effort to pay the fees to send her to school where she thrives. Her schooling benefits Bronze too when she teaches him to read and write. His loving family supports the two of them. In particular, the grandmother goes to exceptional lengths to care for the children, working in the cotton fields and selling her jewelry. The children have several heart-tugging adventures.
The village setting and the people who live there are vital and important in the story. Read this aloud and provide background knowledge about the countryside and its people. – Recommended by Marilyn Carpenter, Professor Emeritus, Eastern Washington University, Spokane, WA
(Admin note: This book is also featured in August 2017's My Take/Your Take.)
ISBN: 9780763688165
Publisher: Candlewick
PubDate: March 14, 2017
Each month a committee of Worlds of Words advisors recommends a book published within the last year. Our hope is to spark conversations on our website and on social media about the book that expand global understandings and perceptions. Please join us by leaving a comment. You can also share your thoughts with us by using the hashtag #WOWRecommends on social media.
array(12) {
  ["_edit_lock"]=>
  array(1) {
    [0]=>
    string(12) "1519835273:2"
  }
  ["_edit_last"]=>
  array(1) {
    [0]=>
    string(1) "2"
  }
  ["_thumbnail_id"]=>
  array(1) {
    [0]=>
    string(5) "28879"
  }
  ["_yoast_wpseo_focuskw_text_input"]=>
  array(1) {
    [0]=>
    string(20) "Bronze and Sunflower"
  }
  ["_yoast_wpseo_focuskw"]=>
  array(1) {
    [0]=>
    string(20) "Bronze and Sunflower"
  }
  ["_yoast_wpseo_linkdex"]=>
  array(1) {
    [0]=>
    string(2) "82"
  }
  ["_yoast_wpseo_content_score"]=>
  array(1) {
    [0]=>
    string(2) "30"
  }
  ["_yoast_wpseo_primary_category"]=>
  array(1) {
    [0]=>
    string(4) "3405"
  }
  ["_yoast_wpseo_opengraph-image"]=>
  array(1) {
    [0]=>
    string(60) "http://wowlit.org/wp-content/media/Bronze-and-Sunflower.jpeg"
  }
  ["_yoast_wpseo_twitter-image"]=>
  array(1) {
    [0]=>
    string(60) "http://wowlit.org/wp-content/media/Bronze-and-Sunflower.jpeg"
  }
  ["_yoast_wpseo_metadesc"]=>
  array(1) {
    [0]=>
    string(147) "Marilyn recommends a read aloud of the Hans Christian Anderson award-winning Bronze and Sunflower. WOW also features the book in My Take/Your Take."
  }
  ["_yoast_wpseo_opengraph-image-id"]=>
  array(1) {
    [0]=>
    string(5) "30654"
  }
}