by Andrea García, Keith Donnelly, and Michele McGuinness, Hofstra University.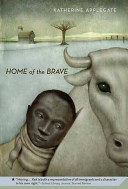 Our writing for this week will take us to explore Home of the Brave, by Katherine Applegate (2008). This is the third book in the text set I created focusing on Global Explorations in verse for my children's literature graduate course. In this story, we meet Kek, an 11-year-old refugee boy from Sudan, who is relocated to Minnesota escaping the civil war in his country, after witnessing the death of his father and brother. Unaware of her mother's whereabouts, Kek joins his aunt and cousin in the U.S., and begins a memorable journey into learning to live in a different culture and in a different language. In this unforgettable story of hopefulness and resilience, Applegate makes use of spare free verse to tell Kek's immigration story. Applegate's creative use of figurative language invites the reader to live through Kek's experiences. We are with him as he descends from the "flying boat," the plane that brought him to his new life, and we witness when he sees snow for the first time. We feel his pain as he remembers his life before the "men with guns," and we befriend a cow, when Kek meets Gol.
From our literature discussion in class, this week Keith and Michele share their personal response to Home of the Brave, and their ideas for how to make use of this novel to foster intercultural understandings in the elementary classroom.
Michele and Keith selected to create a Cultural X-Ray for their initial response to the story. They document Kek's emotions and feelings in the novel, as well as pose questions about his acculturation process in the U.S. Through their conversation, they explore the themes and issues that were relevant to them, and make connections to our professional readings on the importance of global literature for considering multiple perspectives.
Keith's response describes how he was transformed as a reader while reading about Kek's immigration experiences. He writes, "I was constantly captivated through the experiences that Kek endured during his fist days in the winter in the snow. I felt that, as Kek evolved through his travels and experiences in America, I evolved as a reader, growing in my understanding of the trials and tribulations of an immigrant during this specific time in American history."
For Michele, Kek's search for his identity in this new land and his connection to his family are at the center of this story. "The uprooting and change in Kek's life," Michele writes, "has brought him to learn that he has a new home, but can still find in himself the person he was in Sudan. He did this by remaining true to his commitment to animals, especially cows like the one he named Gol. This created a further connection back to his family, which describes what this story is truly about."
Michele also reflects on the specific narrative poetry found in this novel. She writes, "I enjoyed how the author wrote this book, not only in the means of prose, but also in the way that Kek went through many emotions throughout the book. His anger, sadness and confusion at times had me chuckling at his innocence to help, but communication, he soon realized it is not always literal."
Pedagogical Implications
As a classroom community, we have spent time considering the need of global children's literature in the classroom, as we read the work of work of Short and Thomas (2011), as well as Lehman, Freeman and Scharer (2010), among others.
For Keith and Michele, Home of the Brave "incorporates aspects of African culture as well as experiences of immigration, and the challenging lifestyle that comes with moving to a new country." We have discussed the need to bring stories into the curriculum, where "children gain insights into how people feel, live, and think in global cultures, both recognizing their common humanity and valuing cultural differences." (Short & Thomas, 2001, p. 149).
Keith made connections with how Home of the Brave would fit within some of the current curricular modules aligned with the Common Core State Standards being used in New York State. For example, he believes that this novel could help expand the texts set used in one of the modules in the fifth grade. He writes, "In the fifth grade curriculum, students spend a large portion of the months of December and January reading the book Esperanza Rising by Pam Muñoz Ryan. Beginning the novel Home of the Brave would be a perfect follow up to continue with the themes of perseverance, immigration, and strength of family."
Michele explored how some of the critical issues raised in the Kek's story would help students begin to develop intercultural understandings by questioning taking for granted assumptions about our everyday lives. She writes, "This novel gives us an understanding of a culture that is unlike ours in America, and allows us to see that America is not the only or necessarily the best place to live in from everyone's point of view." This critical stance would be what we would want to foster through engaging students with global children's literature. Michele believes that, "Every person's culture, struggles, and life experiences are different, but yet somewhat similar in various ways. Using this as a classroom tool for teaching intercultural understandings can allow for students to expand their views on a life outside of their own." This exploration could help students understand what some of their classmates are going through if they are recent immigrants to the U.S., thus helping build a stronger community within the classroom as well.
We close with an excerpt from the story, where Kek describes the many different students who are part of his ESL class in his new school.
Of all the things I didn't know
about America,
this is the
most amazing:
I didn't know
there would be so many tribes
from all over the world.
How could I have imagined
the way they walk through world
side by side without fear
all free to gaze at the same sky
with the same hopes?
Excerpt from Home of the Brave by Katherine Applegate (2008)
We all agreed that Applegate has created in Kek a character whose voice and perspective stays with you long after you have finished the story. Michele summarized it like this, "Something that has stuck to me from this book that I will try to keep in mind though many experiences in life is a quote used to describe Kek; 'Kek finds sun when the sky is dark.'" His optimism is an inspiring drive to keep us moving forward. We invite you to share with us your responses to this novel if you have read it yourself, or with your studets; or to join the conversation about other novels in verse with memorable immigrant characters that you have used in your classroom to promote global explorations.
References
Lehman, B., Freeman, E., & Scharer, P. L. (2010). The Need for Global Literature. In Reading GLobally, K-8 (pp. 4-19). Corwin.
Short, K., & Thomas, L. (2011). Developing Intercultural Understandings Through Global Children's Literature. In Reclaiming Reading: Teachers, Students, and Researchers Regaining Spaces for Thinking and Action (pp. 159-162). New York: Routledge.
Please visit wowlit.org to browse or search our growing database of books, to read one of our two on-line journals, or to learn more about our mission.
array(11) {
  ["_edit_lock"]=>
  array(1) {
    [0]=>
    string(14) "1580494602:264"
  }
  ["_edit_last"]=>
  array(1) {
    [0]=>
    string(3) "264"
  }
  ["_social_aggregated_ids"]=>
  array(1) {
    [0]=>
    string(47) "a:2:{s:7:"twitter";a:0:{}s:8:"facebook";a:0:{}}"
  }
  ["_social_aggregation_log"]=>
  array(1) {
    [0]=>
    string(677) "a:10:{i:1416418973;O:8:"stdClass":2:{s:6:"manual";b:0;s:5:"items";a:0:{}}i:1416420773;O:8:"stdClass":2:{s:6:"manual";b:0;s:5:"items";a:0:{}}i:1416423476;O:8:"stdClass":2:{s:6:"manual";b:0;s:5:"items";a:0:{}}i:1416427089;O:8:"stdClass":2:{s:6:"manual";b:0;s:5:"items";a:0:{}}i:1416435184;O:8:"stdClass":2:{s:6:"manual";b:0;s:5:"items";a:0:{}}i:1416450492;O:8:"stdClass":2:{s:6:"manual";b:0;s:5:"items";a:0:{}}i:1416480184;O:8:"stdClass":2:{s:6:"manual";b:0;s:5:"items";a:0:{}}i:1416524278;O:8:"stdClass":2:{s:6:"manual";b:0;s:5:"items";a:0:{}}i:1416611575;O:8:"stdClass":2:{s:6:"manual";b:0;s:5:"items";a:0:{}}i:1416784376;O:8:"stdClass":2:{s:6:"manual";b:0;s:5:"items";a:0:{}}}"
  }
  ["_yoast_wpseo_content_score"]=>
  array(1) {
    [0]=>
    string(2) "30"
  }
  ["_yoast_wpseo_primary_category"]=>
  array(1) {
    [0]=>
    string(0) ""
  }
  ["_yoast_wpseo_focuskw_text_input"]=>
  array(1) {
    [0]=>
    string(17) "Home of the Brave"
  }
  ["_yoast_wpseo_focuskw"]=>
  array(1) {
    [0]=>
    string(17) "Home of the Brave"
  }
  ["_yoast_wpseo_metadesc"]=>
  array(1) {
    [0]=>
    string(137) "This is the third book in the text set I created focusing on Global Explorations in verse for my children's literature graduate course."
  }
  ["_yoast_wpseo_linkdex"]=>
  array(1) {
    [0]=>
    string(2) "76"
  }
  ["_thumbnail_id"]=>
  array(1) {
    [0]=>
    string(5) "37464"
  }
}