TOURS/FIELD TRIPS
Worlds of Words' unique collection of international children's literature provides an interactive, educational and fun field trip that also broadens global perspectives through children's and adolescent literature. We offer hands-on experiences for groups of K-12 students, UArizona classes and community members. Our staff may be able to create a customized field trip that fits the needs, abilities and study topics of your group.
Lead time is helpful so we can balance our schedule. We require 24 hours notice for cancellations.
K-12 FIELD TRIPS
Our K-12 field trips allow teachers to work with our coordinator to support classroom learning. K-12 field trips are available Monday through Friday, 9 a.m. to 5 p.m. For in-person field trips, we require that schools provide chaperones in addition to the classroom teacher to assist with activities. The Center now offers virtual field trips as well! Just indicate your preference when submitting your request.
To request a field trip, please complete our online form.
Preparing students for a visit to Worlds of Words is important. Our tip sheet will help you get the most out of the experience.
For questions about K-12 field trips, contact us at wow@arizona.edu.
UNIVERSITY FIELD TRIPS
Our university field trips typically include an introduction to Worlds of Words and our mission followed by a self-directed tour. We can extend our presentation to other areas of interest based on specific instructor or faculty requests. Field trips and tours for University classes are available Monday through Friday, 9 a.m. to 5 p.m. To schedule a field trip, complete our online form.
COMMUNITY GROUP TOURS
We love showing off our resources with the community! We create two to three new exhibits of original illustrations from published picturebooks each year. We receive frequent requests for us to update groups on our programs as we always have something going on for teachers, students of all ages and families. We also provide group and individual tours of the collection. If you would like to bring your community group to Worlds of Words for a guided tour or to learn about our programs, please complete our online form. Of course, if you just want to visit, there is no need to plan in advance. Worlds of Words is open to the public from 9 a.m. to 5 p.m. on Mondays through Fridays and from 9 a.m. to 1 p.m. on Saturdays, except major holidays and special occasions.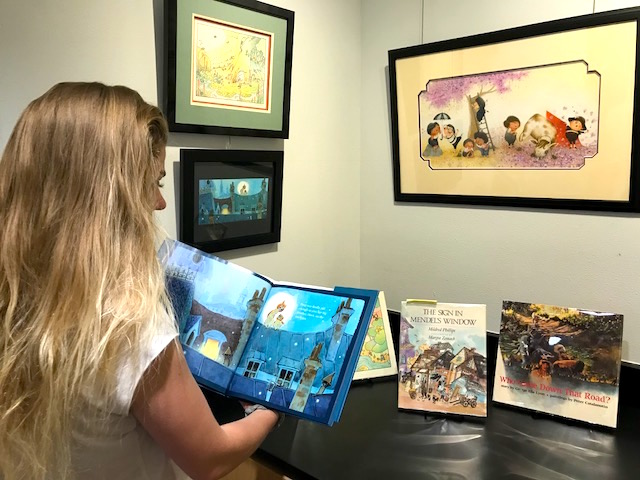 YOUTH SAFETY
Worlds of Words follows University of Arizona policies regarding unenrolled minors. For more information about Youth Safety on the UofA campus, please visit the Office of Youth Safety website.