For news straight from WOW, read our press releases or find us on Facebook, Twitter, Instagram, LinkedIn, Pinterest, or Litsy.
Press Clippings & Presentations:
September 11, 2019
UofA College of Education Facebook Live Tour of Worlds of Words

July 28, 2019
This hidden-gem library at the UA has 40,000 global children's books

On the fourth floor of the University of Arizona's College of Education, 40,000 books tell the stories of children and teens from around the world. Sunlight streams through windows showcasing views of the Catalina Mountains, and window benches beckon, welcoming students studying or children curling up with a picture book. The Worlds of Words: Center for Global Literacies and Literatures is the largest global collection of children's and young adult books in the United States.
July 8, 2019
Highlighting UA employees after Forbes recognition

"[Rebecca Ballenger] not only inspires the children who visit Worlds of Words, she also finds ways to bring together College of Education staff and faculty members for fun workshops," Hargett said. … "She inspires the same level of creativity and provides opportunities for them to learn, grow and gain confidence in preparation for their professional careers."
May 20, 2019
Library Planet: Worlds of Words, University of Arizona, USA – the largest collection of global children's books in the United States!

Nestled on the campus of the University of Arizona (UofA) in the Sonoran Desert, Worlds of Words (WOW) holds the largest collection of global children's books in the United States. WOW serves the university as well as the greater Tucson community. "Worlds of Words builds bridges across global cultures through children's and adolescent literature" (wowlit.org).
April 8, 2019
KJZZ: Untold Arizona: How The Country's Largest Collection Of Global Children's Books Grew In Tucson

The gray plastic crate in front of me just arrived in Tucson from Basel, Switzerland.

Inside there are dozens of picture books from around the world.

Kathy G. Short pulls out one with an orange and yellow cover. It's from Egypt and there's an image of a sun tucked into the Arabic title.
October 29, 2018 – Presentation
Una Mirada a la Literatura Infantil: Current Trends in Literature for Children and Adolescents in Mexico
Held in Worlds of Words

October 4, 2018
UofA Alumni Association: WOW, What a Legacy!

In January, Jerry and Kathy Short were vacationing in Hawaii when their cellphones displayed this message: Emergency Alert: BALLISTIC MISSILE THREAT INBOUND TO HAWAII. SEEK IMMEDIATE SHELTER. THIS IS NOT A DRILL. "We followed the masses into a hotel cafeteria, which was like a bunker. People really panicked. They were crying and calling their loved ones to say goodbye," says Jerry Short. A second message came through 38 minutes later identifying the alert as a false alarm. The Shorts decided that day to make some decisions about their charitable giving.
October 3, 2018
Inside Philanthropy: Afterglow: A Startlingly Successful Fundraising Campaign Officially Ends, and the Gifts Keep Coming

A $1 million gift from Kathy G. Short and her husband Jerry to endow the director's position of the University of Arizona's (UA) World of Words (WOW), the largest collection of global literature for children and young adults in the nation, suggests that successful fundraising campaigns can live on in spirit well after the official end date.
September 24, 2018
AZPM: Endowment to Support Global-Literature Collection for Kids

The nation's largest collection of children's and teen global literature has received a $1 million endowment to support future teaching and scholarship.
September 19, 2018
UA News: Endowment Will Support Children's Literature Collection at UA

A $1 million gift has been made to the University of Arizona to support Worlds of Words. The gift was made by the collection's director, Kathy G. Short, and her husband, Jerry Short, who wanted to endow the director's position in order to ensure that Short's successors are leading scholars who can further advance the collection.
September 4, 2018
NCTE's Build Your Stack: Widening Our Lens by Bringing Books from around the Globe into K-12 Classrooms

Teachers are always searching for new ways to challenge students to explore their own lives and the diversity of cultural communities that enrich us. Looking to "global literature" – books from diverse cultures around the world — provides an opportunity for students to go beyond a tourist perspective of only gaining surface-level information about a culture.
March 26, 2018
School Librarian Leadership: #AASLslm School Library Month–Global Connections
Worlds of Words (WOW) has created global book lists that pair classic children's and young adult literature with global books that reflect the cultural diversity of our students and our world. These fiction and informational books, organized by grade level, can support librarians' global collection development as well as provide critically reviewed texts that can be integrated into the curriculum.
March 20, 2018
Global Literature In Libraries Initiative: Worlds of Words
This year I have enjoyed serving on the Astrid Lindgren Memorial Book Award Committee with USBBY, the United States Board on Books for Young People. Our chair, Dr. Kathy Short, is a professor at the University of Arizona, College of Education in Tucson. She is the Director of an exciting project called Worlds of Words.
October 5, 2017
Bookmans: Messing with the Bull–The Legacy of Ferdinand

The Hello, Dear Enemy! exhibit at Worlds of Words provides the perfect setting to learn more about Ferdinand and books like it: stories that remind us of how powerful each of us can be in the face of opposition and darkness. Worlds of Words is the first stop for this traveling exhibit, so be sure to stop by before it ships out!
June 14, 2017
Daily Wildcat: Boos and Bravos
Bravo to Worlds of Words for adding a world language section. The research center received donations of 1,000 books from students, faculty and other supporters within the community.
June 6, 2017
UA News: UA's Worlds of Words Grows by 1K New Books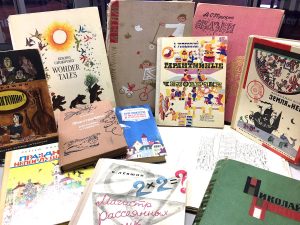 Worlds of Words in the University of Arizona's College of Education has added a World Language collection with more than 1,000 donated texts to its main collection of 36,000 global books. Most of the newly donated books have been provided by students, faculty members and other friends of the collection. And of the new donations, more than 300 books in Russian came directly from UA faculty members Brenda Frye and Sergey Cherkis.
April 14, 2017
Daily Wildcat: Worlds of Words coordinator finds passion in connecting people with literature

As Collections and Outreach coordinator at Worlds of Words, Ballenger organizes materials, events and exhibits at the extensive global literature resource center housed in the UA Education building in order to connect the Tucson community with their exclusive collection of global children's books and artwork.
March 10, 2017
Daily Wildcat: Festival of Books showcases literacy in Tucson
Nestled on the fourth floor of the education building at the UA, the newly renovated Worlds of Words center houses one of the largest collection of global children and adolescent books in the United States. It also hosts many artists and scholars in residence.
January 11, 2017
UA News: Four Questions: Global Citizenship as a Necessity, Not a Luxury
"Four Questions" is an occasional feature in which UANews asks experts from the UA for their perspective on current events or pop culture. WOW Director Kathy Short answered questions about teaching adults as well as children and adolescents about global citizenship through reading.
August 10, 2016
UA News: Campus Spaces Reveal an Array of Art and Collections

The UA's College of Education Worlds of Words has nearly 100 pieces of original art in the collection, about half of which are on public display in the studio, main space and Mary J. Wong/Grace Lin collections.
July 1, 2016
UA News: Worlds of Words Secures Donation of Original Art from Award-Winning Illustrator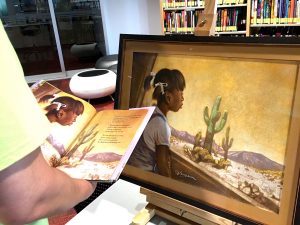 In a collection already bursting with important works by children's book illustrators, Worlds of Words added one more. The untitled piece from "In the Land of Milk and Honey" by award-winning illustrator Floyd Cooper recently went on display in the University of Arizona collection, housed in the College of Education.
February 15, 2016
UA News: UA Literacy Efforts Strengthen Mexico Communities

The College of Education's Worlds of Words, in collaboration with Resplandor International, is expanding in Mexico, launching a visiting scholar program in honor of the late Richard Ruiz — and growing its library. Roughly 10 miles outside of Guanajuato, Mexico, sits the home base for Resplandor International, a nonprofit humanitarian organization founded with a desire by those at the University of Arizona to enrich cross-border cultural competency and promote economic development through education.
November 19, 2015
Education Week: Stories and Standards: Opening the World Through Global Literacy Communities
This week a new resource shares strategies and tools to engage students and educators with books from around the world. Kathy Short, director of Worlds of Words and Jennifer Manise, Executive Director of Longview Foundation, share how global stories are effective classroom tools.
July 20, 2014
Barbara Gowan Blog

What is TFOB and WOW? Tucson Festival of Books and Worlds of Words. Both are located at the University of Arizona. The Tucson Festival of Books is a weekend of author spotlights and presentations, kids' activities, book vendors and displays, top notch entertainment, Science City and much more! In addition to all the festival activities, I had the opportunity to tour the newly remodeled Worlds of Words in the College of Education at the U of A.
March 19, 2014
Lenore Look Blog: Tucson Festival of Books

Dear Reader, I just had the most incredible weekend. I went to the Tucson Festival of Books (a k a @TFOB). When you're an author, you must go to this. Kathy Short is a super-duper VIP in the world of children's lit. So you can imagine my surprise to find myself seated at her table. And you can imagine my further surprise when the MC mentioned my name as an example of the authors Kathy brought to this year's festival. Really? Me?
March 3, 2014
UA News: UA's Unique Children's Literature Collection Undergoes 'Extreme Makeover'
The Worlds of Words International Collection of Children's and Adolescent Literature helps build bridges across global cultures through programming focused on literacy and literature.
November 8, 2012
Arizona Daily Star: Book festival award of $200K going to UA, 2 literacy groups
During the celebration at the UA College of Education, Finland's ambassador to the United States, Ritva Koukka-Ronde, will award a Finnish language and culture book kit to Worlds of Words, a collection of international children's and adolescent literature.
January 5, 2012
UA News: Worlds of Words Brings Together Arizona Authors, Children
Housed by the University of Arizona College of Education, Worlds of Words exposes children to different cultures through its collection of international literature. Each month, WOW hosts an event as part of its Book Fiesta program where it invites Arizona authors and illustrators to bring a new book and a writing activity to share with local children. (Video)
November 3, 2010
ALA Connect
The Worlds of Words website provides many useful resources for building bridges between cultures. These resources include multiple strategies for locating and evaluating culturally authentic international children's and adolescent literature as well as ways of engaging students with these books in classrooms and libraries. Critical annotations are available and can be sorted by geographic region, age or region.