WOW continues our new reading program in the 2023/24 school year for middle school youth! The ambassadors will meet in virtual, in-person or hybrid settings depending on what the situation warrants. As this programming is still new, some of the information on this page is subject to change, however it serves to provide an understanding of the program. The application is open!
QUICK NAVIGATION
Introduction
How It Works
UArizona Office of Youth Safety
Paperwork
Guidelines and Helpful Information
Reading List
Schedule
INTRODUCTION
Worlds of Words: Center of Global Literacies and Literatures Middle School Reading Ambassador initiative offers middle school students a college experience within the University of Arizona College of Education that focuses on books for middle school-aged readers. Ambassadors learn about adolescent literature under the direction of faculty and staff with expertise in children's literature, education, library science and marketing.
This program positions local 6-8th graders as reading ambassadors in their own schools. WOW Middle School Reading Ambassadors interact with published authors of literature for young people, receive books by that author and share their experience with their peers to promote reading in their school communities. Copies of the books read by the ambassadors are also donated to the ambassadors' school libraries.
"Ambassadors bring their enthusiasm for reading to a larger audience by talking about books in their communities and inviting other students at their schools to meet authors," says Kathy Short, Professor in Teaching, Learning and Sociocultural Studies and Director of Worlds of Words. "Part of the value of middle-school literature is its dynamic nature. The innovation and experimentation within the genre helps young people connect with the world through reading. In this way, those involved with the initiative will be true ambassadors."
HOW IT WORKS
This program offers middle school youth a unique opportunity to explore books in ways they rarely experience in other contexts. Each book cycle occurs over the course of two months. Ambassadors first discuss the book and create plans for how to share it with peers. The next month, they host an event with the author. Reading Ambassadors receive a free copy of the books they discuss. WOW donates a second copy to the ambassadors' schools. Students have created book displays, flyers, social media posts, podcasts and other engagements to encourage their peers to read.
"People who are interested in getting college experience or working with college professors should apply," says Teen Reading Ambassador alumna George Ballenger. She enjoys the literature discussions and appreciates the freedom she experiences in organizing and planning the author events. She says, "I like that we've held more of the power…. We are encouraged to do a lot by ourselves."
To become a Middle School Reading Ambassador, students must complete the online application. Applications will be accepted through the summer each year with start dates in the Fall. Meetings typically occur one Saturday a month at Worlds of Words, 1430 E. Second St., Rm. 453. For more information on the Middle School Reading Ambassadors or general information about Worlds of Words, email wow@arizona.edu.
UNIVERSITY OF ARIZONA OFFICE OF YOUTH SAFETY
Worlds of Words follows University of Arizona policies regarding unenrolled minors. For more information about youth safety on the UArizona campus, please visit the Office of Youth Safety website. All personnel overseeing the Reading Ambassadors have been through a background check through UAPD that includes fingerprint checks. Additionally, they have gone through youth safety training through the UArizona. For questions about policies regarding unenrolled minors on the UArizona campus, please contact the Office of Youth Safety at 520.621.7286 or youthsafety@arizona.edu.
2022/23 PAPERWORK
GUIDELINES AND HELPFUL INFORMATION
Worlds of Words
Worlds of Words is committed to creating an international network of people who share the vision of bringing books and children together, thereby opening windows on the world. We encourage thoughtful dialogue around global literature so that children can reflect on their own cultural experiences and connect to the experiences of children across the globe.
Worlds of Words is a center within the University of Arizona College of Education. The collection holds 40,000 books and original art from published picturebooks. The space includes our main collection, the Mary J. Wong collection, classroom, studio and several private work areas. The space is typically open to the public from 9 a.m. to 5 p.m., Monday through Friday, and 9 a.m. to 1 p.m. on Saturday. We follow the UArizona vacation and holiday schedule and closures.
In addition to the literature discussions and author visits ambassadors participate in, WOW offers free programming for the public all year around. Please feel free to join us at any of our author/illustrator workshops for younger children, exhibits and other events. WOW also offers free tours and school field trips.
WOW has extensive online content for preservice teachers, teachers, teachers educators and others who share our interest in global stories for young people. This includes three peer-reviewed academic journals, a blog with five distinct features, and a catalog of international books. All these online resources are available free to the public.
Sanctioned Activity
While ambassadors are encouraged to promote reading as part of their experience, the only sanctioned activities take place during scheduled meetings.
"Ambassadors bring their enthusiasm for reading to a larger audience by talking about books in their communities and inviting other students at their schools to meet authors," says Short.
Reading List
Ambassador literature discussions include whole group and small group work to explore books in depth. By participating in literature discussions students engage in critical thinking and reflection as they read, discuss and respond to books.
"The ambassadors experience a combination of book discussions and hands-on workshops to deepen their understandings and to learn ways to promote reading," says Short. "Additionally, they learn about the writing and publishing process as they meet the authors. In many cases, these students are among the earliest readers of those books."
Typically, ambassadors have a choice in the books they choose and so we can't always give parents/guardians advance notice. For this reason, we encourage parents/guardians to stay engaged with their children regarding the program. In this way, parents/guardians can approve readings if they feel it necessary, but also this will allow ambassadors a chance to practice their advocacy for reading. Books are typically selected based on thematic connections, student interest, and author availability. These selections will also be read by personnel overseeing the Teen Reading Ambassador program. However, because some of the books may contain mature content, we want parents/guardians to be engaged.
To help you get to know the types of books selected by ambassadors and program coordinators, please see the following list of books/authors the ambassadors encountered in previous programming either through book selection or browsing. Parents/caregivers are encouraged to do further research on these books and discuss book selections with their child.
• Across the Desert by Dusti Bowling
• Aru Shah and the End of Time by Roshani Chokshi
• Born Behind Bars by Padma Venkatraman
• Clarice the Brave by Lisa McMann
• Distress Signal by Mary E. Lambert
• The Hidden Knife by Melissa Marr
• The Many Assassinations of Samir, the Seller of Dreams by Daniel Nayeri
• The Plentiful Darkness by Heather Kassner
• Under the Broken Sky by Mariko Nagai
We have not finalized the scheduled authors for the 2023/24 cadre. Typically WOW selects the first author and ambassadors select subsequent authors or illustrators after a book browse.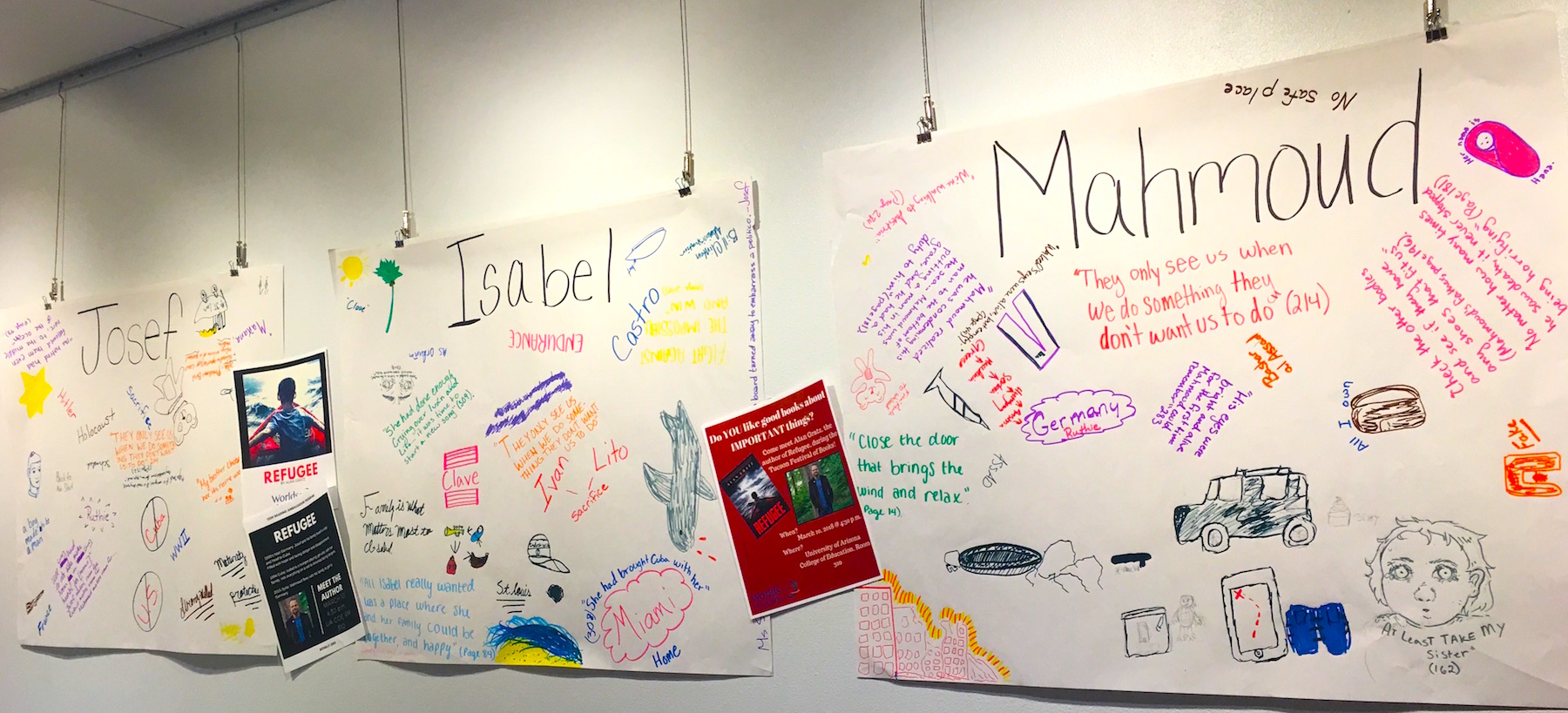 Predicted 2023/24 Schedule for Ambassadors
August 26, 2023: Orientation, 10 a.m. to noon
September 23, 2023: Lit Discussion, 10 a.m. to noon
October 14, 2023: Author Event, 10 a.m. to noon
November 12, 2023 (A Sunday): Lit Discussion, 10 a.m. to noon
December TBD, 2023: Author Event, 10 a.m. to noon
Nothing in January 2024
February TBD, 2024: Lit Discussion, 10 a.m. to noon
March 9 & 10, 2024: Tucson Festival of Books
April TBD, 2024: Read-a-thon, 10 a.m. to 2 p.m.
May TBD, 2024: Author Event and Certificate Presentation, 11 a.m. to 3 p.m.