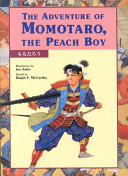 The Adventure of Momotaro, the Peach Boy. McCarthy, Ralph F (1993). Tokyo; New York: Kodansha International ; New York, N.Y.: Distributed in the United States by Kodansha America. ISBN: 4770017553.
Perhaps the most beloved of all Japanese folk tales is the story of Momotaro, the boy born from a peach. Momotaro's expedition to the Land of the Demons, accompanied by his faithful companions, the Dog, the Monkey, and the Pheasant, is filled with fun and excitement for all young readers.
The Ainu And the Fox. Kayano, Shigeru (2001). Tokyo, Japan: RIC Publications. International ISBN: 1741260531.
One night, an Ainu elder is woken from his sleep by the sound of a fox's cry. The man gets out of bed, approaches the riverbank so he can hear better, and discovers that the fox is addressing all Ainu with a passionate appeal for them to end their selfishness and share nature's bounty with all the animals, as the gods intended. The man is deeply moved by the fox's appeal and calls the Ainu together to apologize to the fox god and to turn away from their selfish behavior
The Ainu: A Story of Japan's Original People.
Kayano, Shigeru (2004). Boston: Tuttle Pub. ISBN: 080483511X.
With a rich history dating back more than six centuries, the Ainu people of Hokkaido have one of the most unique indigenous cultures in the world. This beautifully illustrated book explores the lives and ideas of the Ainu with an eye to the importance of nature and religion in their daily lives. It features breathtaking retellings of Ainu folktales and vivid descriptions of customs, clothing, food, habitats, and beliefs.
The Animals. Mado, Michio (1992). New York: Margaret K. McElderry. ISBN: 978-0689505744.
These poems generally display a different sensibility from English language verse, ranging from the short, epigammatic "Zebra" ("In a cage/ Of his/ Own making,") to the longer "Ah, From Somewhere . . ." that laments that the mailman never notices the faithful sparrows and snails who see him off each day. The title piece, rightly saved for the last, touchingly and pithily examines humanity's separation from the rest of creation. The translations are quite literal, but strikingly rendered; they refreshingly retain Japanese onomatopoeia instead of substituting more familiar English equivalents.
Barefoot Gen, Vol 1: A Cartoon Story of Hiroshima. Nakazawa, Keiji (1987). Philadelphia, PA: New Society Publishers . ISBN: 0865710945.
The reissue of this classic manga's first volume has impeccable timing. It recounts the bombing of Hiroshima from the perspective of a young boy, Gen, and his family. But the book's themes (the physical and psychological damage ordinary people suffer from war's realities) ring chillingly true today. Gen and his family have long been struggling without much food, money or medicine, but despite hardships, they try to maintain a semblance of normal life. The adults are exhausted and near despair; the children take air raids and starvation more or less in stride. Nakazawa, a Hiroshima survivor, effectively portrays the strain of living in this environment and shows how efforts to stay upbeat in dire circumstances sometimes manifest as manic, irrational humor.

The Boy of the Three-Year Nap. Snyder, Dianne (1993). Boston: Houghton Mifflin. ISBN: 0395440904.
Taro is a Japanese boy whose penchant for sleeping is the butt of village jokes, much to the chagrin of his poor widowed mother, who works hard to provide them with necessities. Taro cannot be coaxed into working, despite his mother's pleas, until he falls in love with a rich merchant's daughter and hatches a scheme to make himself wealthy. The author's foreword explains that many gods and demons inhabit Japanese folklore, which will help readers understand how Taro, disguised as a local deity, is able to convince the rich neighbor that his daughter must wed the laziest boy in town.
Cool Melons – Turn To Frogs!: The Life And Poems Of Isa. Gollub, Matthew (1998). New York: Lee & Low Books. ISBN: 1880000717
A successful collaboration of verse and prose that brings a famous 18th-century poet to life. Gollum's original translations of Isa's haiku are interspersed with biographical narrative (slightly fictionalized) so that each one lends context to the other. Each poem is illustrated with a realistic spot or framed watercolor-and-colored-pencil picture, and rendered in Japanese calligraphy in the outer margin. Stone elaborates on her artistic research in endnotes. Gollum explains in detail how he went about his translations so that readers can understand what to look for and what's lost.
The Friends. Yumoto, Kazumi (2005).New York: Farrar, Straus and Giroux. ISBN: 978-0374424619.
Outsiders at home and at school, Kiyama and his two awkward sixth-grade friends decide to spy on a solitary old man in their small Japanese town. They want to see what happens when he dies. For them, death is the stuff of nightmare and ghosts, a fearful unknown. At first, the old man is angry, but their attention revitalizes him, and he draws them into his home. Together they fix his house, clean up his yard, plant a garden, and every day after cram school, and gather there. When he does die, there's no horror–only heartfelt grief and loving memories that give them strength to go on.
Grandpa's Town. Nomura, Takaaki (1991). Brooklyn, N.Y.: Kane/Miller Book Publishers. ISBN: 0916291367.
With text appearing in Japanese and English, a simple story about a little boy who is worried that his widowed grandfather is lonely–until he goes with him to a public bath and realizes how many friends Grandpa has. Of interest especially for its handsome woodcuts of the village scene, including a detailed depiction of men and boys of all ages chatting as they go through the bath's routine.
Guardian Of The Spirit (Moribito). Uehashi, Nahoko (2008). New York: Arthur A. Levine Books. ISBN: 9780545005425.
This Japanese import features many familiar martial-arts fantasy elements: magic, nonstop action, swordplay, a puzzling myth, dangerous plot twists, and a strong-willed, flawed hero on a quest. What's surprising is that the "hero" is a slightly wrinkled, weather-beaten, thirty-year-old heroine: Balsa Spear-wielder, an itinerant bodyguard. After Balsa saves Change, the son of the Mikado, following a freak accident, Chagum's mother hires Balsa to protect him; she is certain that Change will be murdered because he is host to a mythical creature, a fact that belies the divine nature of the Mikado. Balsa must solve a mystery involving the creature and protect Change from both the Mikado's elite forces and an otherworldly monster. Guardian will sell itself in book talks: the story is intriguing, and Balsa is a smart, crotchety, fully realized heroine.
Guri and Gura. Nakagawa, Rieko (19660. London: Sadler & Brown. ISBN: 978080837828.
Guri and Gura, popular characters in Japan since their 1963 debut (of which this book is the translation), enter the American market with the first of the publisher's projected series. Here, the two exuberant mice find a huge egg in the forest and decide to use it to make "a sponge cake so big we can eat it from dawn to dusk and still have some left over." Realizing that the egg is too big to move, Guri and Gura haul a huge frying pan (and everything else they need) over to the egg, then mix up the batter, build a fire and share the results with all the animals who have sniffed out their cake. Yamawaki's pared-down line drawings deliver information plainly and directly, with little shading on an expansive white background: Gura holds the lid of the pan (which towers over him), Guri raises his tiny mouse fist in excitement, and the nicely risen cake is revealed.

Hachiko: The True Story of a Loyal Dog. Turner, Pamela S (2004).Boston: Houghton Mifflin Co. SBN: 0618140948.
In 1932, a dog won the hearts of the people of Japan after a newspaper article described his loyalty to his owner. Every afternoon, Hachiko would wait at the train station for Dr. Ueno. After the man died suddenly in 1925, the animal returned to the station every day to wait for him, until his own death in 1935. A bronze statue was placed at Shibuya Station to honor this extraordinary canine, and a festival is held there every April. The story is told through the eyes of a young boy named Kentaro, and his imagined interactions with the dog make the events come alive as he worries about and befriends this special creature.
Hannah's Winter. Meehan, Kierin (2009). La Jolla, CA: Kane/Miller Book Publishers. ISBN: 9781933605982.
When Hannah's writer mother travels from Australia to Japan to do research for a new book, she takes her reluctant daughter with her. While Liana travels throughout the country, the 12-year-old stays with her mother's friends, the Maekawas. She is able to converse with the family as she spent time in Japan when she was younger and has been studying Japanese at school. Hannah is soon swept up in a mystery with her new friend, Miki Maekawa. Opening an old toy box, the family finds a riddle that appears to be an appeal for help from "the ocean boy," a lost soul seeking peace. The girls and their friend Hero set out to solve the riddle, traveling to markets, temples, shrines, and an ancient castle and meeting people from the past who aid or hinder their quest.
Ho-limlim: A Rabbit Tale from Japan. Tejima, KeizaburoÌ (1990). New York: Philomel Books. N: 0399221565.
After one last foray far from his home, an aging rabbit decides he prefers to rest in his own garden and let his children and grandchildren bring him good things to eat.
Honda, The Boy Who Dreamed of Cars. Weston, Mark (2008).New York: Lee & Low Books. ISBN: 9781600602467.
Rightly noting that people today may never have heard of Soichiro Honda, but almost everyone knows his last name, Weston presents the first stand-alone biography for young readers of this Japanese blacksmith's son, who fell in love with cars the instant he first laid eyes on one in 1914. He went on to become a mechanic, inventor, racecar driver—and, of course, a tycoon. Yamasaki helps to keep the tone light with fanciful painted illustrations that depict her subject set amid flying car parts and streams of tiny automobiles and motorcycles. Honda is neatly portrayed as someone who was smart enough both to stay in touch with his employees (it was a worker's suggestion that convinced him to go with water-cooled rather than less powerful air-cooled engines) and take early retirement.
I Lost My Dad. Gomi, Taro (2001). Brooklyn, NY: Kane/Miller Book Publishers. ISBN:1929132042.
When a young boy loses his father in a large department store he begins searching for him. He catches several partial glimpses of patterns or clothing that he believes his dad is wearing but each time he is distressed to discover that they belong to someone else. The child finally locates the irritated man on an escalator and the book ends with the boy being led out of the store.
In Search of the Spirit: The Living National Treasures of Japan. Hamanaka, Sheila (1999). New York: Morrow Junior Books. ISBN: 0688146082.
In the aftermath of WWII and the loss of many of its ancient monuments and works of art, Japan gave grants to the elders committed to the traditional arts to continue their crafts and to mentor others. Hamanaka and Ohmi offer a rare glimpse of these master craftsmen of Japan, or "Living National Treasures." The authors interviewed half a dozen diverse artisans: a yuzen dyer (who designs and dyes kimono fabrics), a bamboo weaver, a Bunraku puppet master, a sword maker, a Noh actor and a potter. Each brief biography tells how the artist chose the discipline (or how the discipline chose the artist), and the clear, compelling accounts brim with bits of wisdom from the masters as well as information about the culture and history of Japan.
Kamishibai Man. Say, Allen (2005 ). Boston: Houghton Mifflin. ISBN: 9780618479542.
In a foreword, Say explains that Kamishibai means "paper theater" and that years ago Kamishibai men were itinerant storytellers who traveled around Japan on bicycles with a big, wooden box mounted on the back seat. The box contained a miniature theater, and beneath it were drawers of candy that the performer sold to eke out a living. As a storyteller spun his tale, he used picture cards to illustrate dramatic points, finishing each time with a cliffhanger designed to entice the children in his audience to come back another time to hear the continuation of the story. Say's lovely new book is about an elderly Kamishibai man, long retired, who, missing his rounds, decides to pedal back to the old neighborhood for one last performance. The story-within-a-story that emerges reveals why this unique type of performance art has all but disappeared.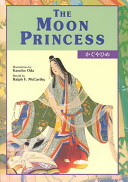 The Moon Princess. McCarthy, Ralph F (1993). Tokyo ; New York: Kodansha International ; New York, N.Y.: Distributed in the United States by Kodansha America. ISBN: 9784770020994.
An old bamboo cutter finds a tiny child in the hollow of a bamboo stalk. Thus begins the beloved story of the Moon Princess, whose unearthly beauty brings her fame and would-be husbands from throughout the land, but whose destiny shines far off in the sky. The delicate color and detail of Kancho Oda's illustrations, painted over half a century ago, create a mood of charm and mystery, admirably accompanied by the lilting verse of writer, translator, and lyricist Ralph F. McCarthy.
My First Japanese Kanji Book. Sato, Anna (2009). Tokyo; North Clarendon, VT: Tuttle Pub. ISBN: 9784805310373.
An inventive and unique introduction to kanji for children. Written by the mother-daughter team of Eriko and Anna Sato, this lovely book introduces 109 kanji characters to children with poems and illustrations. It includes all the Japanese Government specified first grade level kanji characters and a sprinkling of simple second to sixth grade characters. The kanji are introduced in the context of 36 colorful paintings and poems by 14-year-old Anna Sato, herself a kanji learner. Each of the poems is presented in both Japanese and English, and all kanji are accompanied by furigana (small hiragana letters), stroke-order diagrams, sample vocabulary and boxes for writing practice.
My Japan. Watanabe, Etsuko (2009 ). La Jolla, Calif.: Kane/Miller Book Publishers. ISBN: 9781933605999.
Yumi, a seven-year-old Japanese girl, shows readers her home (bedroom, kitchen, and bathroom), her school, the public bath, a Tokyo subway station, and a street of shops in the city. In the next section, she introduces traditions related to the New Year, Girls' Day, Children's Day (or Boy's Day), Tanabata (a traditional star festival), Undokai (Sports Day), and Shichi-Go-San (a festival for "three- and seven-year-old girls, and three- and five-year-old boys"). Finally, the book introduces Japanese forms of writing. Expanding the text, the paintings offer charming yet informative glimpses of a child's world in contemporary, or near-contemporary, Japan.
The Origami Master. Lachenmeyer, Nathaniel (2008). Morton Grove, Ill.: Albert Whitman & Company. ISBN: 9780807561348.
As origami master Shima folds a paper elephant, a warbler watches. That evening, the bird folds a more impressive paper elephant, leaving it for the old man. The same thing occurs the second night, this time with a paper spider. The third night, Shima waits, captures, and cages the warbler. The imprisoned bird performs no origami for the old man until one morning it is gone, an origami key beside the unlocked cage. Fortunately, Shima sees the error of his ways, leaving room for a hopeful ending. The colorful shapes and bold, black lines of the cut paper and watercolor illustrations have the feel of woodcuts.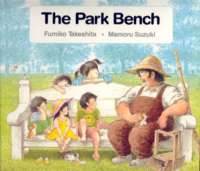 The Park Bench. Takeshita, Fumiko (1988). Brooklyn, N.Y.: Kane/Miller Book Publishers. ISBN: 0916291154.
If Manet had turned to picture books, he might have produced The Park Bench. Suzuki's pictures, done in charcoal line and watercolors, are beautiful to behold, now misty, now hazy, the rich pastel colors contrasting vividly with judicious use of primary colors. The whole course of a day is subtly depicted; readers can actually tell the approximate time of day from the illustrations, so skillful is Suzuki's lighting.
Sadako. Coerr, Eleanor (1993). New York: Putnam. ISBN: 0399217711.
This is the same story as the author's Sadako and the Thousand Paper Cranes (Putnam, 1977), told through an entirely new text. In this abbreviated version, the beautiful, limpid prose and crisp dialogue further telescope Sadako's fight with leukemia, "the atom-bomb disease," adding greater impact to her death. What was an epilogue in the novel is here an integral, if anticlimactic, part of the text due to the exceptional flow of the illustrations.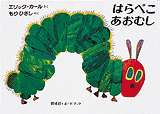 The Very Hungry Caterpillar (Japanese Edition). Carle, Eric (1997). Tokyo: Kaiseisha. ISBN: 978-4033280103.
The light of the moon a little egg lay on a leaf." So begins Eric Carle's classic, "The Very Hungry Caterpillar". This book follows the ravenous caterpillar's path as he eats his way through one apple (and the pages of the book itself) on Monday, two pears on Tuesday, three plums on Wednesday, and so on, through cherry pie and sausage – -until he is really fat and has a stomachache — I bet you can guess what happens then! The book has a great story and Eric Carle's wonderful collage-like artistry.