Holly Johnson, University of Cincinnati, Cincinnati, OH
The environment has become a critical issue for a majority of people around the world. There are a number of ways to address the issue, and one of those ways is through an eco-cosmopolitan perspective. Eco-cosmopolitanism is "an attempt to envision individuals and groups as part of planetary 'imagined communities' of both human and nonhuman kinds" (Heise, 2008, p. 61). In children's literature, we often get the perspective of an animal or insect. From Peter Rabbit (Potter, 1999) to Watership Down (Adams, 2014) to Charlotte's Web (White, 2012) to more current texts such as Alice's Farm (Wood, 2020) and Pax (Pennypacker, 2019), readers are delighted by the antics and/or adventures found within these marvelous examples of non-human creatures interacting in the world. Humorous tales such as the two Skunk and Badger stories (Timberlake, 2020; 2021) make us laugh, while Pax (Pennypacker, 2019), Pax Journey Home (2021) and Charlotte's Web (White, 2012) can develop empathy for the living things outside the "human" realm.
Terry Tempest Williams often writes about the land, as does Wendell Berry. Both are strong advocates for the land and express their deep concern for the lack of insight often shown toward the natural elements of the earth. Humans' interactions with the land is often one of consumption, either for resources such as fuel and food or for outdoor adventures. Necessary endeavors, perhaps, but how often do we talk with children about the importance of the land as land? The history of the United States gives us examples of how National Parks have been preserved for their beauty and as a way for humans to appreciate that beauty. Yet, there is nature all around us and to partake in that local beauty often seems to escape us.
"Awe Walks" are one way of seeing nature through a perspective other than just its beauty, or its ability to support human adventuring or consumption. They are used to help us focus outward and to start to "see" something larger or perhaps more consequential than ourselves. They can be a way of recognizing that humans are inhabitants of the world, like other living things. Additionally these walks are ways to begin to note that elements such as trees and arches and mountains and rivers have a right to exist. Many sacred beliefs amongst peoples throughout the world see nature as embodied. What an amazing and larger life-affirming way to think about the world!
Some would suggest that Tolkien had a sense of this with his Ent species/characters in Lord of the Rings series (2020), and perhaps it is only in fantasies that readers have been able to freely address the dignity of non-human earth elements/species. Yet, isn't it time to join eco-cosmopolitans and at least consider the ways we might be able to engage the environmental issue through children's literature with a perspective that gives space for sentience?
I found three recently published picturebooks that address the sense of imagined communities of humans and the elements of the earth itself interacting in ways to allow those elements their own dignity. Jane Yolen's Giant Island (2022), illustrated by Doug Keith and Anna Orenstein-Cardona's The Tree of Hope: The Miraculous Rescue of Puerto Rico's Beloved Banyan (2022), illustrated by Juan Manuel Moreno offer readers a way to think about the sentient aspects of an island and a tree. Both are inspiring and suggest the special way two elements of the earth might have a consciousness that speaks to an eco-cosmopolitan way of thinking about our planet. Ibram X. Kendi's adaptation of Zora Neale Hurston's Magnolia Flower (Hurston & Kendi, 2022) illustrated by Loveis Wise, uses a river and a brook as the protagonists, which Kendi points out in an author's note is "reminiscent of the Black folklore [Zora Neale] Hurston spent a lifetime collecting in the rural South" (n.p.). All three texts assert an awareness of and by nature world elements. All three are great primers for talking about the environment as something more than a resource for humans to use.
Giant Island (Yolen, 2022) is a delightful intergenerational story of two young people going out to a small island to fish with their grandfather. As the grandfather attempts to catch a fish, the two young people wonder about the island and explore its many mysteries. They soon discover that the island is more than just coves and crags and rocks and dirt, but is an actual age-old giant that has ways of communicating to each of the three humans who stepped upon its shores. The colorful paintings add a magical element to the adventure as readers are invited to use their own imaginations and see for themselves the giant in the illustrations.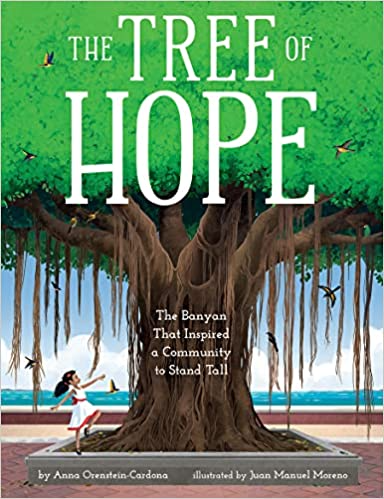 Anna Orenstein-Cardona's The Tree of Hope: The Miraculous Rescue of Puerto Rico's Beloved Banyan (2022) is the true story of the near destruction of the giant banyan tree that has stood by the San Juan Gate for over one hundred years. A result of Hurricane Maria, the tree's branches were ripped away and it was pulled out by the roots. Readers will hear how the tree felt about its plight between two worlds—this one and the next—and how the people of San Juan rallied to save the giant jagüey blanco tree, a symbol of hope for them all. With vividly rich illustrations, this text highlights the sentience and awareness of both the tree and the human population of San Juan.
Then, there is Magnolia Flower (2022) by Hurston & Kendi, which showcases the way nature has a "voice" in the telling of human situations and historical events. In this text, readers are encouraged to think about the narrator of the story, the narrator's audience and the plight of energetic and free-willed Magnolia, whose parents had run away from Southern enslavement and the Trail of Tears to live their own freedom as part of a Maroon community in Florida. The luminous illustrations portray the story of Magnolia, and a time within US history. The story also notes the consciousness of the river, the brook and the awareness of Magnolia and her husband about that consciousness.
These three books can readily start the discussion of eco-cosmopolitanism and the possible reality of the connection of all the inhabitants of the earth. Paired with books that utilize animals as narrators and protagonists, readers can begin to develop a kinship that crosses divisions of lifeforms on the earth, and perhaps address the dangers of the environment that affect us all. But most importantly, these books open up the space to think about how so many cultural groups have had that sense of kinship for hundreds of years and how much all of us can learn from hearing those stories.
Reference
Heise, Ursula K. (2008). Sense of Place and Sense of Planet: The Environmental Imagination of the Global. New York: Oxford UP.
WOW Currents is a space to talk about forward-thinking trends in global children's and adolescent literature and how we use that literature with students. "Currents" is a play on words for trends and timeliness and the way we talk about social media. We encourage you to participate by leaving comments and sharing this post with your peers. To view our complete offerings of WOW Currents, please visit its archival stream.
array(12) {
  ["_edit_lock"]=>
  array(1) {
    [0]=>
    string(14) "1668536818:264"
  }
  ["_edit_last"]=>
  array(1) {
    [0]=>
    string(1) "2"
  }
  ["_yoast_wpseo_content_score"]=>
  array(1) {
    [0]=>
    string(2) "30"
  }
  ["_yoast_wpseo_primary_category"]=>
  array(1) {
    [0]=>
    string(4) "3388"
  }
  ["_thumbnail_id"]=>
  array(1) {
    [0]=>
    string(5) "37464"
  }
  ["_yoast_wpseo_focuskw"]=>
  array(1) {
    [0]=>
    string(53) "eco-cosmopolitan perspective in children's literature"
  }
  ["_yoast_wpseo_metadesc"]=>
  array(1) {
    [0]=>
    string(156) "Holly Johnson explores an eco-cosmopolitan perspective in children's literature, featuring the picture books Giant Island, Tree of Hope and Magnolia Flower."
  }
  ["_yoast_wpseo_linkdex"]=>
  array(1) {
    [0]=>
    string(2) "78"
  }
  ["_yoast_wpseo_opengraph-image"]=>
  array(1) {
    [0]=>
    string(88) "https://wowlit.org/wp-content/media/Magnolia-Flower-Zora-Neale-Hurston-Ibram-x-Kendi.png"
  }
  ["_yoast_wpseo_opengraph-image-id"]=>
  array(1) {
    [0]=>
    string(5) "43320"
  }
  ["_yoast_wpseo_twitter-image"]=>
  array(1) {
    [0]=>
    string(94) "https://wowlit.org/wp-content/media/Tree-of-Hope-Anna-Orenstein-Cardona-juan-manuel-moreno.png"
  }
  ["_yoast_wpseo_twitter-image-id"]=>
  array(1) {
    [0]=>
    string(5) "43319"
  }
}