Examining Morally Complicated Young Adult Literature
By T. Gail Pritchard and Deborah Dimmett
The Bombs That Brought Us Together by Brian Conaghan
GAIL: This time last year, the young adult literature (YAL) world was all abuzz about an unfortunate choice of words by a debut author. Perhaps it was naivety on his part, perhaps it was the way his words were edited in an oft quoted article, perhaps it was a combination — but the result was the same, the YAL community did not like his description of past and current YA as lacking moral complexity. They posted, they blogged, they tweeted; and as a result, lists of morally complicated YAL appeared and sessions at conferences (e.g. YALC 2016, NCTE 2016) were well-attended. Through the discussion of some of the novels appearing on these lists and in conference sessions, we will explore definitions of morally complex YAL, the complicated journeys that occur, the likability of the characters, and the tough questions these novels force us to ask.
Morally complicated young adult literature consists of stories whose "characters [are] navigating chaotic worlds in which there is no clear-cut Good and Evil" (Northington, 2015) and whose stories are "complex examinations of fate, choice, responsibility, love, and everything else under the sun" (Albert, 2015).
This first week, we begin with Brian Conaghan's The Bombs that Brought Us Together (2016) published by Bloomsbury. This novel, shortlisted for the Costa Children's Book Award 2016, was described by The Scotsman as, "A dark, powerful tale of survival, morality and loyalty," while Kirkus Review called it "a timeless allegory."
Charlie Law lives in Little Town–a place in imminent danger of war with Old Country. Pavel Duda and his parents are refugees from Old Country. As the story opens, Little Town is bombed by Old Country and although Charlie realizes what he thought he knew about living in Little Town is going to drastically change, he desperately tries to hold onto simply being a 14 year-old boy. He begins with, "Charlie Law's Ten Laws of Little Town."
1. Respect the curfew. No going out after dark in groups of three or more, unless you can prove you are with family members. (Easy to get around: walk somewhere separately)
2. No ball games in public places. (Parks… I know)
3. No pets. (One word: disease)
4. No drinking in the streets. (House drinking okay, though)
5. No shouting in the streets. (Not even in jest; it's a public-order crime)
6. No giving lip to lawmakers. (Unless you want a smack to the side of the head)
7. No skipping school unless you have one of the verified illnesses on the list or you've been asked to carry out lawmaker work. (Only a sudden limb amputation would've prevented me from attending school, and even then it would depend on which limb)
8. No tomfoolery in public places. (Which I took to mean don't enjoy yourself—ever!)
9. NO STEALING. (A biggie!)
10. Instruction to beat ALL instructions: Never draw attention to yourself, and WHATEVER YOU DO, DON'T GET CAUGHT (pp. 11-12).
The Bombs that Brought Us Together exemplifies the definition of morally complicated literature. Perhaps for me, the strongest emphasis is on "choice." From the opening pages, Charlie makes decisions that surprised me, made me cringe, made me laugh, and made me–ultimately–admire him. On one hand, I saw some of my 14-year-old-self in Charlie. Given the choice between what I wanted to do and what I should do, I often chose the former and felt guilty in the aftermath. Charlie finds himself regretting his early decisions throughout the novel; those decisions compromised his relationship with family, friends, and community. By the closing pages, Charlie's choices reflected his conscious choice of redemption.
The choice that leads Charlie into a kind of chaos previously unimaginable to him begins with his decision to make a deal with Big Man, who runs Little Town. There is an old shed in Charlie's back yard and he has a burning desire to turn it into his private sanctuary–a place where he and Pav can meet, a place where he can bring Erin F. There is a problem with his idea, though; he does not have access to the items he wants–chairs, table, and a lock. Norman introduces Charlie and Pav to Big Man who agrees to help. When Charlie notes he has no money to pay for the items, Big Man says, "…don't worry about the dough…. We'll figure something out later, eh?" (p. 62). The "something" turns out to be a price so high, that Charlie's choice to pay it or not will determine not only his future, but his mother's, his friend Pav's, and perhaps the course of the war. Conaghan purposely leaves the end of the novel ambiguous. Like the short story, The Lady or the Tiger (Stockton), readers are left to decide on Charlie's ultimate choice; literally and figuratively, who pulls the trigger?
DEBORAH: The Bombs that Brought Us Together is eerily relevant in light of the shifting geopolitical landscape and leanings towards isolationism in the United States and throughout Europe. Not since World War II have people left their homeland in such large numbers to seek refuge in a country not their own. Consequently, an onslaught of xenophobia, racism, and nationalism has left many feeling confused about who they are, where they live, and what the future holds for them. Conaghan uses this historical lens for developing a plot that engages the reader's imagination and defines the concept of morally complicated young adult literature.
Charlie and Pav, each emerge from two different worlds–Little Town and Old Country–where fundamental values and life experiences could not have made them more different from one another. When Charlie reaches out to Pav, whose family fled Old Country as refugees, he finds out that, as fourteen-year-old boys, they have much in common in a chaotic and conflict-ridden world. Each from two countries that bitterly oppose each other, they miraculously overcome barriers that allow them to develop a meaningful bond in spite of the dangers and misunderstandings they have to negotiate.
Charlie, who wants to please everyone, becomes implicated in a dangerous game involving a gun, a nefarious man, his best friend. Charlie also finds all actions have consequences that complicate options and ultimately choices. The ambiguous resolution leaves the reader with much to wonder and gives us pause to question what really happened and whether the right choice was made.
The Bombs That Brought Us Together provides readers the space to step back from the political and social chaos they, too, may be experiencing and examine their own identity and the choices they subsequently make that may have unfortunate and unintended consequences. We need to look no further than the recent wave of right-wing populism that has grown as young working class people become alienated from a world that has promoted progressive and inclusive ideologies. Hence, the backlash that causes countries and people to clash–leaving behind uncertainty–just as Conaghan's story does in the end.
GAIL: It is by no accident, both Deborah and I zeroed in on the choices Charlie made. Charlie reminds us — the choices faced, the choices made, and the consequences of those choices are not as simple as following the rules.
References
Albert, M. (2015). 7 Morally complex Works of YA Fiction You Shouldn't Miss. http://www.barnesandnoble.com/blog/teen/7-morally-complex-works-of-ya-fiction-you-shouldnt-miss/
Kirkus Review. https://www.kirkusreviews.com/book-reviews/brian-conaghan/bombs-that-brought-us-together/
Northington, J. (20015.). Free-Range and Morally Complicated: a YA Reading List. http://bookriot.com/2015/11/30/free-range-and-morally-complex-a-ya-reading-list/
The Scotsman. http://www.scotsman.com/lifestyle/culture/books/book-review-the-bombs-that-brought-us-together-by-brian-conaghan-1-4115007
—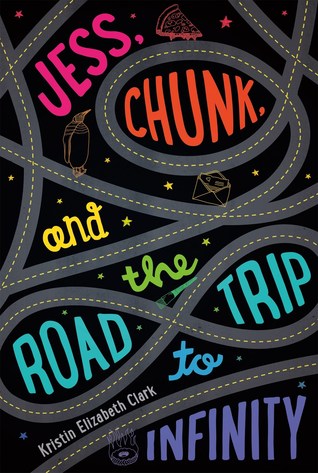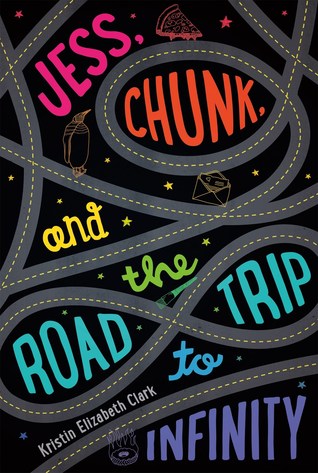 Jess, Chunk, and the Road Trip to Infinity by Kristin Elizabeth Clark
Last week, we began our exploration by sharing a definition for morally complicated young adult literature (YAL) and talking about a novel we believe exemplified that definition. This week, we continue that exploration with a novel that takes us on a journey, one that is both metaphorical and literal.
GAIL: I love metaphors, I have been accused of talking in metaphors — it's true. Perhaps that is one of the reasons why I like this novel so much–it is both a literal and metaphorical journey from Page 1 to Page 263.
The literal journey begins with a road trip from San Jose to Chicago. Two best friends head out right after high school graduation. Jess (formerly Jeremy) and Chunk are driving to Chicago for Jess's father's wedding. They are driving in Betty the Car, Chunk's Honda Insight, "The Insight is perfect. Not too image-y, gets fifty-six miles to the gallon, and the insurance is cheaper because it's an older model!" (p. 28). Loaded down with their gear, and a print-out of roadside attractions to visit along the way, these two best friends since 3rd grade, hit the road. But before they begin, Clark sets the stage for conflict. While Jess is ready and eager to leave, Chunk takes his time in getting ready to leave, then when they do get on the road–they immediately encounter "hellish" traffic, and much to Jess's dismay, they have to stop off at Chunk's parents' vacation home in Tahoe to drop off some porch stain. As the literal road trip unwinds, Jess and Chunk experience even more delays leading to constant revisions in their itinerary—some good and some bad; all leading to reckoning and reconciliation.
The actual road trip is the backdrop for the metaphorical journeys along the way. As Jess and Chunk make their way cross-country, the reader begins to understand the very complicated relationship Jess has with her family, with Chunk, and with herself. Jess's parents divorced a few years prior, her mother has just undergone treatment for cancer, her father is marrying her mother's former best friend, and Jess is in the process of transitioning from male to female.
Jess's father has never accepted her transition, insisting, "People don't know their own minds when they're sixteen" (p. 173) and then refusing to sign the papers allowing Jess to begin hormone therapy. This lack of support forces Jess into severing communication—she "blocked his number…never opened his emails… [and] stored unopened mail…" (p. 192). Now with her dad's impending marriage, Chunk has convinced Jess to go and see if he will be more accepting now that Jess has begun transitioning. As Jess travels with Chunk, she begins to discover a different side of Chunk—he has become pre-occupied with a fellow Internet game player and he seems critical of Jess. However, as the miles go by, the reader realizes Jess has simply not paid any attention to Chunk's wants and needs over the years. In a heated confrontation, Chunk says, "You're so judgmental—and such an effing hypocrite! You freak out all over the place at the mere thought of people judging you, but you do it all the time!" (p. 230). As Chunk points out the "one-sidedness" of their friendship, Jess deflects and dismisses him, "You told your mom about me" and "You're saying I'm a shitty friend?" (pp. 230-231). As Chunk refuses to be distracted and continues to provide examples of Jess's self-absorption, Jess realizes she is imitating her mother's tirades against her dad, but seems unable to stop herself. The strains of traveling together have brought them to a point where it appears their friendship is at an end. Chunk goes off with his friend he met on the Internet and Jess continues on to Chicago in Betty the Car. Jess makes it to her dad's wedding where she confronts him and he tells her, "I love you. I don't understand you, and you won't explain, but I love you" (p. 252).
Paralleling the journey of family and friendship is Jess's journey of transitioning. She has begun hormone therapy and finds her body and moods are changing. She feels intense jealousy whenever Chunk interacts with other girls. She desperately wants to pass for a girl. She struggles with which bathrooms to use. She fears what others might do to her if they find out she has male anatomy. She has one parent who is supportive and one parent who denies her very identity as a human being. She has one friend who has been with her every step of this journey…. As Jess waits in the church parking lot for Chuck to arrive, she has time to reflect and she makes a monumental discovery about her feelings toward him; and when he arrives, he shares his monumental discovery about his feelings toward her.
DEBORAH: A road trip is supposed to invite self-discovery, not self-absorption. The road trip that Jess, a transgender high school girl, and Chunk, her overweight friend, can be summed up as a long counseling session with counselor Chunk who travels with her and gives her support as she emotionally prepares to attend her father's wedding. Jess, formerly Jeremy, is taking hormones to become more feminine so that her body on the outside is aligned with how she is gendered on the inside. Chunk, on the other hand, is a character that we don't ever really get to know. We only get a brief glimpse of his psychology through his interactions with Jess, who admits to know really knowing a lot about Chunk.
Although Clark writes a very important story about a transgender girl's need for acceptance, particularly from her father, she did not fully take advantage of Chunk whose story should also be known. Both Jess and Chunk are dealing with issues concerning identity and body image. The two characters, then, might have used the road trip as a journey for self-discovery and self-acceptance through their shared experiences and the impact these experiences have had on them. I can see dialogue and witty banter between Jess and Chunk about their road trip experience, and there lays the space for their friendship to develop and for personal growth.
Since the dialogue was so much Jess mugging, posing, complaining, I found the book difficult to read. I really wanted to like it because the topic is so important. But, I felt that the author did not sufficiently develop the characters in such a way that I would have empathy for both.
GAIL: While we had different responses to this week's novel, Deborah and I can agree Jess, Chunk, and the Road Trip to Infinity is not only Jess's and Chuck's journey, but it is also the reader's. It was an opportunity to "walk in the shoes of someone who's trans" (p. 4) and to experience the evolving relationship between friends and family.
—
Life in a Fishbowl by Len Vlahos
(Advanced Reading Copy provided by Bloomsbury)
DEBORAH: Jackie Stone, a young high school girl who truly loves and admires her father, is devastated when she finds out that he has an inoperable brain tumor that will soon rob him of the rest of his life. Jared, who has only a few months to live, panics at the thought of dying without financially preparing his family for the inevitable. Jared auctions off his life on eBay, which ends up in the hands of the producer of Life and Death, a reality TV show that would feature the day-to-day life of Jackie, her middle school sister, her mom, and most importantly her dying father. And, so Jackie's home has been turned into a 24-hour studio with cameras and microphones everywhere. Certainly, the book earns its title. However, the title short-changes the complexities of the story. Though living under constant surveillance is sufficient material for a story, Vlahos takes the story in a couple interesting directions through his use of point-of- view and raises questions about "reality" versus "mediated reality".
Vlahos incorporates point-of-view from nearly every major and minor character introduced, including those who are interested in bidding on Jared's life–the wealthy man who wants to engage Jared in a game that will end his life prematurely and the nun who wants to keep Jared from dying in any way other than a natural death. And, then, there's Max–Jackie's online Russian friend. However, the most interesting point-of-view is that of the tumor, nicknamed Glio (short for glioblastoma multiforme brain tumor), which literally consumes Jared's memories and experiences. Glio shares with us its thoughts and what it learns about Jared. It knows that its life depends on Jared's life and that when Jared dies, it also dies. This causes Glio to explore other areas of Jared's mind. The personification of the tumor helps us to understand what is happening to Jared without the need for laborious updates from the doctor or perhaps Jared, himself.
Multiple subplots make this book a very interesting read including a love interest between Jackie and Max, who helps her to expose the fakery behind the "reality" TV show. Jackie and Max decide to start their own "reality" show about her family as a counterpoint to Life and Death. After launching their own show on YouTube, a series of tensions ensue. The counterpoint opens up a dialogue of mediated "reality" and asks us to discern what is real. When Sister Benedict is called by the producer to assist the family, her actions and intentions challenge the reader to consider another type of "reality"–intentionality.
The selection of books for this month's My Take/Your Take has focused on morally complicated texts. Life in a Fishbowl certainly offers plenty of twists and turns that have readers questioning their own position with respect to dying with dignity. Should Jared have been given the option to end his life sooner rather than later? That is the obvious moral conundrum. However, Vlahos raises another morally complicated issue–is it ever okay to commodify someone's death? For Jared, who lives a highly mediated and commodified lifestyle, was it fitting for him to ultimately commodify himself so that others can "enjoy" his demise? As readers, we see how Jared's family suffered not only his loss of life but also their own dignity. Life in a Fishbowl is definitely on my list of books to recommend.
GAIL: In our first entry for the month of December, we noted our discussion would center on the definition of morally complex young adult literature, the journeys that occur, the likability of the characters, and the tough questions they force us to ask. Life in a Fishbowl represents all of these facets. Jackie is trying to navigate her way through a "chaotic world" on multiple levels and she finds herself a casualty of "fate," forced into making very adult-like decisions, shouldering responsibility for her family's future, and learning about generosity and sacrifices in loving someone (Northington, 2015; Albert, 2015). As Deborah describes above, Jared attempts to sell his life on eBay because he is worried about how his family will survive without his economic contribution. When eBay administrators get wind of his scheme, the posting is removed and he is left trying to figure out another way to secure his family's future–enter Ethan Overbee, an ambitious man who "left nothing to chance" (p. 69). Ethan "buys" Jared's final days and turns them into a reality television show. As Jackie's home and life is turned into the chaotic landscape of a 24/7 TV series, she is forced out of her quiet, "do-not-notice-me" role and into a deliberate-action role to help her father die with dignity and in peace.
The notion of journey plays out on multiple levels, too. There is the obvious journey Jared takes as his tumor progressively consumes his life, both literally and figuratively. There is the journey Jackie takes in "putting herself out there" for the world to see, as she first uses subtle subterfuge and then outright sabotage to stop the series from airing. There is the journey Ethan takes as he goes from wonder boy extraordinaire to hated, ousted television producer. There is Glio's journey, moving from gleefully consuming Jared's memories to the realization that he is very sorry for what he has done, "Truly, and horribly, sorry" (p. 270).
For me, one of the most salient features of this novel is the likability of the characters. Jackie's younger sister, Megan, is so self-absorbed, she "sells out her family" in order to keep the series and her ever-growing popularity going. While Megan later redeems herself, it is seriously hard to forgive her. Sister Benedict Joan is a zealot. She sees her mission in life as "fight[ing] against the never-ending stream of smut, irreverence, and blasphemy that was determined to destroy decent society" (p. 23) and she does this by trolling the Internet and writing a blog. When she sees Jared's post on eBay, her new mission becomes saving him from others and himself so he can die a "natural" death. Her interference with the family calls into question her real motivation. Ethan Overbee who becomes the producer of Life and Death, lacks even an ounce of empathy. There is no level too low that he will stoop to in order to boost ratings. Sherman Kingsborough is a 23 year-old trust fund baby who is so bored with life, he will do anything to get even a momentary high of excitement—think, "The Most Dangerous Game" (Connell, 1924). When he is thwarted from purchasing Jared's life, he takes matters into his own hands. Interestingly, Glio who is inherently "bad" because it is killing Jared, eventually elicits a kind of sympathy as it becomes self-aware of what it has done. And Jackie, who begins as a character the reader might not like too well, becomes admirable, heroic, and forgiving.
Life in a Fishbowl evokes the hard questions, particularly in regard to the role of reality television in shaping viewer's perceptions of life. How does this medium shape viewers? Is there a line that should not be crossed? If a line is crossed, what is the viewers' responsibility in creating the demand in the first place? How can viewers effectively protest reality shows and if they do, is that a form of censorship…?
Vlahos's novel captures the essence of morally complex young adult literature. It invites the reader into Jackie's chaotic world where she has to make difficult choices. It takes the reader on a wild journey from a variety of perspectives. It introduces the reader to a cast of characters, ranging from the totally despicable to the heroic. And it forces readers to examine their own motivation in watching reality TV, especially those that may be exploitive….
DEBORAH: Gail and I both found that Life in a Fishbowl invites discussion on a variety of morally complex issues. However, one that we have not seen much in YA literature is the "exploitation" and "selling out" of one's life in the face of declining health. Where Glio consumes Jared's memories and eventually his life, Glio has no other option since it is a gliobastoma muliforme brain tumor. If it doesn't consume Jared's brain, it will die. On the other hand, as media and social media consumers, we do have choices. We can choose to auction our lives on social media and mass media for all to consume because of some personal gain–whether it be on Twitter, Facebook, YouTube, or reality TV shows. It is this cycle of exploitation and self-exploitation that is most intriguing about this morally complex story.
To see our most recent My Take/Your Take installments, visit the WOW Blog.
To look back through previous My Take/Your Take installments, visit our index.
array(9) {
  ["_edit_lock"]=>
  array(1) {
    [0]=>
    string(14) "1579290422:264"
  }
  ["_edit_last"]=>
  array(1) {
    [0]=>
    string(3) "264"
  }
  ["_thumbnail_id"]=>
  array(1) {
    [0]=>
    string(5) "29557"
  }
  ["_yoast_wpseo_focuskw_text_input"]=>
  array(1) {
    [0]=>
    string(19) "morally complicated"
  }
  ["_yoast_wpseo_focuskw"]=>
  array(1) {
    [0]=>
    string(19) "morally complicated"
  }
  ["_yoast_wpseo_metadesc"]=>
  array(1) {
    [0]=>
    string(131) "December 2016's My Take/Your Take book discussions center around the topic of examining morally complicated Young Adult literature."
  }
  ["_yoast_wpseo_linkdex"]=>
  array(1) {
    [0]=>
    string(2) "77"
  }
  ["_yoast_wpseo_content_score"]=>
  array(1) {
    [0]=>
    string(2) "30"
  }
  ["_yoast_wpseo_primary_category"]=>
  array(1) {
    [0]=>
    string(4) "3392"
  }
}