By Andrea García, Ph.D. Literacy Consultant, Pädi, Queretaro, Mexico
My writing for this week focuses on the work of Editorial 3 Abejas, an independent Mexican editorial house launched in 2013. Editorial 3 Abejas is dedicated to publishing children's and young adult literature with special attention to bringing together imaginative stories with innovative graphic design and illustrations. Their catalog represents a carefully curated collection of books intended to bring together young and experienced readers in the sharing of meaningful stories.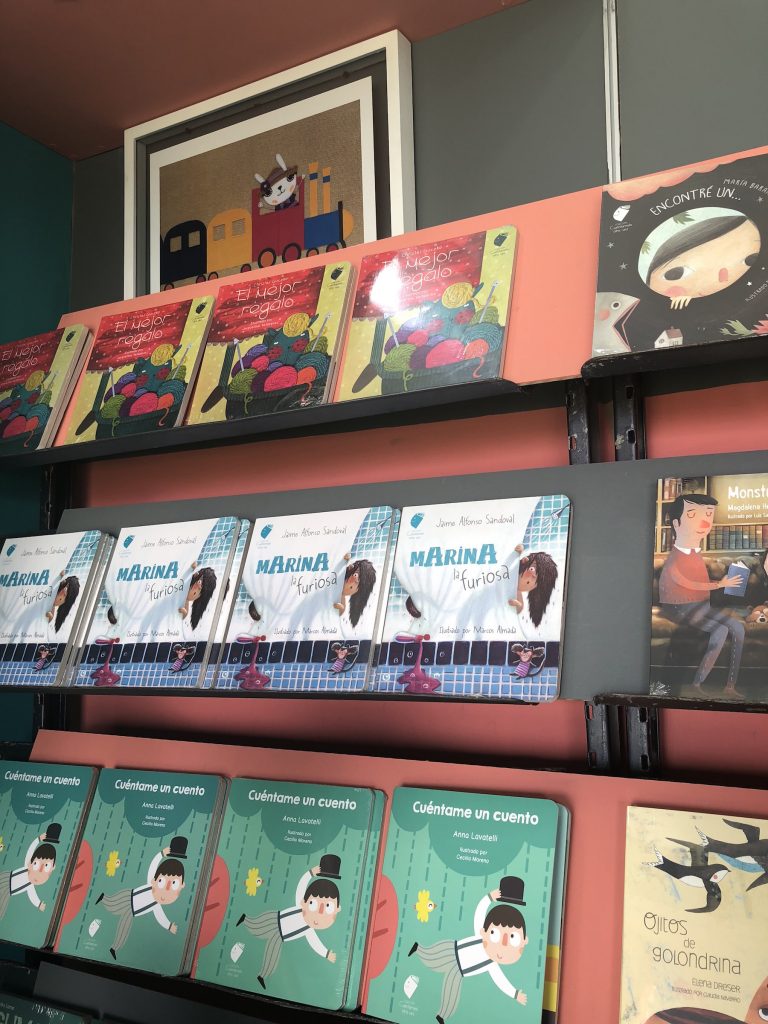 Editorial 3 Abejas has a special collection called Cuéntamelo otra vez [Tell it to me again], which includes books for emergent readers in their preschool and early elementary years. The titles in this series provide invitations for reading aloud to children with books that are not only visually engaging, but linguistically playful. Their stories are crafted by well-known Mexican authors and illustrations. I include some of my favorite titles in this post.
Dragones de vacaciones [Dragons on vacation], written by Emilo Lome and illustrated by Rodrigo Vargas, is a fun-filled adventure of a group of dragon friends who embark in a vacation, only to have it end in an unexpected way.
Maria Baranda wrote Encontré un… [I found a…], a whimsical story about a girl whose dreams take her to faraway places, inviting her to reflect on what is most important in her life. The illustrations by Cecilia Verla complement the lyrical text in the story.
Editorial 3 Abejas is one of the most recent additions to the publishing world in Mexico, and their books have gained national and international recognition. Among their most recent achievements is the selection of two of their books to be included in the list of reading materials to be used in Mexican schools for the 2018-19 academic year. The books are: La música de mundo [The music of the world], written by Elma Trevizo and illustrated by Evelyn Alarón, and their book, Monstruo peludo [Hairy monster], written by Magdalena Herguera and illustrated by Luis San Vicente.
The title, Yo te pego, tú me pegas [I hit you, you hit me], written by Antonio Ramos Revillas and illustrated by Amanda Mijangos, was selected to receive the White Ravens seal and to be included in the 2017 White Ravens Catalogue. The White Raven Catalogue is a list of the most notable books published during a calendar year and compiled by the International Youth Library, in Munich, Germany. This story touches upon the theme of bullying, using poetry to explore the multidimensional realities of bullying from both the perspective of the bully and the victim of bullying.
As I sat down to write this last post for the month, I chose to feature the work of Editorial 3 Abejas because they contribute to increasing the availability of books intended to provide rich literature experiences to our youngest readers. While this is the last post for this series, this doesn't mean that we covered all the publishing houses in Mexico that continue to transform the landscape of children's and young adult literature. There are other stellar independent publishing companies, such as Petra Ediciones and Ediciones El Naranjo, that continue to shape the world of books for children and young adults in the years to come.
As you venture to explore the work of Editorial 3 Abejas, or any of the other publishing houses that we have featured over the past weeks, please let us know what books you have read from their catalogues or which ones you would like to read. We welcome your comments!
[Admin Note: Books from Editorial 3 Abejas are available for browsing in the Worlds of Words collection. The books are shelved in the Mary J. Wong collection, so patrons will need to request access.]
Journey through Worlds of Words during our open reading hours: Monday-Friday 9 a.m. to 5 p.m. and Saturday 9 a.m. to 1 p.m.
array(9) {
  ["_edit_lock"]=>
  array(1) {
    [0]=>
    string(14) "1580490704:264"
  }
  ["_edit_last"]=>
  array(1) {
    [0]=>
    string(3) "264"
  }
  ["_yoast_wpseo_focuskw_text_input"]=>
  array(1) {
    [0]=>
    string(18) "Editorial 3 Abejas"
  }
  ["_yoast_wpseo_focuskw"]=>
  array(1) {
    [0]=>
    string(18) "Editorial 3 Abejas"
  }
  ["_yoast_wpseo_linkdex"]=>
  array(1) {
    [0]=>
    string(2) "77"
  }
  ["_yoast_wpseo_content_score"]=>
  array(1) {
    [0]=>
    string(2) "30"
  }
  ["_yoast_wpseo_primary_category"]=>
  array(1) {
    [0]=>
    string(4) "3388"
  }
  ["_yoast_wpseo_metadesc"]=>
  array(1) {
    [0]=>
    string(305) "Andrea introduces readers to Editorial 3 Abejas, an independent Mexican editorial house launched in 2013. Editorial 3 Abejas is dedicated to publishing children's and young adult literature with special attention to bringing together imaginative stories with innovative graphic design and illustrations."
  }
  ["_thumbnail_id"]=>
  array(1) {
    [0]=>
    string(5) "37464"
  }
}