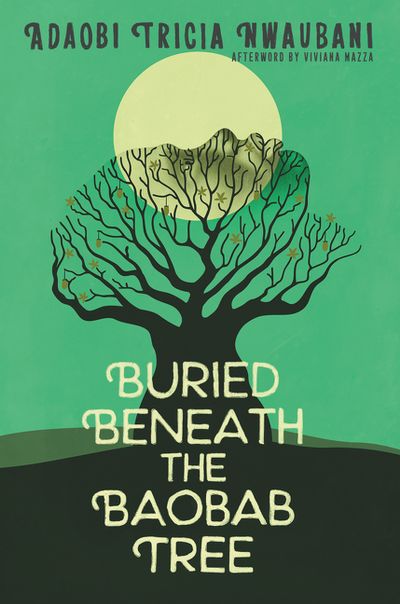 Ever wonder what happened to the 276 girls abducted from Chiko, Nigeria in 2014? World-wide attention turned to Nigeria as the terror of the Boko Haram attacked and killed many community members from the village, and then kidnapped the girls. As time passed, the story faded from our collective consciousness. Two female journalists, however, one from Nigeria and the other from Italy followed the story and gathered accounts from 57 girls who escaped from the terrorist group when government forces found and attacked it. Buried Beneath the Baobab Tree by Adaobi Tricia Nwaubani is a fictionalized account of what occurred with an afterword by Vivianna Mazza from Italy. Taking the accounts from those the journalists interviewed, Nwaubani now tells the story through the perspective of one girl who survived. Chronicling how the girls were forced to confess to a conversion to Islam or die and then treated as either slaves or wives to members of the Boko Haram, readers will be riveted by the short vignettes that authentically describe the horrors that occurred within the jungle camps of the Boko Haram. The narrative will also remind readers of the 219 girls who still remain lost to their families and community.
What happens while under the control of the Boko Haram affords readers insight into how cruelty, starvation, and the hope of survival complicates our binary thinking about members of terrorist groups, especially those who "recruit" the young. While some of the kidnapped girls continued to resist, others were converted to the Boko Haram's perverted sense of Islam. The book further compels us to question how the boys/men of Boko Haram were also convinced to join the terrorist group. It is clear that what occurred was terrorism, what remains are disquieting thoughts about whose message is most strongly heard and convincing. -Recommended by Holly Johnson, University of Cincinnati, Cincinnati, Ohio
ISBN: 9780062696724
Publisher: HarperCollins
PubDate: September 4, 2018
[Editor's Note: Buried Beneath the the Baobab Tree is reviewed in Volume 11, Issue 2 of WOW Review.]
Each month a committee of Worlds of Words advisors recommends a book published within the last year. Our hope is to spark conversations on our website and on social media about the book that expand global understandings and perceptions. Please join us by leaving a comment. You can also share your thoughts with us by using the hashtag #WOWRecommends on social media.
array(12) {
  ["_edit_lock"]=>
  array(1) {
    [0]=>
    string(14) "1617051176:264"
  }
  ["_edit_last"]=>
  array(1) {
    [0]=>
    string(1) "2"
  }
  ["_thumbnail_id"]=>
  array(1) {
    [0]=>
    string(5) "28879"
  }
  ["_yoast_wpseo_opengraph-image"]=>
  array(1) {
    [0]=>
    string(70) "https://wowlit.org/wp-content/media/Buried-Beneath-the-Baobab-Tree.jpg"
  }
  ["_yoast_wpseo_opengraph-image-id"]=>
  array(1) {
    [0]=>
    string(5) "36207"
  }
  ["_yoast_wpseo_twitter-image"]=>
  array(1) {
    [0]=>
    string(70) "https://wowlit.org/wp-content/media/Buried-Beneath-the-Baobab-Tree.jpg"
  }
  ["_yoast_wpseo_twitter-image-id"]=>
  array(1) {
    [0]=>
    string(5) "36207"
  }
  ["_yoast_wpseo_focuskw"]=>
  array(1) {
    [0]=>
    string(30) "Buried Beneath the Baobab Tree"
  }
  ["_yoast_wpseo_metadesc"]=>
  array(1) {
    [0]=>
    string(153) "Readers of Buried Beneath the Baobab Tree will be riveted by vignettes that authentically describe the horrors within the jungle camps of the Boko Haram."
  }
  ["_yoast_wpseo_linkdex"]=>
  array(1) {
    [0]=>
    string(2) "90"
  }
  ["_yoast_wpseo_content_score"]=>
  array(1) {
    [0]=>
    string(2) "30"
  }
  ["_yoast_wpseo_primary_category"]=>
  array(1) {
    [0]=>
    string(4) "3405"
  }
}