By Alexandria Hulslander, Worlds of Words Intern
Ronald Himler is an award–winning illustrator with a passion for the process of creating art. A new acquisition of Himler's work features original watercolor and gouache panels from The Caged Birds of Phnom Penh. The entire set of illustrations for the book is on display through December 20 at Worlds of Words in the University of Arizona College of Education.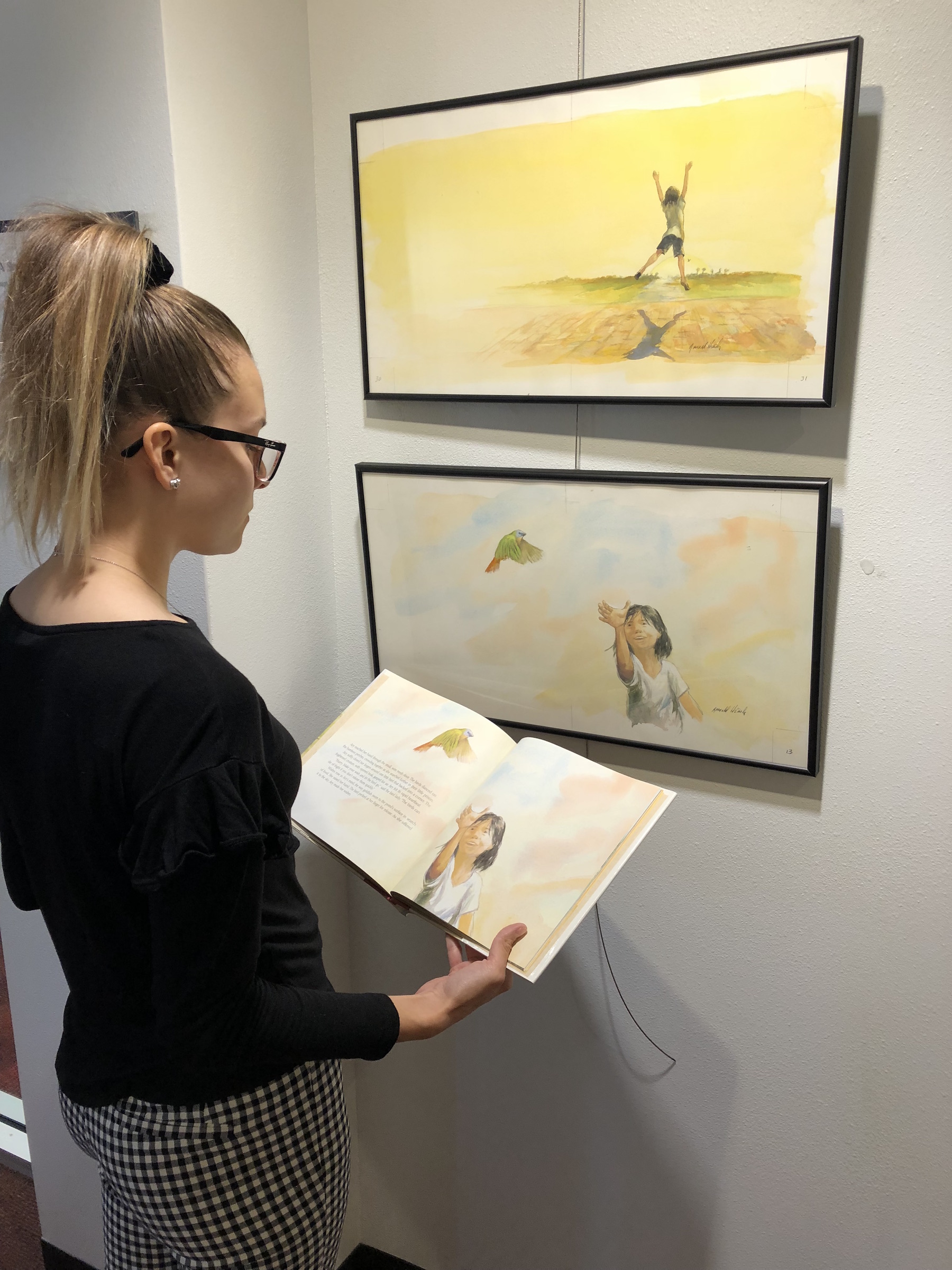 "Ron is known in the field of children's literature for illustrating complex emotions," says Kathy Short, Professor of Teaching, Learning and Sociocultural Studies and Director of WOW. "These pieces are excellent examples of emotions ranging from despair to hope, and we look forward to sharing this work with patrons."
This acquisition by WOW features Himler's art for each page and the cover for The Caged Birds of Phnom Penh. Some pieces were recreated specifically for WOW after the original had been sold and have variations on the book illustrations. Visitors to the display are encouraged to take a closer look to see if they can identify those new pieces. Other details, such as the crop marks and the gutter, provide insight into how the illustrator communicates with the publisher.
In the Spring 2019 semester, UofA Art History sophomore, Annika Hanson, helped WOW hang an exhibit of Himler's work called "Hope through Resilience." Afterwards, she visited him in his art studio. He spoke about how glimpses of the stories he was contracted to illustrate would come to him and that bringing them to life was the best part.
"It was eye–opening to see the studio of an artist with such range. As he discussed each step in his creative career, I could see how each experience aided him in the next. His latest works were so unlike his early works, yet obviously could not be been possible without them," says Hanson. "Though the final product changes, Ron's process has remained much the same over the years."
Himler was born in Cleveland, Ohio, where he attended the Cleveland Institute of Arts for painting and illustration. He continued his education at the Cranbrook Academy of Art in Bloomfield Hills, Mich. He landed a job at GMC making full–scale models of cars out of clay. Then he moved to New York City to work in the toy industry creating models for, among other things, die-cast cars.
As life changed, he created a portfolio of illustrations with the idea of finding work that allowed him to spend time at home with his son. After seeing these illustrations, a friend suggested he approach publishers of children's literature. In 1972, Himler illustrated his first children's book, Glad Day and Other Classical Poems for Children. He has since illustrated 120 books for young people.
Himler is also well–known for his Western-inspired and abstract oil paintings. His Western–inspired pieces are often displayed in Sanders Galleries, and his abstract work is available online through Saatchi Art. When comparing his efforts to create illustrations for children to creating fine art and his work with the mediums of clay, watercolor and oils, he quickly identifies the commonality of the process. For Himler, the process is most fulfilling.
Worlds of Words will display The Caged Birds of Phnom Penh original watercolor and gouache art for the public in the Wong collection now through December 20. Journey through Worlds of Words 9 a.m. to 5 p.m. Monday–Friday and 9 a.m. to 1 p.m. on Saturdays. For more information or to schedule a fieldtrip or guided tour, contact wow@email.arizona.edu or visit wowlit.org.
array(12) {
  ["_edit_lock"]=>
  array(1) {
    [0]=>
    string(14) "1579729960:264"
  }
  ["_edit_last"]=>
  array(1) {
    [0]=>
    string(3) "264"
  }
  ["_thumbnail_id"]=>
  array(1) {
    [0]=>
    string(5) "29982"
  }
  ["_yoast_wpseo_opengraph-image"]=>
  array(1) {
    [0]=>
    string(62) "https://wowlit.org/wp-content/media/Himler-Photo-6-Medium.jpeg"
  }
  ["_yoast_wpseo_opengraph-image-id"]=>
  array(1) {
    [0]=>
    string(5) "33044"
  }
  ["_yoast_wpseo_twitter-image"]=>
  array(1) {
    [0]=>
    string(62) "https://wowlit.org/wp-content/media/Himler-Photo-6-Medium.jpeg"
  }
  ["_yoast_wpseo_twitter-image-id"]=>
  array(1) {
    [0]=>
    string(5) "33044"
  }
  ["_yoast_wpseo_focuskw"]=>
  array(1) {
    [0]=>
    string(29) "The Caged Birds of Phnom Penh"
  }
  ["_yoast_wpseo_metadesc"]=>
  array(1) {
    [0]=>
    string(150) "Worlds of Words in the University of Arizona College of Education displays Ronald Himler's origional watercolor art for The Caged Birds of Phnom Penh."
  }
  ["_yoast_wpseo_linkdex"]=>
  array(1) {
    [0]=>
    string(2) "79"
  }
  ["_yoast_wpseo_content_score"]=>
  array(1) {
    [0]=>
    string(2) "30"
  }
  ["_yoast_wpseo_primary_category"]=>
  array(1) {
    [0]=>
    string(4) "3549"
  }
}