Celeste Trimble, St. Martin's University, Lacey, WA
This month, Wow Currents will focus on artist's biographies in children's literature. There has been a significant increase in biographical picturebooks throughout the last decade, and trends have shown that biographies of women have been particularly sought out by publishers. Initially, I wanted to focus solely on biographical picturebooks, however there are a few biographies that I want to highlight that don't fall into that category, including longer form biographies, graphic narratives, and verse biographies.
Part of the reason for the increase in published biographies and memoirs for kids may be the strong emphasis on informational texts in the Common Core State Standards, followed by a need within schools for high quality children's literature to meet the demands of these standards. Publishers, following this need, not only began putting out higher numbers of biographical books for kids, but also increasing the length, depth, and quality of their back matter. Historical context, references, suggestions for further reading, timelines, primary source documents and photos all contribute to the richness of biographical information. Even in books that are accessible to the youngest listeners of a read-aloud can have back matter that inform s\s readers of all ages and prior knowledge.
I am currently teaching a course for pre-service teachers in Washington State entitled Arts and Movement in Education. In this course, we look at theories and philosophies of arts integration in the K-12 classroom, as well as strategies and ideas for doing so. This course looks at arts in 5 areas, Theater Arts, Dance, Visual Arts, Music, and Literary Arts. I often think about an additional category: practical arts, which might include architecture and clothing design. Currently, we discuss those artforms in visual arts, though it is a little bit of a conceptual rough fit.
This week, I will highlight five picturebooks biographies of actors working within the theater arts. In The Legendary Miss Lena Horne, published by Simon and Schuster, author Carole Boston Weatherford and illustrator Elizabeth Zunon explore the life story of Lena Horne and her contributions not only to the music and film worlds, but also her social justice and volunteer work. Horne grew up in a performance family, touring with her mother seeking vaudeville work. When she began singing and performing, herself, Horne was not happy with the way non-white performers were treated: having to enter using the back door, not being served, being refused rooms at hotels, and other examples of racism and prejudice. When she was offered the first ever studio contract for a black actress, Horne fought for roles that were not stereotypical and demanded respect. The beautiful illustrations in this book emotionally evoke the many triumphs and struggles that Horne experiences. The concise but thorough text help the reader understand the idea that "in the battle [for justice], Lena was not just a pretty face; she was a foot soldier." We see how one can use their artform as a platform for fighting for civil rights.
Similarly, Shining Star: The Anna May Wong Story by Paula Yoo, illustrated by Lin Wang, and published by Lee and Low, after Wong (Chinese American) decides she wants to become a film actor, she learns how racism impacts the film industry. After years of only being given roles as an extra, she won her first big role. Playing opposite a white actor, she learns that it is against the rules for actors of color and white actors to kiss on screen. This prevents her from getting other roles in the future because this romantic element cannot be expressed. Instead, actors in "yellowface" with their eyes taped back and yellow makeup on their skin pretend to be Chinese and then may kiss other white actors in "yellowface" makeup. Wong was determined to fight against this practice as well as the roles that promoted stereotypes and negative views of Chinese women. After a stint working in China that bolstered her confidence, she returned to the United States and took her first positive role in Daughter of Shanghai in 1937, the first of many positive roles. Like Lena Horne, the reader learns that it is possible to fight for change within the entertainment industry while working within it. It is the artform that nourishes the fight for justice.
Hedy Lamarr's Double Life: Hollywood Legend and Brilliant Inventor was written by Laurie Wallmark and illustrated by Katy Wu and published by Sterling Children's Books. In this biographical picturebook, we learn of Lamar's inventions, most notably the frequency-hopping spread spectrum that enabled torpedo guidance systems to be encrypted against enemy hacking, a technology that is the ancestor of modern mobile phone technology. Originally from Austria, Lamar wanted to help the Nazis to be defeated. Aside from her inventions, Lamar volunteered selling war bonds and spent time socializing with soldiers about to deploy, in addition to her acting career. While I find the writing a little bit clunky and confusing at times, perhaps because the author assumes the reader knows a little about Hedy Lamar and WWII, this is a fascinating story about the concept of vocation and avocation and which is which. Frequently, young people are told that their interests in science and technology should support their career choice, whereas their interests in the arts should support their hobbies and side projects, this picturebook lets the reader know that arts, specifically theater arts, can be a viable career, while still working with STEM interests successfully on the side.
Be Water, My Friend: The Early Years of Bruce Lee, is published by Lee and Low, written by Ken Mochizuki and illustrated by Dom Lee. Growing up in Hong Kong, Lee's father was a performer with the Cantonese Opera Company, and helped Lee become an actor when he was still a child. Always adept in motion, Lee began to learn martial arts from Yip Man as a teenager. Not heeding the philosophical underpinnings of this martial art as well as the physical aspects, Lee got in trouble for fighting and was sent to San Francisco to live with a friend of the family. The book ends before Lee begins his acting career, however the back matter is entitled, "The 'Rest of Bruce Lee's Story," giving information about Lee's life and career from 1959 to his death in 1973 when he was only thirty-two years old. By focusing the heart of the book on how his childhood prepared him for his life and career, the reader comes away with a sense of how life prepares us for art, but also how both his martial artform and his acting work contributed to his growth as a person. Finally, as with the previous books, Lee was fighting a racist film industry and the concept that "a Chinese person could never be a star in America," although this fight was less explicit and justice oriented than in the previous stories.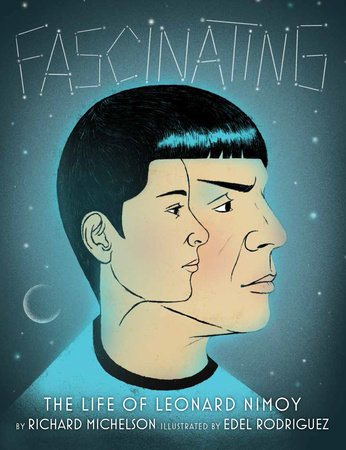 In Fascinating: The Life of Leonard Nimoy published by Knopf, written by Nimoy's gallerist and friend Richard Michelson, and illustrated by Cuban American artist Edel Rodriguez, the reader learns the story of how young Nimoy followed his dream to become an actor. The child of Jewish immigrants from Ukraine, Nimoy explored other artforms as well as acting. He was a fine art photographer, published seven books of poetry, and recorded five albums of music. However, he is remembered largely for one theatrical artform, the role of the Vulcan Dr. Spock in the television show Star Trek. Nimoy wasn't sure he wanted to role with pointy ears and a helmet haircut, but he connected the idea of playing the role of an 'alien' to the stamp that was on his parents' passports when they entered the United States, 'alien'. He accepted the role, and was even able to weave his own childhood experiences into the role, such as the Vulcan hand sign, which was an ancient Hebraic gesture that he saw in temple as a child. This text shows the reader how one can participate in and have talent in many artforms, that specialization isn't always necessary, a moral that goes against some teachings. However, Nimoy did feel a little pigeonholed by the strength of the public connection between Nimoy and and the character of Dr. Spock.
Supporting and integrating theater arts in the classroom can happen through pantomime, improvisational exercises, expressing learning through plays and skits, reader's theater, and many other ways. Learning about actors and others working in the world of theater arts is another important way to bring theater arts into the classroom, and exploring picturebook biographies is a wonderful way to do this.
Journey through Worlds of Words during our open reading hours: Monday-Friday, 9 a.m. to 5 p.m. and Saturday, 9 a.m. to 1 p.m. To view our complete offerings of WOW Currents, please visit its archival stream.
array(15) {
  ["_gform-form-id"]=>
  array(1) {
    [0]=>
    string(2) "13"
  }
  ["_gform-entry-id"]=>
  array(1) {
    [0]=>
    string(3) "945"
  }
  ["_edit_lock"]=>
  array(1) {
    [0]=>
    string(14) "1583786450:264"
  }
  ["_edit_last"]=>
  array(1) {
    [0]=>
    string(3) "264"
  }
  ["_thumbnail_id"]=>
  array(1) {
    [0]=>
    string(5) "37464"
  }
  ["_yoast_wpseo_content_score"]=>
  array(1) {
    [0]=>
    string(2) "30"
  }
  ["_yoast_wpseo_primary_category"]=>
  array(1) {
    [0]=>
    string(4) "3388"
  }
  ["_yoast_wpseo_focuskw"]=>
  array(1) {
    [0]=>
    string(24) "Theater Arts Biographies"
  }
  ["_yoast_wpseo_metadesc"]=>
  array(1) {
    [0]=>
    string(147) "Theater arts biographies for young readers offers young readers a look into the lives and work of famous actors both inside and outside of theater."
  }
  ["_yoast_wpseo_linkdex"]=>
  array(1) {
    [0]=>
    string(2) "88"
  }
  ["_yoast_wpseo_opengraph-image"]=>
  array(1) {
    [0]=>
    string(75) "https://wowlit.org/wp-content/media/The-Legendary-Miss-Lena-Horne-cover.jpg"
  }
  ["_yoast_wpseo_opengraph-image-id"]=>
  array(1) {
    [0]=>
    string(5) "38672"
  }
  ["_yoast_wpseo_twitter-image"]=>
  array(1) {
    [0]=>
    string(82) "https://wowlit.org/wp-content/media/Shining-Star-The-Anna-May-Wong-Story-cover.jpg"
  }
  ["_yoast_wpseo_twitter-image-id"]=>
  array(1) {
    [0]=>
    string(5) "38673"
  }
  ["_wp_old_date"]=>
  array(1) {
    [0]=>
    string(10) "2020-03-04"
  }
}

Themes: Be Water My Friend: The Early Years of Bruce Lee, Carole Boston Weatherford, Celeste Trimble, Dom Lee, Edel Rodriguez, Elizabeth Zunon, Fascinating: The Life of Leonard Nimoy, Hedy Lamarr's Double Life: Hollywood Legend and Brilliant Inventor, Katy Wu, Ken Mochizuki, Laurie Wallmark, Legendary Miss Lena Horne, Lin Wang, Paula Yoo, Richard Michelson, Shining Star: The Anna May Wong Story
Descriptors: Books & Resources, WOW Currents