By Rebecca Ballenger, University of Arizona, Tucson, AZ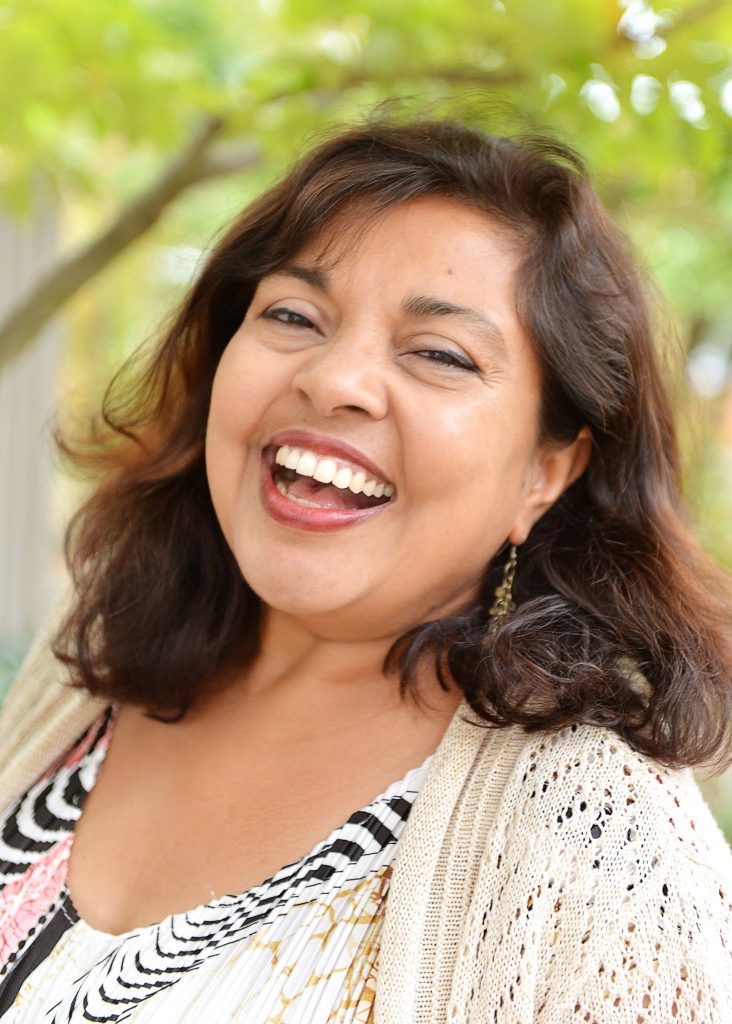 Mitali Perkins writes books for readers to explore crossing borders. Her work explores the themes of poverty, immigration, child soldiers, microcredit and human trafficking and is based on her experience living overseas and her study of Political Science at Stanford and Public Policy at U.C. Berkeley. WOW spoke to Perkins about a new movie based on an old book, code switching, her expanding career and connecting with readers.
Waiting on Rickshaw Girl
We've waited so long for the Rickshaw Girl movie! Perkins wrote the book more than a decade ago and making the movie has been Eric Adams' work for the past seven years. As producer, Adams put tougher a team of Bangladeshi actors, writers, cinematographers, editors and crew, all headed by the director, Amitabh Reza Chowdhury.
"This film exemplifies the slow, magical unroll of a career in the children's book world. They remained steadfast through political upheaval, terrible monsoon storms, and the pandemic," says Perkins. "The film is quite different than the book; it's an adult movie with a different narrative arc, but they retained the courage, spirit and artistry of my main character, Naima. Seeing her on screen embodied by the Bangladeshi actor Novera Rahman is … a dream."
Though she wasn't involved in the process of interpreting the book for film, Perkins is eager for viewer feedback. She suggests that those wishing to stay current on news about the film, check in with the movie's website at rickshawgirlmovie.com.
Code Switching and Home Is In Between
Perkins says she hopes that her new book, Home Is In Between, will empower and support readers growing up between cultures, and it seems as though that's the case. "I've been touched by the response of young readers who understand how tiring it is to grow up code-switching. They resonate with the book's message that growing up 'in between' can generate a code-switching superpower that lasts for a lifetime. I'm also hearing from monocultural adults who respond with a bit of envy about that kind of childhood, which is delightful because maybe it will encourage them to journey with children across borders, both in friendships and in stories."
Experiences with young readers around Home Is In Between has energized Perkins when she needed it. "I recently read Home Is In Between to Bengali children at a library in Flushing, Queens, a place that was my source of stories when I was a new immigrant so many years ago. Imagine being with 100 code-switching mini-yous and reading them your story of growing up as a code-switcher in the very place that sustained you when you were tired. Wondrous."
An Expanding Career
The Not-So-Star-Spangled Life of Sunita Sen was published in 1993 and Perkins' second book didn't come out until 2006. "I endured years of rejection in those thirteen years due to weakness in my craft no doubt but also to a narrower market. The market has widened, thank goodness; readers are crossing all kinds of borders now." With rejection behind her, Perkins now has 14 novels and a nonfiction book for adults to her credit. She has been published by Penguin Random House, Charlesbridge, Candlewick, Little Brown and Macmillan Children's Books.
While Perkins has written primarily for the middle grades and leans into the young adult market, her new projects include picturebooks. The inspiration may be surprising to some – social media! Perkins says social media brought her attention to the brevity and beauty of language. She comments on the simplicity of a tweet saying, "The restraint of a tweet (which I use as a writing discipline, so no abbreviations or emojis) has developed this skill." (You can find Perkins on Twitter, Facebook, Instagram and LinkedIn.)
One of the perks of writing picturebooks is collaborating with artists. "I've always believed in giving up control of my story to readers, and now I have even less control than ever," she says of having her work illustrated. "This requires leaving room for community and mystery in the creation AND the reception of a story. Marvelous, right?"
Perkins has three picturebooks coming out soon and just finished a revision for a middle-grade novel. Her newest book is adult nonfiction. Steeped In Stories: Timeless Children's Novels to Refresh Our Tired Souls is an exploration of flaws and virtues in seven of her childhood favorites.
Making Classroom Connections
Perkins has taught middle school, high school and in college settings, and says she depends on teachers, librarians and booksellers to connect her stories with children. Her books have been treated as "Conversation Starters." When asked about this, Perkins sees the positive. "I like to picture a family around a table using my story to spark conversation," and is thankful for that image. When young readers find her books, Perkins says she thinks they appreciate the nuances in her writing.
An active attendee of conferences and engagements for educators, Perkins has a message for adults who work with children's literature as well. That message begins with the hope that adults understand that children experience stories differently. "[Children] cross borders more willingly, find connections more freely, and learn the language of the imagination more quickly. It's a unique window to widen hearts and minds, and the more stories that children consume, the more power they have to discern and resist harmful narratives as well as to grasp the truth."
Alongside her outreach to academia, Perkins appreciates the magic that happens during school visits. She says, "When I visit a school, I love to see children who expected to be bored become engaged as I tell stories about my childhood and my parents. Their faces change; it's such a joy to see them lean in and begin to open their hearts to me and my jokes and ideas."
As do many other authors and illustrators, Perkins advises a little prep work before school visits. "If they've read my books in advance, of course it helps generate anticipation, as does the preparation and genuine excitement of a librarian and teachers."
Authors Corner is a periodic profile featured on our blog where authors discuss their writing process and the importance of school visits. Worlds of Words frequently hosts these authors for events in the collection. To find out when we are hosting an author, check out our events page. Journey through Worlds of Words during our open reading hours: Monday-Friday, 9 a.m. to 5 p.m.
array(12) {
  ["_edit_lock"]=>
  array(1) {
    [0]=>
    string(12) "1640556638:2"
  }
  ["_edit_last"]=>
  array(1) {
    [0]=>
    string(1) "2"
  }
  ["_yoast_wpseo_content_score"]=>
  array(1) {
    [0]=>
    string(2) "30"
  }
  ["_yoast_wpseo_primary_category"]=>
  array(1) {
    [0]=>
    string(4) "3432"
  }
  ["_thumbnail_id"]=>
  array(1) {
    [0]=>
    string(5) "29490"
  }
  ["_yoast_wpseo_focuskw"]=>
  array(1) {
    [0]=>
    string(14) "Mitali Perkins"
  }
  ["_yoast_wpseo_metadesc"]=>
  array(1) {
    [0]=>
    string(136) "WOW speaks with Mitali Perkins about a new movie based on an old book, code switching, her expanding career and connecting with readers."
  }
  ["_yoast_wpseo_linkdex"]=>
  array(1) {
    [0]=>
    string(2) "85"
  }
  ["_yoast_wpseo_opengraph-image"]=>
  array(1) {
    [0]=>
    string(55) "https://wowlit.org/wp-content/media/Mitali-Perkins.jpeg"
  }
  ["_yoast_wpseo_opengraph-image-id"]=>
  array(1) {
    [0]=>
    string(5) "41441"
  }
  ["_yoast_wpseo_twitter-image"]=>
  array(1) {
    [0]=>
    string(55) "https://wowlit.org/wp-content/media/Mitali-Perkins.jpeg"
  }
  ["_yoast_wpseo_twitter-image-id"]=>
  array(1) {
    [0]=>
    string(5) "41441"
  }
}