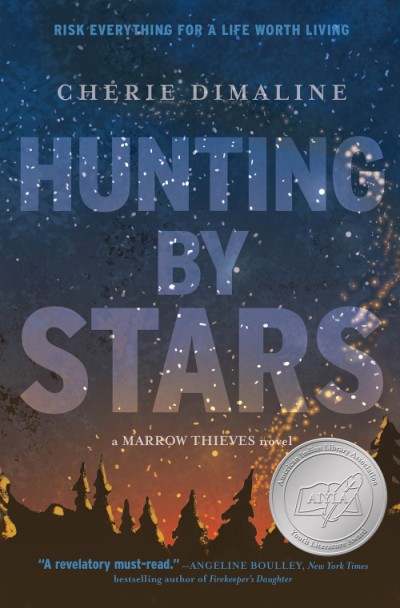 Hunting by Stars, a YA novel by Métis writer Cherie Dimaline, was released as a sequel to The Marrow Thieves, which was honored with many awards. The protagonist, French, of the new novel never expected to see his brother, Mitch, again. After witnessing his brother's abduction by the Recruiters at the beginning of The Marrow Thieves, French thinks surely they had taken Mitch to die at the new kind of residential school, where Indigenous peoples are harvested for their bone marrow. That's where the dreams live, and in this dystopian future, the only people who are still able to dream are Indigenous peoples of North America. All others suffer a sickness because of their lack of dreaming. Mitch survives because he becomes one of them after capture, a Recruiter, working on the side of those abducting and harvesting Indigenous peoples. When French and Mitch reunite, it is not a happy reunion, as French has himself been abducted and taken to the school, where he realizes his beloved brother is alive but also, in a sense, his enemy. French has to grapple with the pain of choosing who to fight for, who to protect and support – family by blood or by bond – and how to escape from the school and reunite with his chosen family.
Dimaline did not plan to write a sequel to The Marrow Thieves, but thousands of readers asked for more. Dimaline wants to let young Indigenous readers not only see themselves in the future, but see themselves as the heroes of the future. She felt privileged "…to hand over this next piece of the story to the people it belongs to…" But also, as someone living in what is now called Canada, she feels responsible to tell the story of residential schooling. In writing these two novels for young readers, Dimaline helps the next generation of leaders to understand not only a problematic history, but also to learn how to talk about the painful past and worrying present through reading about and discussing an imagined dystopic future that is grounded in history.
Hunting by Stars and The Marrow Thieves interweave concepts central to considering the history of North American Indigenous peoples, including but not limited to residential/boarding schools and the intentional eradication of Indigenous languages. Both novels pair well with informational texts that contextualize these concepts for readers. An Indigenous History of the United States for Young People by Roxanne Dunbar-Ortiz and adapted by Jean Mendoza and Debbie Reese (Nambe Pueblo), provides this context in a substantial way. This book not only provides historical grounding, but allows the reader to see how history affects present day Indigenous struggles, which leads to the question, how might struggles in the present day lead to or prevent the kind of dystopia we see in Dimaline's narratives?
Speaking Our Truth: A Journey of Reconciliation by Monique Gray Smith (Cree, Lakota, Scottish) is also a good informational book to pair with Hunting by Stars or The Marrow Thieves. This book brings in contemporary Indigenous young adult voices and could contextualize history and the present for readers in order to have a fuller understanding of the imagined dystopic future that Dimaline creates. In Hunting By Stars, there is an explicit connection between dreaming and hope. In Speaking Our Truth, Gray makes sure that all are a part of this hope, Indigenous and allies alike, making it clear we are all able to participate in the healing process necessary to prevent this dystopia from becoming a future reality.
Author, Cherie Dimaline, is from Georgian Bay Métis nation. She has written for children as well as adults. She currently resides in Toronto. -Recommended by Celeste Trimble, St. Martin's University, Lacey, WA.
Title: Hunting by Stars
Author: Cherie Dimaline
ISBN: 9781419753473
Publisher: Amulet Books
PubDate: October 19, 2021
Each month a committee of Worlds of Words advisors recommends a book published within the last year. Our hope is to spark conversations on our website and on social media about the book that expand global understandings and perceptions. Please join us by leaving a comment. You can also share your thoughts with us by using the hashtag #WOWRecommends on social media.
array(12) {
  ["_edit_lock"]=>
  array(1) {
    [0]=>
    string(12) "1646164317:2"
  }
  ["_edit_last"]=>
  array(1) {
    [0]=>
    string(1) "2"
  }
  ["_yoast_wpseo_content_score"]=>
  array(1) {
    [0]=>
    string(2) "30"
  }
  ["_yoast_wpseo_primary_category"]=>
  array(1) {
    [0]=>
    string(4) "3405"
  }
  ["_thumbnail_id"]=>
  array(1) {
    [0]=>
    string(5) "28879"
  }
  ["_yoast_wpseo_opengraph-image"]=>
  array(1) {
    [0]=>
    string(70) "https://wowlit.org/wp-content/media/Hunting-by-Stars-9781419753473.jpg"
  }
  ["_yoast_wpseo_opengraph-image-id"]=>
  array(1) {
    [0]=>
    string(5) "42221"
  }
  ["_yoast_wpseo_twitter-image"]=>
  array(1) {
    [0]=>
    string(70) "https://wowlit.org/wp-content/media/Hunting-by-Stars-9781419753473.jpg"
  }
  ["_yoast_wpseo_twitter-image-id"]=>
  array(1) {
    [0]=>
    string(5) "42221"
  }
  ["_yoast_wpseo_focuskw"]=>
  array(1) {
    [0]=>
    string(16) "Hunting by Stars"
  }
  ["_yoast_wpseo_metadesc"]=>
  array(1) {
    [0]=>
    string(155) "Hunting by Stars interweaves concepts central to considering the history of North American Indigenous peoples and is the WOW Recommends: Book of the Month."
  }
  ["_yoast_wpseo_linkdex"]=>
  array(1) {
    [0]=>
    string(2) "87"
  }
}