By Celeste Trimble, St. Martin's University, Lacey, WA
Photography is part of the everyday world. Children (and adults, of course) are constant consumers of this medium in personal, social, political, economic and artistic realms. Indeed, practically every aspect of our lives is saturated by the photographic image. Not only are we consumers of photography, most of us are also producers of digital photographs. What began as an art form limited to scientists with specialized chemicals and equipment is now as quotidian as breakfast.
Like many artistic practices, photography is often used as a form of activism. The photographic image can help bring hidden or shadowed issues and realities into the public eye, illuminating the world as a way to create change. An excellent way to unlock photographic history and activism for children in accessible and engaging ways is through biographical picturebooks of notable photographers. These stories provide context for how photography became so ubiquitous and essential around the globe, as well as how it has and can be used as a tool for social change, perhaps inspiring young readers to do the same. Although there are a number of excellent examples, for this post I will look closely at picturebook biographies of three artists who used the photographic medium for expression and activism: Anna Atkins of England, Jacob Riis of Denmark and the United States, and Gordon Parks of the United States.
The Bluest of Blues: Anna Atkins and the First Book of Photographs written and illustrated by Fiona Robinson begins with the story of young Anna and her childhood in England as she assists her father with his scientific explorations and develops her own scientific interests. Atkins collected specimens from the natural world, including seaweeds, shells and ferns, developing scientific knowledge and insights. She wanted to share her collections and discoveries with others, but the Royal Society of London for Improving Natural Knowledge, where her father shared his scientific ideas publicly, did not allow women to present or attend. Utilizing the new concept called photography, Atkins used the cyanotype process to capture images of her specimens. Cyanotypes have a recognizable blue color due to the chemical process and usually do not use a camera to capture the image. Rather, a silhouette of sorts is created when an object is placed upon chemically prepared paper, exposed in the sunshine, then rinsed in water. Atkins created books with the cyanotypes of her specimens, her initial book (1843) being the very first book ever to be photographically illustrated so that her scientific collections could finally be shared.
Robinson shares in the backmatter that there is not much information about Atkins' childhood, so the details of her early life are imagined. However, some of Atkins' own images are reproduced throughout this picturebook, bringing imagined and accurate histories together. The primarily blue hues in the text mimic the blue of the cyanotype, inviting the reader into Anna's own manner of scientific storytellling. Robinson's backmatter includes instructions for children to create their own cyanotype prints as well as detailed notes about how she created the illustrations for this text. What the backmatter does not share is whether Atkins' frustration about not being able to present at the Society because she was female was documented or that is an assumption of the author. Regardless, in this text, the reader has a sense that Atkins used photography as a tool for bringing a woman's voice and work into a world which was not welcoming to women in science.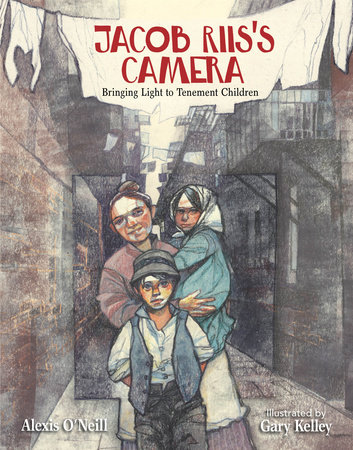 Jacob Riis's Camera: Bringing Light to Tenement Children written by Alexis O'Neill and illustrated by Gary Kelley, brings the story of photography into the late 19th century. Riis was born in Denmark, immigrating to the United States in 1870. Riis had first-hand knowledge of the hardships of impoverished immigrant life, so when he eventually got a job as a news reporter, he was acutely prepared to share with the readership the incredible difficulties and injustices in immigrant communities. However, Riis realized that for the story to deeply affect readers, he needed them to see the living and working conditions that immigrants were experiencing through images and stories working together. This picturebook shows one way in which art can be activism, a way to fight for what one believes in. Riis's photographs of the tenements of New York were directly instrumental in changing laws that improved immigrant life at the time, especially for children.
Many of Kelley's images are direct depictions of Riis' photographs using etching ink and pastel on paper, and the original photographic images are included in the backmatter. The color palette of the book evokes the darkness and soot of the tenements and factories, which becomes lighter and brighter in the last few images of the book. For instance, the "baby's playground" becomes a grassy park instead of a dark hallway thanks to Riis's reporting, grounding the metaphor that Riis's camera brought light into dark places. It is so important to understand that the uses of photography extend beyond ornamental and sentimental into the sciences and social activism. Riis's story is pivotal for understanding the power of photography in the world.
Gordon Parks: How the Photographer Captured Black and White America, written by Carole Boston Weatherford and illustrated by Jamey Christoph, begins with Parks' birth in 1912. As a Black child in the midwestern United States, Parks experiences both the freedom of the prairie and the oppression of racism in his schoolroom. In just a few pages, Parks is 25 years old and inspired to purchase his first camera because of a magazine spread he saw about migrant farm workers. Weatherford's storytelling shows the reader his growth as a photographer, leading him from fashion and portraits to documenting the realities of living as a Black person in Washington D.C. and navigating racism in the Capital city.
Christoph's illustrations recreate many of Parks' photographs as well as covers of Life and Vogue magazines. In subdued earth tones reminiscent of sepia, the illustrations show both the process and the product of Parks' photographic activism, highlighting not only his work as an artist, but the intention behind his artistic choices.
Through these biographies and others, children can begin to contextualize the relatively short history of the photographic arts and to connect art and activism in their own lives.
WOW Currents is a space to talk about forward-thinking trends in global children's and adolescent literature and how we use that literature with students. "Currents" is a play on words for trends and timeliness and the way we talk about social media. We encourage you to participate by leaving comments and sharing this post with your peers. To view our complete offerings of WOW Currents, please visit its archival stream.
array(12) {
  ["_edit_lock"]=>
  array(1) {
    [0]=>
    string(14) "1682535291:264"
  }
  ["_edit_last"]=>
  array(1) {
    [0]=>
    string(1) "2"
  }
  ["_thumbnail_id"]=>
  array(1) {
    [0]=>
    string(5) "37464"
  }
  ["_yoast_wpseo_opengraph-image"]=>
  array(1) {
    [0]=>
    string(94) "https://wowlit.org/wp-content/media/Gordon-Parks-carole-boston-weatherford-jamey-christoph.jpg"
  }
  ["_yoast_wpseo_opengraph-image-id"]=>
  array(1) {
    [0]=>
    string(5) "43911"
  }
  ["_yoast_wpseo_twitter-image"]=>
  array(1) {
    [0]=>
    string(97) "https://wowlit.org/wp-content/media/jacob-riis-camera-alexis-oneill-gary-kelley-9781629798660.jpg"
  }
  ["_yoast_wpseo_twitter-image-id"]=>
  array(1) {
    [0]=>
    string(5) "43909"
  }
  ["_yoast_wpseo_focuskw"]=>
  array(1) {
    [0]=>
    string(21) "notable photographers"
  }
  ["_yoast_wpseo_metadesc"]=>
  array(1) {
    [0]=>
    string(155) "One way to unlock photographic history & activism for children in accessible & engaging ways is through biographical picturebooks of notable photographers."
  }
  ["_yoast_wpseo_linkdex"]=>
  array(1) {
    [0]=>
    string(2) "73"
  }
  ["_yoast_wpseo_content_score"]=>
  array(1) {
    [0]=>
    string(2) "30"
  }
  ["_yoast_wpseo_primary_category"]=>
  array(1) {
    [0]=>
    string(4) "3388"
  }
}