by Seemi Aziz-Raina, University of Arizona, Tucson, AZ
As summer looms many of us think about travel, whether for pleasure or for work, and suddenly the long hot summer seems approachable and accessible. While travel can be exciting and relaxing, journeys and travel don't always bode well for many. The world that we live in is changing at a very rapid pace due to global discord and accessibility, where news and world events impact us all. This month I look at journeys that are shared and/or forced within recent picturebooks. To do this, the focus will be on the following powerful exemplars while I share other intertextual examples that reinforce the same thematic threads.
I begin with Where Three Oceans Meet by Rajani LaRocca & Archana Sreenivasan (2021), a pleasurable joint venture involving three generations of women from a single family who go visit a place where three oceans meet: namely The Arabian Sea, Indian Ocean, and The Bay of Bengal at the southernmost tip of India. The narrator of this story is the youngest member of the family, Sajal. As we follow these three women on their quest, we come to know of the people, places, and traditions that all three characters hold dear. It is no surprise that everything within this text reinforces the significance of the number three, such as the three generations, three oceans, and the strength of hair in a braid. The colorful illustrations add to the beauty of the text. Both author and illustrator draw from their background as they write and illustrate this brilliant book. This book centers around a pleasurable journey in which the characters grow and develop a new sense of wonder and learning.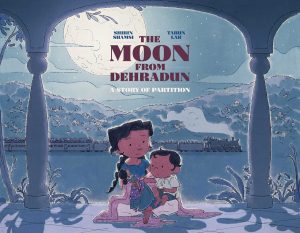 Within the book, The Moon from Dehradun: A Story of Partition, Shirin Shamsi & Tarin Lar (2022) take on a significantly different concept of journeys as compared with the previous book, even though the story is placed in the same region. Here the family of Azra must leave their home after the British forces decide to leave India. The haphazard way they withdrew left India cut up and in shambles with undistinguishable borders and people divided due to their beliefs. This was during the 1947 demarcation of India and the creation of Pakistan in two portions: roughly 1200 miles apart with India in the middle. The Muslim family of Azra had to leave for Pakistan in a hurry as their own beloved neighbors tried to kill them. In their hurry they forget to bring Azra's treasured doll, 'gurya' which leaves Azra traumatized and sad. After countless days of tormenting travel where they saw people being maimed and killed, they reach the border of Pakistan and safety. As they enter their new home (hurriedly left by a Hindu family) Azra finds a doll akin to her own and finds peace knowing that someone else may have found her doll. The brilliance of this story is that it comes full circle without taking sides and offers an all-encompassing view of the situation many faced. Needless to say, countless did not have this happy and peaceful ending and instead lost their lives or their loved ones in one of the greatest mass exoduses of people in history. Even though this event happened in the previous century, its impact on the region is ongoing as the unrest between India and Pakistan continues, due to religious and territorial disputes.
Next I turn to Zahra's Blessing: A Ramadan Story by Shirin Shamsi & Manal Mirza (2022), a beautiful iteration of Ramadan concepts and what Muslims should hold near and dear to their hearts. This story deals with the journey that Zahra undertakes as she gets her heartfelt wish. The text also highlights the forced and pleasurable journey of a secondary character, Haleema, who is a refugee and has lost her parents and her way of life. Both these protagonists come together in an unexpected manner when Zahra's parents open their home and hearts to include Haleema in their lives. This journey is physical and metaphorical in more ways than one. The colorful illustrations by Mirza add to the overall charm and draw on Muslim art and cultures in its depiction.
These same concepts are explored in The Shape of Home by Rashin Kheiriyeh (2021) where Kheiryeh explores her own journey from Iran to the USA as she tries to embrace commonalities while finding differences within the two regions and the many cultures that exist therein. This book not only highlights the journey but also the concept of 'home' as a refuge. Moving through this book brings the audience to the way an empathetic teacher can make the school and classroom into a home through her thoughtfulness.
Where Butterflies Fill the Sky: A Story of Immigration, Family, and Finding Home by Zahra Marwan (2022) explores the concept of being stateless in Kuwait for a family who has lived there for generations. Marwan immigrated to New Mexico from Kuwait and is still trying to locate her identity and that of her family in their own homeland. Her journey speaks to the little known Kuwaiti history of the lack of acceptance within their own lands and the confusion of their identity where it should never have been in question. The region of Kuwait was under British control from 1899-1961 and when they left, the newly independent Kuwait passed the law to register their citizens. Some people who had lived within that region, for centuries, were either not literate or moved from place to place as Bedouins do, and never got or understood the message, leaving them in a stateless state. Marwan's family was one of these stateless families. This book strongly illustrates the issues of interference and oppressive control of western powers that played with the identities and histories of many regions and their people; the impact and its far-reaching effects are ongoing.
The concept of a forced journey is placed front and center in Story Boat by Kyo Maclear & Rashin Kheiriyeh (2020). This book illustrates the actual forced journey that many people must undertake when life becomes hard to live within the confines of their own regions and homes. Again, the concept of home is explored in this book as the characters try to find home where there is none.
Still Dreaming by Claudia Guadalupe Martinez & Magdalena Mora (2022) sheds light on the little-known history of Mexican Americans who were forced to leave the country they called home by birth. Martinez's and Mora's book touches on a significant event where families were pulled apart if they wanted to stay or had to leave if they wanted to stay together. This was the Mexican Repatriation during and after the Great Depression. The harrowing journeys that the families took to reach acceptance and safety placed them in unpleasant and undesirable situations. This book is beautifully written and illustrated and carries within it powerful references to present day issues of migration from Mexico and US borders.
La Frontera: My Journey with Papa by Deborah Mills, Alfredo Alva & Claudia Navarro (2018) elaborates on the issue of immigration from the lands taken over after the Mexican American War of 1846-1848 to become a part of the present-day U.S. A father and son leave their beloved family and head for the U.S. as food is scarce and paid work limited. They use a wily Coyote to take them across, but he disappears, leaving both to fend for themselves. After struggles beyond imagination, they find acceptance in the new land and are reunited with family. This ending may or may not reflect the journeys and stories of many Mexicans.
Both above mentioned books are by authors belonging to the cultures and are bilingual, which adds to the authenticity of the stories and their powerful message.
As I poured over these very strong books, I came away with the understanding that journeys do not have to be shared or forced; forced journeys can and most often are shared with family, friends, and people that become family like and shared journey may turn out to be forced as well. Altering borders and creation of new countries add to the woes of people as do hunger, political unrest, and the struggle to exist. The world is too frequently divided between the 'haves' and the 'have nots.' Everyone has the right to exist peacefully, but this is often called into conflict. As the above-mentioned texts are explored in greater depth, one comes to realize how unfortunate the plight is for some peoples. Too often in our current world, oppressors and oppressed form chunks of humanity which tend to be disastrous as can be observed in the geopolitical events taking place all around us.
I hope these authentic stories of shared and/or forced journeys can be used to inspire an exploration of journeys taken by students and educators alike. Projects on refugees and immigration policies can be explored to get a deeper understanding of the concerns faced by large chunks of populations within the global neighborhood. There is also the potential to explore historical contexts of some of the stories, especially for narratives set in South America and South Asian regions to gain further knowledge about them. The heartfelt hope is to instill empathetic understanding for people and places that are geographically close and/or further apart from us.
WOW Currents is a space to talk about forward-thinking trends in global children's and adolescent literature and how we use that literature with students. "Currents" is a play on words for trends and timeliness and the way we talk about social media. We encourage you to participate by leaving comments and sharing this post with your peers. To view our complete offerings of WOW Currents, please visit its archival stream.
array(12) {
  ["_edit_lock"]=>
  array(1) {
    [0]=>
    string(14) "1690401969:264"
  }
  ["_edit_last"]=>
  array(1) {
    [0]=>
    string(3) "264"
  }
  ["_yoast_wpseo_content_score"]=>
  array(1) {
    [0]=>
    string(2) "30"
  }
  ["_yoast_wpseo_primary_category"]=>
  array(1) {
    [0]=>
    string(4) "3388"
  }
  ["_thumbnail_id"]=>
  array(1) {
    [0]=>
    string(5) "37464"
  }
  ["_yoast_wpseo_opengraph-image"]=>
  array(1) {
    [0]=>
    string(71) "https://wowlit.org/wp-content/media/Zahras-Blessing-A-Ramadan-Story.jpg"
  }
  ["_yoast_wpseo_opengraph-image-id"]=>
  array(1) {
    [0]=>
    string(5) "44072"
  }
  ["_yoast_wpseo_twitter-image"]=>
  array(1) {
    [0]=>
    string(63) "https://wowlit.org/wp-content/media/Where-Three-Oceans-Meet.jpg"
  }
  ["_yoast_wpseo_twitter-image-id"]=>
  array(1) {
    [0]=>
    string(5) "42891"
  }
  ["_yoast_wpseo_focuskw"]=>
  array(1) {
    [0]=>
    string(8) "Journeys"
  }
  ["_yoast_wpseo_metadesc"]=>
  array(1) {
    [0]=>
    string(153) "This month Seemi Aziz tackles the potential and risk within various types of travel or journeys for friends, families, migrants, immigrants and refugees."
  }
  ["_yoast_wpseo_linkdex"]=>
  array(1) {
    [0]=>
    string(2) "85"
  }
}

Themes: Alfredo Alva, Archana Sreenivasan, Claudia Guadalupe Martinez, Claudia Navarro, Deborah Mills, Kyo Maclear, La Frontera: El Viaje con Papá - My journey with Papa, Magdalena Mora, Manal Mirza, Moon From Dehradun, Rajani LaRocca, Rashin Kheiriyeh, Seemi Aziz, Shape of Home, Shirin Shamsi, Still Dreaming, Story Boat, Tarin Lar, Where Butterflies Fill the Sky, Where Three Oceans Meet, Zahra Marwan, Zahra's Blessing
Descriptors: Books & Resources, WOW Currents