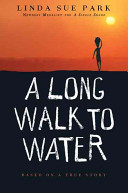 A Long Walk to Water
Written by Linda S. Park
Clarion, 2010, 128 pp.
ISBN: 978-0547251271
I overcame all the difficult situations of my past because of hope and perseverance that I had. I would not have made it without these two things. (p. 117)
With Post-Its, highlighter, and a Sharpie pen in hand, I "talk" to my books while reading. I usually finish the read having made a few personal responses, comments for unit and/or text set ideas, background research notes, and related sources. With the exception of Between Shades of Gray by Ruta Sepetys (2011), I don't think I have ever had such visceral responses and so many notes as with A Long Walk to Water, a novel based on the true story of Salva Dut, one of the Lost Boys of Sudan. To say this is a compelling read is an understatement. It is part of the grippingly horrifying story of the Second Sudanese Civil War, a story where thousands of young boys were forced to flee from their families and homes to avoid servitude as child soldiers and the mass genocide in Southern Sudan (see the U.S. 2002 Sudan Peace Act). Park weaves two voices in the telling of her novel. On the first page, we meet Nya in 2008 and Salva Dut in 1985. In alternating chapters, each tells their own story.
Nya is eleven years old and a member of the Nuer tribe. She is on her way to fetch water for her family. She must make this trek twice a day, every day. Her task takes all morning, then she has something to eat, and repeats the trek again, arriving home in late afternoon. Every year when the pond dries up, Nya's village moves to an encampment near a lake. While the lake is more convenient for collecting water, the villagers only stay there during the dry season for fear of fights with the Dinka. "The Dinka and the Nuer were enemies—had been for hundreds of years" (p. 114). At the lake, it takes Nya 5 hours of digging through the mud to get a small amount of water. The old, young, and weak often suffer from drinking this lake water, including Nya's younger sister, Akeer. At great cost, Nya and her mother take Akeer to a clinic where they are told about the parasites and bacteria in the water and the need to purify it by boiling—an impossibility. "If her mother tried to boil such a small amount, the pot would be dry long before they could count to two hundred" (p. 45). Several months later, after their return to the village, two visitors arrive asking about the water.
Salva is also eleven years old and a Dinka, but his story begins in 1985. He is daydreaming in class, when suddenly they hear the sound of gunfire. His teacher tells the boys, "Go quickly, all of you…. Into the bush. Do you hear me? Not home. Do not run home. They will be going into the villages. Stay away from the villages—run into the bush" (p. 6). This is Salva's first-hand introduction to the war that had begun two years earlier. He walks thousands of miles with others to an Ethiopian refugee camp where he spends six years. In 1992, after the Ethiopian government collapses, soldiers forcibly close the camp and drive the refugees into the Gila River—the border between Ethiopia and Sudan—swollen with rain water and filled with crocodiles. "The soldiers started shooting into the river; aiming their guns at the people who were trying to get across. Why were they shooting at us?" (p. 78). Their rescuers are now their enemies and they are forced back into southern Sudan and the ongoing war.
A year and a half later, walking with 1200 other boys, Salva arrives at the Kakuma Refugee Camp in Kenya. After two years of barely surviving in a camp with 86,000 other young boys, he decides to leave for Ifo Refugee Camp further southwest. It takes him several months of walking and once there, he is befriended by an aid worker who teaches him how to read. Not long after, he is one of 3,000 chosen to immigrate to the United States and spends eleven years in Rochester, New York with his "new family." During this time, he makes one brief trip to southern Sudan when he learns his father is alive and in a hospital. While visiting his father, he learns his mother, sisters, and one brother is alive; two of his brothers died in the war. Upon his return to the U.S., Salva begins to put a plan into action that will help his family and the southern Sudanese (see Water for South Sudan: http://www.waterforsudan.org/). His plan is to drill water wells in southern Sudan, and it is at this point, in 2009, where Aya's and Salva's stories merge. Salva is one of the two visitors asking about the water in Nya's village. Salva and his crew drill a well and as Nya tastes the fresh, clear water, she realizes her life is forever changed.
In an Author's Note, Park describes the backdrop for the events of this novel, giving a brief history of the Second Sudanese Civil War. She relates how she and her husband met Salva after learning about his Water for [South] Sudan project and explains that her husband "traveled to Sudan to see the wells firsthand" in 2008. Park is a Newbery winning author and is known for the research that precedes her work and that is evident in the authenticity of her narrative.
Other books that inform about the Lost Boys are Brothers in Hope: The Story of the Lost Boys of Sudan (2005, Mary Williams), The Lost Boys of Sudan: An American Story of the Refugee Experience (2005, Mark Bixler), and One Day the Soldiers Came, Voices of Children in War (2007, Charles London). Two documentaries that might serve as useful resources are: A Long Walk to Water by Linda Sue Park, http://www.youtube.com/watch?v=GkxkisRUmM and God Grew Tired of Us directed by Christopher Dillon Quinn and Tommy Walker, 2006. Additionally, the powerful writings and art of some of the Lost Boys can be found at http://www.chgs.umn.edu/museum/exhibitions/lostBoys/lostBoysCry.html
Gail Pritchard, University of Alabama, Huntsville, Huntsville, AL
WOW Review, Volume IV, Issue 2 by Worlds of Words is licensed under a Creative Commons Attribution-NonCommercial-ShareAlike 4.0 International License. Based on work at https://wowlit.org/on-line-publications/review/iv-2/