Open a book . . .
Open a mind . . .
Open the world!
Worlds of Words builds bridges across global cultures through children's and adolescent literature.
WOW Exhibits: Hello, Dear Enemy!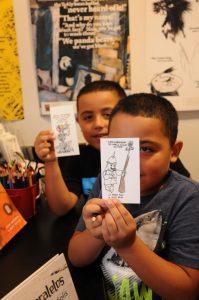 Hello, Dear Enemy!, a traveling exhibit created by the International Youth Library in Munich, Germany, makes its first stop at Worlds of Words in the University of Arizona College of Education. We have added hands-on activities for children and those who are young at heart, including a chance to leave a message in Ferdinand's Happiness Pasture. WOW invites the community to come tour the exhibit, which is free and open to the public. Hello, Dear Enemy! is presented with help from Center for Educational Resources in Culture, Language and Literacy (CERCLL).
WOW Currents

When Junko visited a 6th grade classroom this past spring, she was surprised to see two students avidly reading manga. Manga is a kind of graphic novel popular in Japan, and the popularity of the genre is rapidly spreading to the United States. So, what makes these graphic novels different from American graphic novels, and what does their popularity mean for literacy? Read this week's WOW Currents to hear what Junko and Yoo Kyung Sung have to say!
See our complete listing of all WOW Currents entries.
My Take/Your Take

In October's My Take/Your Take, contributors will discuss four powerful books that emphasize the power of voice, truth, and resistance in the face of oppression. What does it mean to speak up against power? How do different people create different truths? The conversation begins with a timely young adult novel: The Hate U Give by Angie Thomas.
Take a look at our thematic index of books featured on My Take/Your Take. We also have an archive of My Take/Your Take books.
WOW Review

Reviewers consider notable global picturebooks in this Summer 2017 issue of WOW Review. Volume IX, Issue 4 reviews 14 picturebooks filled with delightful illustrations and remarkable stories for readers to savor. Additionally, take note of the themes and submission deadlines for upcoming issues.
See our complete listing of all WOW Review issues.
WOW Stories

The latest issue of WOW Stories: Connections from the Classroom, Global Literacy Communities: Pursuing Critical Questions using Global Literature, examines how stories, both personal and literary, invite students to explore themselves and their relationship to global issues and cultures.
See our complete listing of all WOW Stories issues.
Open Reading Hours:
Mondays through Fridays – 9 a.m. to 5 p.m. and Saturdays – 9 a.m. to 1 p.m.
∞ WOW Stories and WOW Review are accepting submissions. Our two online journals are available to you without subscription, membership, or fee requirements. We are proud to offer these journals and want to hear from you. E-mail us with questions, feedback, and submissions.