Open a book . . .
Open a mind . . .
Open the world!
Worlds of Words builds bridges across global cultures through children's and adolescent literature.
WOW Exhibits: Hello, Dear Enemy!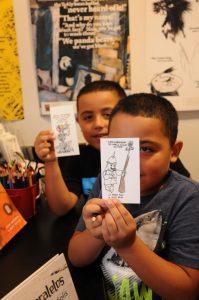 Hello, Dear Enemy!, a traveling exhibit created by the International Youth Library in Munich, Germany, makes its first stop at Worlds of Words in the University of Arizona College of Education. We have added hands-on activities for children and those who are young at heart, including a chance to leave a message in Ferdinand's Happiness Pasture. WOW invites the community to come tour the exhibit, which is free and open to the public. Hello, Dear Enemy! is presented with help from Center for Educational Resources in Culture, Language and Literacy (CERCLL).
WOW Currents

For the month of November, we focus on novels written by authors attending the 2018 Tucson Festival of Books! These books cover compelling, complicated issues like the abuse of power, assault, and mental illness while prescribing methods to overcome what might otherwise hold us back. Check back each week as we explore three poignant books and prepare to meet the authors!
See our complete listing of all WOW Currents entries.
My Take/Your Take

In November's My Take/Your Take, contributors will discuss a series of picturebooks that can help young readers understand what it means to be a refugee. Stories, they argue, might be the best way to communicate what it means to flee your country to find safety in another. The stories they share are determined, hopeful, and share what it means to be home.
Take a look at our thematic index of books featured on My Take/Your Take. We also have an archive of My Take/Your Take books.
WOW Review


Volume X Issue 1 of WOW Review takes on a series of chapter books, picturebooks, and novels that investigate change, choice, and transitions. These stories look at what it means to belong and the many ways that we can help each other find our place in the world. They inspire kindness, acceptance, and understanding in the face of adversity.
See our complete listing of all WOW Review issues.
WOW Stories

The latest issue of WOW Stories: Connections from the Classroom, Opportunities for Inquiry into Critical and Global Issues through Literature, examines how exploring culture and identity can bring students closer to themselves and their understanding of the world around them.
See our complete listing of all WOW Stories issues.
Open Reading Hours:
Mondays through Fridays – 9 a.m. to 5 p.m. and Saturdays – 9 a.m. to 1 p.m.
∞ WOW Stories and WOW Review are accepting submissions. Our two online journals are available to you without subscription, membership, or fee requirements. We are proud to offer these journals and want to hear from you. E-mail us with questions, feedback, and submissions.