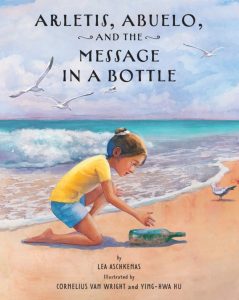 Arletis, Abuelo, and the Message in a Bottle / Arletis, abuelo y el mensaje en la botella
Written by Lea Aschkenas
Illustrated by Cornelius Van Wright & Ying-Hwa Hu
Star Bright Books, 2023, 48 pp (unpaged)
English ISBN: 978-1595729699
Spanish ISBN: 978-1595729729
Arletis, Abuelo, and the Message in a Bottle opens with a verse from a Cuban children's song "Little Paper Boat" presented in Spanish and then in English:
Little paper boat, my faithful friend,
take me sailing across the wide sea.
I want to make friends from here and there,
and to give everyone my flower of friendship.
Down with war, up with peace;
we children want to laugh and sing.

—Cuban children's song
by Enriqueta Almanza and Celia Torriente
The story begins: "Once, on an alligator-shaped island in the middle of a wide sea, there lived a little girl named Arletis." Arletis lives in a rural Cuban village, loves maps, and is curious about the world beyond her island home. With lovely imagery and vibrant illustrations, readers learn about Arletis's loving relationships with family and community. She finds joy in making her favorite dessert, cascos de toronja, with Abuelita, eating Cuba's luscious tropical fruits, playing with cousins and friends at the river, and dancing mambo and more in the streets.
At the same point in time, "in another part of the world, at the mouth of a wide bay, there was an old man named Steve who lived alone on a tiny tugboat." In his younger years, Steve dreamed of sailing the world and wondered if there was something more beyond his solitary life living on a boat. He wrote a message, put it in a bottle, and asked a friend who was sailing south to throw it into the ocean: "If you find this bottle, please write and tell me about your world."
Far from that bay, Arletis and her family visit the beach for her eighth birthday where she finds a bottle on the shore containing a message written in a foreign language. Although she is unable to understand the message, Arletis writes to the address at the end of the note. She asks every question she can think of about the message-writer's home country.
How lucky that Steve is learning Spanish and their exchange of letters, photographs, and friendship begins. Arletis addresses her letters: "Querido Abuelo Esteban / Dear Grandfather Steve." She hopes that one day he will visit her and her family like an abuelo, since her abuelo died before she had the chance to know him. When Abuelo Esteban at last visits the island, he brings a map showing the route the bottle must have taken in order to reach a beach in Cuba.
The book includes an author's note, a recipe for Arletis's favorite dessert, and a bibliography for further reading about Cuba. The English language edition also contains a glossary of Spanish words and phrases.
This book can be paired with picturebooks about Cuba or stories that involve Cuban children. The bibliography at the end of the book offers informational books such as Hola, Cuba by Meghan Gottschall (2021), the historical fiction novel My Brigadista Year by Katherine Paterson (2017), and websites in English and in Spanish, including a link to Cuban singer Omara Portuondo singing "Barquito de Papel". Additional books that can be paired include Where the Flame Trees Bloom by Alma Flor Ada (1994) which includes eleven true stories about growing up in Cuba and a childhood filled with the love of family and friends. The sequel, Under the Royal Palms: A Childhood in Cuba / Bajo las palmas reales: Una Infancia Cubana (1998), includes more stories from her early years. The English/Spanish bilingual book My Name Is Celia: The Life of Celia Cruz / Me Llamo Celia: La Vida De Celia Cruz by Monica Brown, illustrated by Rafael López (2004) describes the "Queen of Salsa's" childhood in Cuba and her musical career that brought Cuban music and dance to the attention of people around the globe. Alicia Alonso Dances On written by Rose Viña and illustrated by Gloria Félix (2021) is a picturebook biography of a young Cuban girl who overcomes many obstacles to achieve her dream to be a ballerina.
Author Lea Aschkenas is a public librarian and teaches with the California Poets in the Schools program. Arletis, Abuelo, and the Message in a Bottle is her first book for children. She fell in love with Cuba and its people in 2000 on her first trip and has been returning nearly every year since. According to her author's note, Aschkenas heard the story of Arletis and Steve from Abuelo Esteban himself, a library patron. She was taken by their story and long-lasting friendship. When she traveled illegally to Cuba, she visited with Arletis and her family. Arletis is now a mother with two young children and the green bottle that contained Steve's first message sits atop a dresser in her home. Steve continues to visit and their caring friendship continues to this day. To learn more about her connection to Cuba, visit her website.
Cornelius Van Wright and Ying-Hwa Hu are a husband-and-wife children's book illustration team. Their watercolor illustrations capture the beauty of Cuba and richness of Cuban culture. They have won awards for their individual as well as their joint projects. They live in New York City. View their work on their website.
Judi Moreillon, Tucson, Arizona
© 2023 by Judi Moreillon