By Karen Matis with Charlene Klassen Endrizzi
One fascinating aspect of the seventh graders' questions during our conversation after the author Skype was their curiosity regarding specific vocabulary (such as "cesspool" or "costermonger") used by Hopkinson. I think Dr. Matis' Word Wall was a great tool for students, allowing them to discuss and learn new words.
Ben Gaul, history preservice teacher
This week we continue our exploration of what it means to be responsible citizens using The Great Trouble, Stolen Dreams, and companion web resources. My two seventh grade classes started our exploration of The Great Trouble with a Word Wall. Like Ben noted, I also see students' engagement with texts increase if we collectively analyze unfamiliar words. The first word selected to place on our wall was "mudlark," a term introduced and defined on page one. Readers eagerly contributed to the wall when they came across new vocabulary. To help students connect to words of low practical use but an integral part of understanding The Great Trouble, we acted out new terms or mimicked facial expressions to physically demonstrate a word's meaning.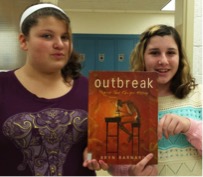 Seventh graders needed background information concerning London's cholera breakout during the 1850s, so as part of our inquiry, we explored informational text beginning with Barnard's Outbreak: Plagues that Changed History. We made unfamiliar terms, "pandemic" and "preventatives", familiar ones. Students learned how cholera is spread and what ancient cures and preventatives looked like. For example, in ancient times people believed wearing flannel cholera belts would prevent someone from contracting the disease. Ryan thought this was totally absurd, responding, "[Flannel belts] just hold up your pants."
Seventh graders sifted through information about cholera from two lenses: Eel's perspective in historical fiction and informational texts. Facts and ideas gleaned from Outbreak led us to create cholera warning posters. I required students to include one quotation from The Great Trouble and three "beliefs" people held about cholera in the 1800s. Charles' poster contains the quotation from Dr. Snow saying, "Promise me you won't do that again," supporting his theory that the drinking water might possibly be the contaminant.
My students noted how cholera has almost been eradicated, however plagues and outbreaks continue today. Exploring Newsela.com's recent article about the tuberculosis outbreak spreading across the globe brought the importance of working together to solve outbreaks to the forefront. We examined the ease and rapid rate a disease spreads which led me to hunt for additional resources on how the medical field works to prevent outbreaks.
The Center for Disease Control (CDC) offers a game-style challenge where students analyze a scenario with the goal of solving an outbreak. Each scenario requires students to make inferences about situations, analyze testimony, and sift through lab reports, while answering questions to determine the cause of an outbreak. Motivation was high when my seventh graders used classroom laptops, but they soon realized that solving an outbreak is not an easy task!
To incorporate journalistic style writing, students role-played becoming an 1850s London reporter in attendance when Dr. Snow and Eel presented evidence to the Board of Governors of St. James Parish. After studying the inverted pyramid style of writing a newspaper report, students used Hopkinson's five W's (who, what, where, when, why) outlined during our Author Skype to organize information and write a newspaper article. Rachel's piece began by answering many of the 5 W's: "Last night a committee meeting was held for the debate about taking the handle off of the Broad Street pump." She explained what occurred at the meeting and included a direct quote from the physician/father of epidemiology: "Dr. Snow and Eel never drank from the Broad Street pump."
Our Westminster college book partners extended our initial Skype discussion by writing letters to my seventh graders as we progressed through The Great Trouble. Questions about what it meant to be an advocate for self, a voice for others, and a responsible citizen invited my students to consider Hopkinson's insights for their lives today.
However, seventh graders found it challenging to make a connection between themselves and the inequities or ethical behaviors examined in the The Great Trouble. That's where Stolen Dreams provided an essential contemporary connection. Literally, I "tore apart" this informational text, assigning small groups to study each chapter. Partners read, discussed, and annotated ideas, becoming experts on one contemporary child laborer from around the world. We examined rugmakers chained to looms in Pakistan, brick molders from India, migrant harvesters in Turkey, and stone quarry laborers crushing stones for use in construction. My seventh graders easily connected Eel's mudlarking from The Great Trouble to garbage pickers looking for a scrap of paper, wood, or plastic to sell in a Mexican market. I challenged students to present their information on a poster to be shared with our class.
Kendra and Charles outlined insights about how different their lives would be if they were forced to work. Charles commented on the importance of sports and video games for himself. Kendra pondered, "I wonder if these kids even know what video games are." Through each poster presentation, classmates came to understand why being an advocate for others is one vital role of citizens today.
I felt it important to promote the voices of adolescents who challenged the status quo. Iqbal Masih, Malala Yousafzai, and William Kamkwamba offered brave demonstrations. After introducing these humanitarians as new friends, my students began to contemplate their role in making the lives of others safe, meaningful, and opportunistic.
Literature plays an important role in providing insight into human behaviors. Because of their age similarity, my seventh graders connected with Eel; at the end of the novel, some admired his willingness to work hard. They wanted to be more like him. My students were equally amazed to learn of the many examples of child labor, human trafficking, and dreams that may never become a reality for working children around the world. None wanted to be like those featured in Stolen Dreams. Through our exploration of world realities, we felt humbled and grew more thankful.
In our next entry, I explore a new book pair I plan to use next year. In the context of World War II historical fiction, I pair The Book Thief with the soon-to-be-released information text We Will Not Be Silent: The White Rose Student Resistance Movement That Defied Adolf Hitler as we continue to examine what it means to be a responsible citizen.
Journey through Worlds of Words during our open reading hours: Monday through Friday 9 a.m. to 5 p.m., Saturday 9 a.m. to 1 p.m. Check out our two online journals, WOW Review and WOW Stories, and keep up with WOW's news and events.
array(15) {
  ["_edit_lock"]=>
  array(1) {
    [0]=>
    string(14) "1580493190:264"
  }
  ["_edit_last"]=>
  array(1) {
    [0]=>
    string(3) "264"
  }
  ["_oembed_43db5d78ee625644f01340c27022331e"]=>
  array(1) {
    [0]=>
    string(11) "{{unknown}}"
  }
  ["_social_notify"]=>
  array(1) {
    [0]=>
    string(1) "1"
  }
  ["_social_aggregated_ids"]=>
  array(1) {
    [0]=>
    string(47) "a:2:{s:7:"twitter";a:0:{}s:8:"facebook";a:0:{}}"
  }
  ["_social_aggregation_log"]=>
  array(1) {
    [0]=>
    string(1816) "a:27:{i:1457995388;O:8:"stdClass":2:{s:6:"manual";b:0;s:5:"items";a:0:{}}i:1457997211;O:8:"stdClass":2:{s:6:"manual";b:0;s:5:"items";a:0:{}}i:1458000782;O:8:"stdClass":2:{s:6:"manual";b:0;s:5:"items";a:0:{}}i:1458004392;O:8:"stdClass":2:{s:6:"manual";b:0;s:5:"items";a:0:{}}i:1458012481;O:8:"stdClass":2:{s:6:"manual";b:0;s:5:"items";a:0:{}}i:1458027776;O:8:"stdClass":2:{s:6:"manual";b:0;s:5:"items";a:0:{}}i:1458056580;O:8:"stdClass":2:{s:6:"manual";b:0;s:5:"items";a:0:{}}i:1458099794;O:8:"stdClass":2:{s:6:"manual";b:0;s:5:"items";a:0:{}}i:1458186221;O:8:"stdClass":2:{s:6:"manual";b:0;s:5:"items";a:0:{}}i:1458359909;O:8:"stdClass":2:{s:6:"manual";b:0;s:5:"items";a:0:{}}i:1476907127;O:8:"stdClass":2:{s:6:"manual";b:0;s:5:"items";a:0:{}}i:1476909778;O:8:"stdClass":2:{s:6:"manual";b:0;s:5:"items";a:0:{}}i:1476912491;O:8:"stdClass":2:{s:6:"manual";b:0;s:5:"items";a:0:{}}i:1476916983;O:8:"stdClass":2:{s:6:"manual";b:0;s:5:"items";a:0:{}}i:1476924216;O:8:"stdClass":2:{s:6:"manual";b:0;s:5:"items";a:0:{}}i:1476939498;O:8:"stdClass":2:{s:6:"manual";b:0;s:5:"items";a:0:{}}i:1476969216;O:8:"stdClass":2:{s:6:"manual";b:0;s:5:"items";a:0:{}}i:1477013285;O:8:"stdClass":2:{s:6:"manual";b:0;s:5:"items";a:0:{}}i:1477100591;O:8:"stdClass":2:{s:6:"manual";b:0;s:5:"items";a:0:{}}i:1477274282;O:8:"stdClass":2:{s:6:"manual";b:0;s:5:"items";a:0:{}}i:1477337277;O:8:"stdClass":2:{s:6:"manual";b:0;s:5:"items";a:0:{}}i:1477339219;O:8:"stdClass":2:{s:6:"manual";b:0;s:5:"items";a:0:{}}i:1477342683;O:8:"stdClass":2:{s:6:"manual";b:0;s:5:"items";a:0:{}}i:1477347188;O:8:"stdClass":2:{s:6:"manual";b:0;s:5:"items";a:0:{}}i:1477354448;O:8:"stdClass":2:{s:6:"manual";b:0;s:5:"items";a:0:{}}i:1477369721;O:8:"stdClass":2:{s:6:"manual";b:0;s:5:"items";a:0:{}}i:1477398542;O:8:"stdClass":2:{s:6:"manual";b:0;s:5:"items";a:0:{}}}"
  }
  ["_yoast_wpseo_content_score"]=>
  array(1) {
    [0]=>
    string(2) "30"
  }
  ["_yoast_wpseo_primary_category"]=>
  array(1) {
    [0]=>
    string(0) ""
  }
  ["_yoast_wpseo_focuskw_text_input"]=>
  array(1) {
    [0]=>
    string(28) "tackling informational texts"
  }
  ["_yoast_wpseo_focuskw"]=>
  array(1) {
    [0]=>
    string(28) "tackling informational texts"
  }
  ["_yoast_wpseo_title"]=>
  array(1) {
    [0]=>
    string(62) "Responsible Citizens and Workers: Tackling Informational Texts"
  }
  ["_yoast_wpseo_metadesc"]=>
  array(1) {
    [0]=>
    string(146) "Karen Matis details her seventh grade classes' exploration of civic responsibility while tackling informational texts and companion web resources."
  }
  ["_yoast_wpseo_linkdex"]=>
  array(1) {
    [0]=>
    string(2) "84"
  }
  ["_social_aggregation_next_run"]=>
  array(1) {
    [0]=>
    string(10) "1477441741"
  }
  ["_thumbnail_id"]=>
  array(1) {
    [0]=>
    string(5) "37464"
  }
}