By T. Gail Pritchard, Ph.D., University of Arizona
Most of us have thought about what we would do if granted wishes and like Tanya in One Wish (Harrison, 2016). We are wish savvy — we know we must be careful about what we wish. However, not everyone makes their wishes carefully…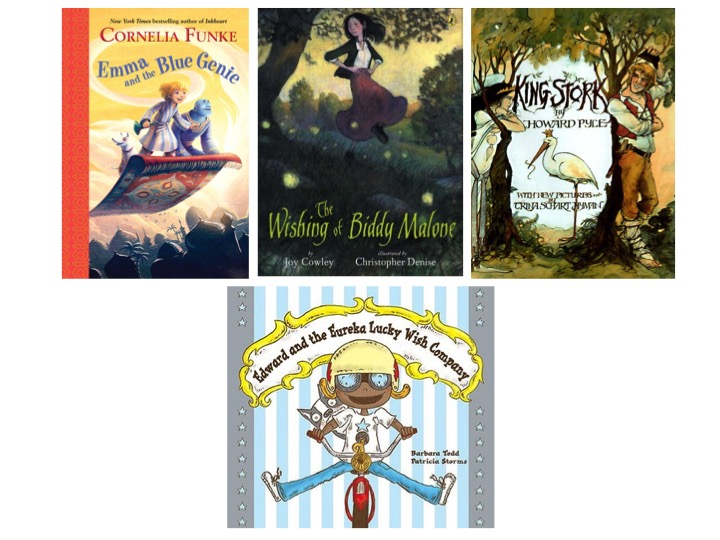 In the trope of three wishes, the wisher generally makes the first wish in haste with little forethought. This simple wish might "test" the granting, or it may grant something the wisher actually does not want. By the second wish, the wisher realizes the wish will come true. While the wisher makes the second wish more carefully than the previous, it is typically flawed, too. This wish tends to have unintended consequences, particularly if the wish follows the exact words rather than the intent (like in The Monkey's Paw by W. W. Jacobs and The Wish Giver by Bill Brittain).
By the third wish, the wisher tends to try to undo the first two wishes — returning the wisher back to her/his prior state. In some cases, the wisher's third wish is helps whomever granted the wishes (i.e., freeing the genie). These wishes tend to teach lessons like, "be careful what you wish for" and "it is better to look to yourself for improvement." This week, I look at four picture books and the granting of three wishes.
Emma and the Blue Genie by Cornelia Funke
In a twist upon a genie in a bottle tale, eight-year-old Emma finds herself helping a genie who has lost his power to grant wishes. Karim lost his magic when Sahim, an evil genie, stole Karim's magical nose ring and imprisoned Karim in a bottle. Emma decides she must help; so Emma, her, dog Tristan, and Karim fly on a magic carpet (what else?) to Barakash to outwit Sahim and retrieve the source of Karim's magic. In return, Karim promises to grant Emma three wishes.
Edward and the Eureka Lucky Wish Company by Barbara Todd
Edward desperately wants to fly and tries everything he can think of to get his bike off the ground to no avail. In the park, he is given a coupon worth three wishes from the Eureka Lucky Wish Company. In typical wish-fashion, he ends up wasting them. First, he wishes his bike will fly, but fails to include himself; thus the bike takes off without him. His second wish goes no better. When he must clean his room, he wishes that he would not have to do as his mother asked; of course, there is an unintended consequence. Now he has just one wish left…
The Wishing of Biddy Malone by Joy Cowley
This fairy tale features Biddy Malone, a young Irish girl who loves to sing and dance; unfortunately, she is not particularly good at either. After her brothers' relentless teasing pushes her into a rant, she charges off and then finds she has crossed the border into the faerie realm. While there, she is asked to name three things she most wants. But like many in similar stories, Biddy discovers she is better off looking inside herself and working for what she wants, then to simply wish them true.
King Stork by Howard Pyle
King Stork comes with mixed reviews. In 1986, Publishers Weekly said that the book had "such a sexy, bare-breasted lass as the princess in a children's book;" readers on goodreads.com have made comments like "loved this book" and "breaks my heart…" Interestingly, the original edition won a 1973 Boston Globe-Horn Book Award for Illustration. In this original tale, a drummer returning from war helps an old man cross the river. The old man transforms into the King of Storks and grants the drummer three wishes. The drummer then seeks to win the hand of a princess. In cahoots with a wicked witch, the equally wicked princess sets three tasks to her suitors — all of whom have failed. With the aid of the wishes, the drummer succeeds in winning the princess's hand in marriage.
References:
Brittain, B. (1986). The Wish Giver. NY, NY: HarperCollins, 192 pp.

Harrison, M. (2016). One Wish. NY, NY: Little, Brown Books for Young Readers, 384 pp.

Jacobs, W.W. (1902). The Monkey's Paw.
Journey through Worlds of Words during our open reading hours: Monday through Friday 9 a.m. to 5 p.m. and Saturday 9 a.m. to 1 p.m. Check out our two online journals, WOW Review and WOW Stories, and keep up with WOW's news and events.
array(14) {
  ["_edit_lock"]=>
  array(1) {
    [0]=>
    string(14) "1580493024:264"
  }
  ["_edit_last"]=>
  array(1) {
    [0]=>
    string(3) "264"
  }
  ["_social_notify"]=>
  array(1) {
    [0]=>
    string(1) "1"
  }
  ["_social_aggregated_ids"]=>
  array(1) {
    [0]=>
    string(47) "a:2:{s:7:"twitter";a:0:{}s:8:"facebook";a:0:{}}"
  }
  ["_social_aggregation_log"]=>
  array(1) {
    [0]=>
    string(4094) "a:61:{i:1463443974;O:8:"stdClass":2:{s:6:"manual";b:0;s:5:"items";a:0:{}}i:1463445775;O:8:"stdClass":2:{s:6:"manual";b:0;s:5:"items";a:0:{}}i:1463448511;O:8:"stdClass":2:{s:6:"manual";b:0;s:5:"items";a:0:{}}i:1463452196;O:8:"stdClass":2:{s:6:"manual";b:0;s:5:"items";a:0:{}}i:1463460237;O:8:"stdClass":2:{s:6:"manual";b:0;s:5:"items";a:0:{}}i:1463475498;O:8:"stdClass":2:{s:6:"manual";b:0;s:5:"items";a:0:{}}i:1463504299;O:8:"stdClass":2:{s:6:"manual";b:0;s:5:"items";a:0:{}}i:1463548398;O:8:"stdClass":2:{s:6:"manual";b:0;s:5:"items";a:0:{}}i:1463634922;O:8:"stdClass":2:{s:6:"manual";b:0;s:5:"items";a:0:{}}i:1463808482;O:8:"stdClass":2:{s:6:"manual";b:0;s:5:"items";a:0:{}}i:1464709413;O:8:"stdClass":2:{s:6:"manual";b:0;s:5:"items";a:0:{}}i:1464712086;O:8:"stdClass":2:{s:6:"manual";b:0;s:5:"items";a:0:{}}i:1464714786;O:8:"stdClass":2:{s:6:"manual";b:0;s:5:"items";a:0:{}}i:1464718403;O:8:"stdClass":2:{s:6:"manual";b:0;s:5:"items";a:0:{}}i:1464726514;O:8:"stdClass":2:{s:6:"manual";b:0;s:5:"items";a:0:{}}i:1464740937;O:8:"stdClass":2:{s:6:"manual";b:0;s:5:"items";a:0:{}}i:1464770573;O:8:"stdClass":2:{s:6:"manual";b:0;s:5:"items";a:0:{}}i:1464813802;O:8:"stdClass":2:{s:6:"manual";b:0;s:5:"items";a:0:{}}i:1464821874;O:8:"stdClass":2:{s:6:"manual";b:0;s:5:"items";a:0:{}}i:1464823720;O:8:"stdClass":2:{s:6:"manual";b:0;s:5:"items";a:0:{}}i:1464827302;O:8:"stdClass":2:{s:6:"manual";b:0;s:5:"items";a:0:{}}i:1464831809;O:8:"stdClass":2:{s:6:"manual";b:0;s:5:"items";a:0:{}}i:1464839873;O:8:"stdClass":2:{s:6:"manual";b:0;s:5:"items";a:0:{}}i:1464854300;O:8:"stdClass":2:{s:6:"manual";b:0;s:5:"items";a:0:{}}i:1464884003;O:8:"stdClass":2:{s:6:"manual";b:0;s:5:"items";a:0:{}}i:1464928075;O:8:"stdClass":2:{s:6:"manual";b:0;s:5:"items";a:0:{}}i:1465014485;O:8:"stdClass":2:{s:6:"manual";b:0;s:5:"items";a:0:{}}i:1465188213;O:8:"stdClass":2:{s:6:"manual";b:0;s:5:"items";a:0:{}}i:1474314223;O:8:"stdClass":2:{s:6:"manual";b:0;s:5:"items";a:0:{}}i:1474316890;O:8:"stdClass":2:{s:6:"manual";b:0;s:5:"items";a:0:{}}i:1474320477;O:8:"stdClass":2:{s:6:"manual";b:0;s:5:"items";a:0:{}}i:1474322284;O:8:"stdClass":2:{s:6:"manual";b:0;s:5:"items";a:0:{}}i:1474325016;O:8:"stdClass":2:{s:6:"manual";b:0;s:5:"items";a:0:{}}i:1474329558;O:8:"stdClass":2:{s:6:"manual";b:0;s:5:"items";a:0:{}}i:1474337577;O:8:"stdClass":2:{s:6:"manual";b:0;s:5:"items";a:0:{}}i:1474352006;O:8:"stdClass":2:{s:6:"manual";b:0;s:5:"items";a:0:{}}i:1474381676;O:8:"stdClass":2:{s:6:"manual";b:0;s:5:"items";a:0:{}}i:1474424930;O:8:"stdClass":2:{s:6:"manual";b:0;s:5:"items";a:0:{}}i:1474482482;O:8:"stdClass":2:{s:6:"manual";b:0;s:5:"items";a:0:{}}i:1474485175;O:8:"stdClass":2:{s:6:"manual";b:0;s:5:"items";a:0:{}}i:1474486987;O:8:"stdClass":2:{s:6:"manual";b:0;s:5:"items";a:0:{}}i:1474489684;O:8:"stdClass":2:{s:6:"manual";b:0;s:5:"items";a:0:{}}i:1474493287;O:8:"stdClass":2:{s:6:"manual";b:0;s:5:"items";a:0:{}}i:1474496025;O:8:"stdClass":2:{s:6:"manual";b:0;s:5:"items";a:0:{}}i:1474498767;O:8:"stdClass":2:{s:6:"manual";b:0;s:5:"items";a:0:{}}i:1474503212;O:8:"stdClass":2:{s:6:"manual";b:0;s:5:"items";a:0:{}}i:1474510523;O:8:"stdClass":2:{s:6:"manual";b:0;s:5:"items";a:0:{}}i:1474525722;O:8:"stdClass":2:{s:6:"manual";b:0;s:5:"items";a:0:{}}i:1474555387;O:8:"stdClass":2:{s:6:"manual";b:0;s:5:"items";a:0:{}}i:1474599508;O:8:"stdClass":2:{s:6:"manual";b:0;s:5:"items";a:0:{}}i:1474686814;O:8:"stdClass":2:{s:6:"manual";b:0;s:5:"items";a:0:{}}i:1474860488;O:8:"stdClass":2:{s:6:"manual";b:0;s:5:"items";a:0:{}}i:1477087102;O:8:"stdClass":2:{s:6:"manual";b:0;s:5:"items";a:0:{}}i:1477088915;O:8:"stdClass":2:{s:6:"manual";b:0;s:5:"items";a:0:{}}i:1477092491;O:8:"stdClass":2:{s:6:"manual";b:0;s:5:"items";a:0:{}}i:1477097093;O:8:"stdClass":2:{s:6:"manual";b:0;s:5:"items";a:0:{}}i:1477105088;O:8:"stdClass":2:{s:6:"manual";b:0;s:5:"items";a:0:{}}i:1477119496;O:8:"stdClass":2:{s:6:"manual";b:0;s:5:"items";a:0:{}}i:1477148373;O:8:"stdClass":2:{s:6:"manual";b:0;s:5:"items";a:0:{}}i:1477192476;O:8:"stdClass":2:{s:6:"manual";b:0;s:5:"items";a:0:{}}i:1477279686;O:8:"stdClass":2:{s:6:"manual";b:0;s:5:"items";a:0:{}}}"
  }
  ["_yoast_wpseo_content_score"]=>
  array(1) {
    [0]=>
    string(2) "60"
  }
  ["_yoast_wpseo_primary_category"]=>
  array(1) {
    [0]=>
    string(0) ""
  }
  ["_yoast_wpseo_focuskw_text_input"]=>
  array(1) {
    [0]=>
    string(12) "three wishes"
  }
  ["_yoast_wpseo_focuskw"]=>
  array(1) {
    [0]=>
    string(12) "three wishes"
  }
  ["_yoast_wpseo_metadesc"]=>
  array(1) {
    [0]=>
    string(154) "When exploring the trope of three wishes through four books, we find that the wisher generally makes the first wish in haste and the final wish with care."
  }
  ["_yoast_wpseo_linkdex"]=>
  array(1) {
    [0]=>
    string(2) "85"
  }
  ["_yoast_wpseo_title"]=>
  array(1) {
    [0]=>
    string(43) "One Wish, Two Wishes, Three Wishes, More..."
  }
  ["_social_aggregation_next_run"]=>
  array(1) {
    [0]=>
    string(10) "1477452485"
  }
  ["_thumbnail_id"]=>
  array(1) {
    [0]=>
    string(5) "37464"
  }
}