By Seemi Aziz, University of Arizona
Middle Eastern regions and Muslims have been unfailingly in the media and news. Children's literature and Young Adult literature also tap into this trend and brings forward concerns faced by these regions, presently. Turmoil within the regions has become a predominant global concern since the refugee crises has brought the impact to Western shores, impacting their economy, balance of power, and in some cases, law and order. Most earlier books were written by people outside of the regions, thus, not true insiders to the cultures, raising concerns of authenticity. Commonly held trends as well as issues in literature about Muslims is that of migration, refugees, Muslim people at the center of strife and Muslim people as violent, blood thirsty terrorists. There is an issue when these assumptions, generalization, and stereotypes are taken as truths.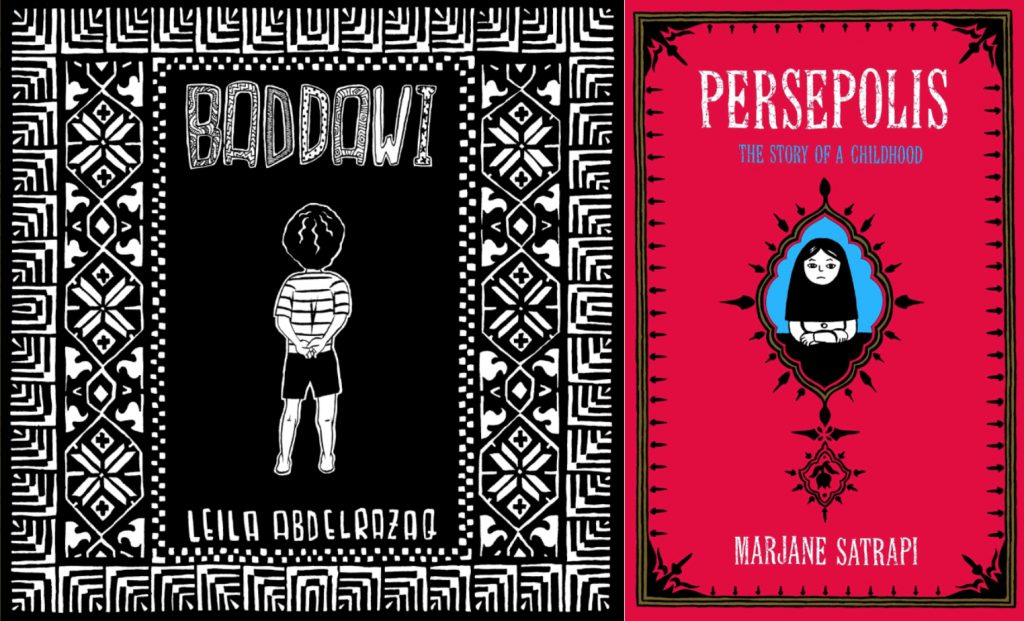 The following books are a removal from the run-of-the-mill representations, as they are written by people belonging to the cultures that they represent, furthermore, these are graphic novels that are also biographies and autobiographies of the writers. These authors are also the illustrators of the books. Three of the four books are translations from French to English thus widening the audience.
Title: The Arab of the Future: A Childhood in the Middle East
Author & Illustrator: Riad Sattouf
Publisher: Metropolitan Books
ISBN: 9781627793445
Date Published: October 20, 2015
Title: Baddawi
Author & Illustrator: Leila Abdelrazaq
Publisher: Just World Books
ISBN: 9781935982401
Date Published: April 1, 2015
Title: A Game for Swallows: To Die, to Leave, to Return
Author & Illustrator: Zeina Abirached
Publisher: Graphic Universe
ISBN: 9781575059419
Date Published: August 1, 2013
Title: Persepolis: The Story of a Childhood
Author & Illustrator: Marjane Satrapi
Publisher: Pantheon Books
ISBN: 9780375714573
Date Published: June 1, 2004
You can find more information about these books in part I of this series.
Journey through Worlds of Words during our open reading hours: Monday-Friday, 9 a.m. to 5 p.m. and Saturday, 9 a.m. to 1 p.m.

array(9) {
  ["_edit_lock"]=>
  array(1) {
    [0]=>
    string(14) "1580490022:264"
  }
  ["_edit_last"]=>
  array(1) {
    [0]=>
    string(3) "264"
  }
  ["_yoast_wpseo_focuskw_text_input"]=>
  array(1) {
    [0]=>
    string(49) "Forced Journeys in Children's Literature, Part II"
  }
  ["_yoast_wpseo_focuskw"]=>
  array(1) {
    [0]=>
    string(49) "Forced Journeys in Children's Literature, Part II"
  }
  ["_yoast_wpseo_linkdex"]=>
  array(1) {
    [0]=>
    string(2) "81"
  }
  ["_yoast_wpseo_content_score"]=>
  array(1) {
    [0]=>
    string(2) "30"
  }
  ["_yoast_wpseo_primary_category"]=>
  array(1) {
    [0]=>
    string(4) "3388"
  }
  ["_yoast_wpseo_metadesc"]=>
  array(1) {
    [0]=>
    string(148) "Turmoil in the Middle Eastern regions have been unfailingly in the news. Children's literature helps brings forward concerns faced by these regions."
  }
  ["_thumbnail_id"]=>
  array(1) {
    [0]=>
    string(5) "37464"
  }
}